As a final travel fling before I start my new job I've maxed out the credit card to do one of the ultimate trips on my wish list: Safari!
I'm off with Intrepid Travel on their Serengeti Safari. I fly into Kenya and then we cross into Tanzania to see the Serengeti and the Ngorongoro crater teeming with animals large and small 🙂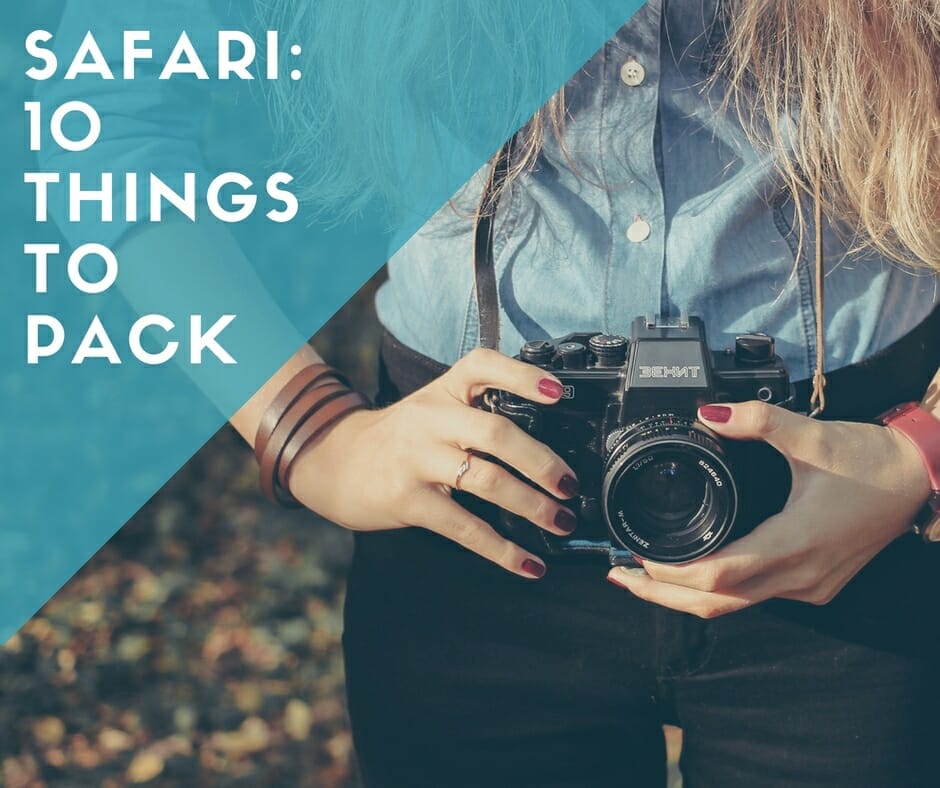 10 things you need for Safari, aka how Katie packed!
1) Soft backpack
This is a requirement for the trucks that I'll be using on safari. I'm not travelling to luxury lodges by any stretch of the imagination. So a backpack is best for carrying over different terrain and small enough to stuff into lockers on the truck.
My ruck sack has a removable day sack on the back – great for carry on and during the day for toting cameras.
2) Cameras
Yes I said plural. I'm taking two:
One is my trusty old canon point 'n shoot (complete with war wounds from the last year of travel!).
Two I'm borrowing my mum's camera with 20x zoom, so I can really see the animals up close.
In association with this comes the chargers and additional batteries so you don't run out of power mid game drive.
3) Bug spray and anti-malarials
I'm going to be heading to the Serengeti in Tanzania, which is definitely a malaria area. So a course of anti-malarials makes sense. I'm sticking with doxycycline as I've taken it before and it's a cheap option. I got mine through the London Travel clinic on Soho Square. Incidentally this is where I got the majority of my jabs pre-travelling, I have a completely full card: BINGO!
In addition there is Dengue Fever and Tse flies to worry about so tropical strength DEET spray has also been packed…. Plus:
4) Long sleeved tops and trousers
For me being fair and burning quite easily in English sun, let alone anything stronger, having some cover up during the peak of the day is essential. However for dawn, dusk and after dark, long sleeves, trousers and closed in shoes help protect from all biting insects and the diseases they carry.
5) Layers & multipurpose clothing
As well as the long sleeved stuff I've packed plenty of layers. So singlets can be covered by shirts to cover up and trousers zipped off to shorts. If it's cold in an evening I can wear the fleece I travelled in from the UK (it is November). If it's warm, light fabrics with sweat wicking technology are useful, however I've packed a lot of lightweight cotton also.
Most of my clothing is similar colours, a spectrum of 'safari' with khaki, beige, some white and a splash of pink. Whilst camouflage clothing is activity discouraged, so are primary colours (I don't expect the whites to stay white!) and dark blues and black. The reasoning for the primary colours is the dirt I believe, although dark blue and black are said to attract Tse flies.
Generally the reasoning that you want to 'blend in' so the animals don't notice you doesn't really work. The local Masai wear bright red after all. However I can see that you make yourself less of a target for big animals
.. I'm expecting everything to get covered in dust – that'll help me blend in lol!
6) Sleeping bag
Yep
I said I was doing the cheap option, I am definitely not doing the luxury lodge option or a tent with all the amenities…. Hot water may be a luxury for me! Tents and my own sleeping bag is what I need.
7) Travel towel
Essential for any travel, but particularly when you don't get bathrooms and towels provided 🙂 The lightweight, quick drying and small packing towels are amazing.
8) Flipflops
For the showers, for the day when not climbing in and out of trucks or the odd time in town (I have a day in
Nairobi
).
9) Trainers
Some robust closed in shoes are essential to keep biting insects off your feet. Something that you can go on game hikes with and are supportive enough for climbing in and out of vehicles is a plus.
10) Cash!
The old adage for packing – assemble what you want to take, only pack half and bring twice the amount of money holds true. You can always buy things abroad. I've pretty much taken everything I need, e.g. I'm not hand washing my underwear, but extra cash is invaluable.
I've got some dollars for visas etc and the FairFx card for withdrawing money in country. This is a secure way to do it – as a prepaid credit card they can't 'max it out' if it gets lost or stolen and you get decent exchange rates.
Yes all this went into the bag in the first picture! (Except the trainers I'm wearing to travel in)
Come back later to see how it went!!