A new gin has come to the UK this July: Amazzoni, the first Brazilian made gin. I was fortunate to be sent a bottle to try by their UK distributors, Strongwells and to attend a Zoom call from the other side of the world with co-founder Arturo. Read on to learn more about gin in Brazil and Amazzoni:
*Full disclosure – my bottle of Amazzoni was a free sample, with no posts required, all opinions remain my own*
Amazzoni – Brazilian Gin
The first Brazilian made gin!
With Amazzoni launching in the UK via Craft Gin Club this month, we have another South American gin to add to the list of exotic gins from around the world. So should you expect an exotic drink? As you'll see in this post, not so much… whilst distillers Arturo and Alexandre wanted to represent Brazil in their gin, they also wanted to emulate the European gins they had been enjoying. The result is a juniper forward gin, using traditional botanicals for the core and then adding Brazilian botanicals to represent the four corners, and huge variety, of the country. The outcome is a light fresh, contemporary gin, with a lovely mouthfeel, ideal for gin and tonics.
The background to Amazzoni Brazilian gin
The story behind Brazil's first gin is also one of passion & love for gin! Arturo, one half of the distillery duo, took us through their journey to make this gin via the magic of Zoom. As an Italian who came to Brazil and fell in love, he also loved gin. With friend Alexandre they created a gin-lovers group to explore craft gins, with friends bringing back a bottle whenever they travelled. However they found getting their hands on decent gin in Brazil difficult – the core spirit in Brazil is Cachaça, made from fermented sugar cane juice. So this gave them the idea of creating a distillery dedicated to gin and to produce their own gin that would represent Brazil.
The distillery
Arturo and Alexandre found a fazenda or estate 130km outside of Rio de Janeiro. It already had already been a cachaça distillery and as you can see below, the main buildings are situated next to a lagoon.
The production process is fully sustainable from beginning to end with zero waste. The botanicals are separately macerated before being blended into the final proportions for distillation. The impressive still has 4 pots going into 1 condenser:
The stills are actually heated by the century old furnace. When distillation is complete, with just a 50% cut of the 'heart' of the spirit, the gin is blended with spring water from the estate. Their capacity is 15,000 bottles a day, which is impressive!
The botanicals in Amazzoni gin
As I mentioned before, the gin has both 'Old world' classic / traditional botanicals and native Brazilian ones: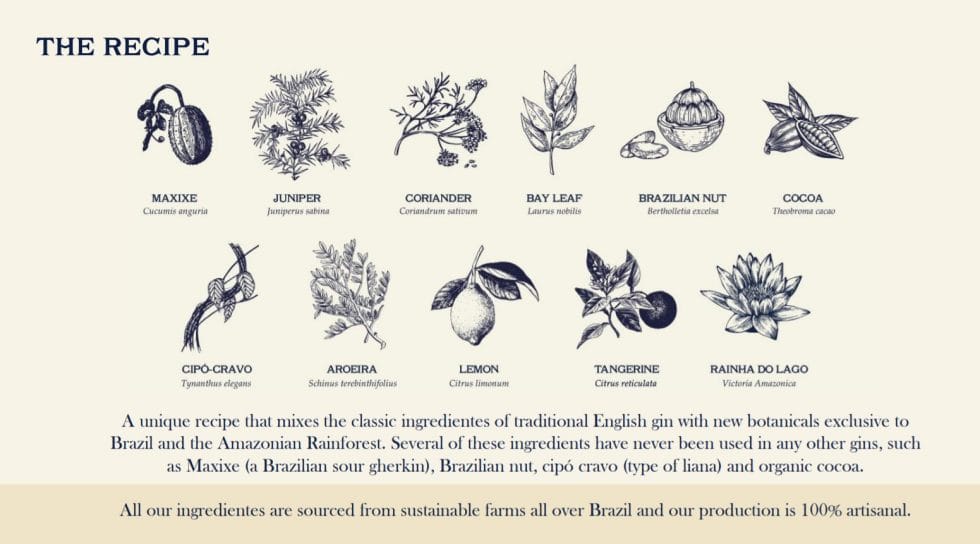 Old World botanicals
All the classics, or what you would expect for the core of most gins: Juniper, Coriander, Lemon Peel, and the addition of Bay Leaf and Pink Pepper, for a savoury and spice note.
Brazilian botanicals
Cocoa, Brazil Nut, Maxixe, Cipó-craving, Tangerine and Victoria Regia (lily seed). Now I imagine that you don't know what Maxixe or Cipo-cravo (clove vine) actually taste like… neither do I!
Maxixe is described as a cross between a courgette and a cucumber – so think savoury flavours (it's used in cooking a lot). Cipo-cravo is a herb, that has been used for medicine by the Shipibo-Conibo, Kayapó, and Assurini Indian tribes in the Amazon rainforest for centuries. Apparently it's great for everything from strengthening sexual energy and treating fevers, to stimulating the appetite. Taste wise I'm no clearer, so going for 'herbaceous'.
The Victoria Regia or lily seed is worth a mention here also – this is more of a symbolic botanical than one that provides the gin with taste. Only 1 seed is added for each 500 litres of gin. This provides a symbolic link to the most remote part of the Amazon.
The Brazilian botanicals come from all over Brazil. With its size Brazil has a huge array of climates – hot, dry, humid etc and is a lot more complex than outside views of Brazil show it.  Arturo said that they really wanted to represent the whole of Brazil and not just the small segment of Rio or Iguazu Falls that most foreigners are familiar with. Hence they stayed away from tropical fruits and other 'cliche' flavours.
Why is it named Amazzoni?
Amazzoni has that name in homage to the Amazon forest, that provides so many of their botanicals. Amazzoni means Amazon warriors, which is where the Amazon got its name.
Every bottle has the words Das Aguas Nasceu a Estrela on it, which means 'from a drop a star is born'.
Das Aguas Nasceu a Estrela – from a drop a star is born
Arturo and Alexandre were inspired by a Brazilian legend of a Guarani Indian girl called Naia. Naia longed to marry Jaci, who was the great lunar warrior. She was told, if you can catch him you'll become a star. Night after night she ran through the forest stretching for the moon. When she saw the reflection of the moon in a pool of water she threw herself in to try and reach it. Jaci saw this from the sky and was so moved by her ambition to shine that he saved her and turned her into a star. This story of the Amazon seemed a fitting metaphor for their new gin.
Amazzoni only employs local women to produce the gin, in tribute to the all-female bands of Amazon warriors that the name links to. They run a social project to train all the women to work at the distillery. They also supports a program for the indigenous tribe of Huni Kuin from the Amazon with a percentage of the proceeds from all sales of Rio Negro gin.
Tasting Amazzoni gin
Given the different botanicals you might think this gin will taste exotic. As I mentioned before, this isn't the case. On the nose the juniper comes forward to greet you, swiftly followed by citrus and finally something sweeter.
Tasting it neat, Amazzoni has a very soft creamy mouthfeel – from the oils in the Brazil nuts. The first flavour that hit me was citrus, before moving into spice and pepper at the end. With water the citrus on the nose opens up even more and you get more of the sweet notes. With tonic (I used FeverTree Indian tonic water), you get even more juniper on the nose. Amazzoni gin works really well as a gin and tonic.
What I don't 'taste' individually is the cocoa, or any particular herbs. But as I noted before I'm not familiar with all the ingredients that have been used, so that's tricky to pin down and all the botanicals complement each other and blend well in the gin.
Serving ideas
Arturo and Alexandre made this gin to serve as gin and tonics with plenty of ice – perfect for hot sticky days in Brazil. Their perfect serve is with a dry tonic (nothing too sweet here) and a garnish of lemon zest or tangerine.
Or do like Inka from On the Sauce Again and use peach or mango for garnish:
View this post on Instagram
Amazzoni would also work well in light simple cocktails with a citrus focus. For example a dry martini with citrus peel twist is amazing, and Rory The Gin Lord says that a Collins cocktail works really well too, here is his recipe:
50 ml Amazzoni Gin
25ml Lemon Sugar Syrup*
Soda Water
Mix the gin and lemon syrup together, pour over ice and top up with Soda Water, garnish with lemon peel
*To make the lemon sugar syrup use 2 parts sugar to 1 part water and add 1 slice of lemon for each portion. Heat gently until the sugar has dissolved, finish with a squeeze of lemon and allow to cool before using.
As for my favourite serve, the negroni? The light flavours would be too easily drowned in a classic negroni. So I'm going to wait until the younger sibling, Rio Negro at 51%, comes out for that. I've had a small sample and this gin has more of the punch that would stand up to the bitters in a classic negroni. This doesn't mean I won't stop trying to find a lighter contemporary combination that works though!
Where to buy Amazzoni gin
Amazzoni's UK distributors aim to have a listing on Amazon.co.uk shortly (they had to with that name!). I'll update this post with the product link when live.
Until then you can order Amazzoni gin online at Hedonism Wines for £42.50, or you can order a sample from Whisky Exchange (they are currently out of stock for the full size bottle online).
How are you drinking Amazzoni?