Considered the home of gin, Beefeater Gin has been made at their distillery in Kennington, South London for decades. Closed for visits during 2020 lockdown, the distillery has now re-opened for small group tours and I was very happy to be invited to go along and find out more about this iconic brand!
*Full disclosure I was invited to do the Beefeater gin tour and tasting for free, all opinions remain my own*
Beefeater Gin tour & tasting
Beefeater Gin distillery location
Based in South London Beefeater's Kennington distillery can be accessed from either Vauxhall or Oval tube stations with a 10-15 minute walk.
When you visit you'll find out more about their history and why they've only been in Kennington since 1958, despite being established in 1820.
What to expect on the Beefeater gin tour
Seeing as the tour has only just reopened since lockdown, there are some changes to how it normally operates:
Limited numbers on each tour
Everyone has to wear a facemask on the main tour (you are spaced out to be socially distant when tasting!)
Floor markings to direct you and to encourage social distancing where there is space
A limitation to how many people can use the toilets at the same time
No iPads to interact with the exhibits
Despite this we still enjoyed the main exhibit about the story of gin in general, the history of Beefeater gin, the tasting (naturally!), seeing the stills and then enjoying a Beefeater gin and tonic at the bar, before finally returning to the shop and buying all the things!
Whilst the exhibition and tasting area & bar are accessible, the still area I don't think was (as it's an industrial working space). There are also a few chairs and seating areas dotted around, but if you can't stand for long you may want to contact the distillery directly to ensure your requirements are met.
The Beefeater story
The story of Beefeater gin starts in 1820, when the Taylor family opened The Chelsea distillery on Cale Street. This distillery would become the first home of Beefeater gin, however the founder, James Burrough was only born in 1835. Although born in Devon, James starts a career as a pharmacist in Canada. Returning to England in 1863, he buys the Chelsea distillery and starts producing gin liqueurs, fruit gins and punches.
The actual recipe for Beefeater gin was developed in 1876. Inspired by the botanicals in the Chelsea Physic Garden nearby, it took James Burrough several years of experimentation to create this gin. When it was released it became an instant success and the company's flagship product.
Since then the company moved twice to be able to expand. First in 1908 to Hutton Road in Lambeth and then again in 1958 to their current location in Montford Place, Kennington.
In 1963 Beefeater gin counts for 3 out of every 4 bottles of gin imported into the USA. The Burrough family sells Beefeater to Whitbread in 1987 considered 'a new beginning'. In 1995 Desmond Payne becomes Master Distiller, although it takes him until 2008 to create his first unique gin. Our tour guide Ryan did explain that when tasting current day Beefeater dry gin versus some older bottles, there is very little difference in taste. This is the true mark of  a Master Distiller – being able to recreate the same flavours year after year, with all the environmental changes that impact the botanicals. In fact Desmond selects the botanicals to be used in the distillation each year by smell alone – truly impressive!
2005 finds Beefeater acquired by Pernod Ricard with a new period of investment. This lead to the development of the visitor centre we visited!
Tasting Beefeater gins:
In the tasting room we had our socially distanced tasting stands with individual pots of the 9 base botanicals that go into Beefeater gin:
Beefeater London Dry
We started with the classic Beefeater London Dry, which has 9 botanicals:
Juniper – we squashed the berries between our fingers and they were super juicy, piney, sticky, spicy and sweet. Beefeater keep them in cold storage so they are always used fresh in the distillation (as opposed to dried)
Almond – Beefeater use ground almonds, which help with the mouthfeel and balances out the drier notes (for example from the angelica). The almonds are usually sourced from Germany
Coriander – Beefeater use Eastern European coriander as it's a colder climate. This brings out citrus notes and white pepper too. Coriander is the second most used botanical in gin
Dried Seville orange peel
Dried lemon peel
Angelica root – the third most used botanical in gin. Angelica gives the dry finish typical to London dry, plus earthiness & depth – it sits at thee back of palate. Beefeater use angelica from France or Belgium
Angelica seed – this has intense aromas and gives herbaceous celery notes. I don't think I've heard of any other gins using angelica seed!
Orris root – the most expensive botanical, its the root of iris flower and takes 3 years to grow, dry out and ground into a powder to be used. Chanel perfumes use the most orris as it's a fixing ingredient or 'flavour glue'. It also adds a floral sweetness to the gin
Liquorice powder – we all took stuck a finger in to taste this, it's sweeter than sugar! As you can't add sugar to a London Dry Gin liquorice is used to add sweetness for balance as well as helping with the mouthfeel of the gin
All 9 botanicals are used for all the gins they make at Beefeater.
We didn't actually taste their London Dry gin at the tasting, but it's considered a classic example of a London Dry Gin, all about the juniper with a hint of citrus.
Beefeater London Garden
The London Garden gin was launched in 2015 when they opened the Beefeater brand experience. As the original distillery was in Chelsea, around the corner from the physic garden with lots of plants used for medicines and gin botanicals, they took their inspiration from there. The additional botanicals in this include thyme and lemon verbena. This gin is a distillery exclusive – so you can only buy it in the distillery shop.
On the nose you get more lemon, than orange of the original gin. For me it was green, fresh and herbaceous. It's another quality gin, but lighter in flavour – a great spring or summer gin. This would make a fab martini or a gin and tonic garnished with lemon and thyme.
Beefeater 24
Developed in 2008 this was Desmon Payne's first creation at Beefeater – it only took 40 years! Beefeater 24 was inspired by Asia and includes Chinese green tea, Japanese sencha tea and grapefruit peel, in addition to the 'standard' nine botanicals used in all Beefeater gins. So 12 botanicals in total… so where does the 24 come in? Well it's all about the process! They allow the botancials to steep in the alcohol for 24 hours before they distill them. However the actual distillation process is quicker than the other gins – this to avoid the tea from stewing and adding bitter notes.
So what does it taste like? It's lovely and citrussy, really fresh and zesty. This gin is cracking in citrus based cocktails and my friend and cocktail guru Julian always has a bottle in stock to make cocktails with – including one of our favourites: the negroni.
Beefeater Monday's gin
Monday's gin is another distillery exclusive. It has exactly the same botanicals as the London Dry gin, so what's the difference? Well the hint is in the name…. they steep the botanicals for 72 hours, which is over the weekend. So botanicals go into the still on Friday and it's ready to distill on Monday!
And the taste? Great juniper flavour, piney and with an oiliness when diluted with a small amount of water. The additional steeping time does really pull out the oils from the botanicals and super charge the flavour. This is another distillery exclusive and one that I had to get a bottle of.
Burrough's Reserve
Burrough's Reserve is made using the original Chelsea still – 200 years old. Using this old pot still gives the gin an oiliness and viscosity that works with aging. The gin is rested for 4-6 weeks in oak casks that were previously used for Lillet Blanc vermouth. We were lucky to be able to try a wee taste of this at the end of the tour in the bar. It's pretty lush, good with cheese and stone fruits, or just to sip on its own/over ice.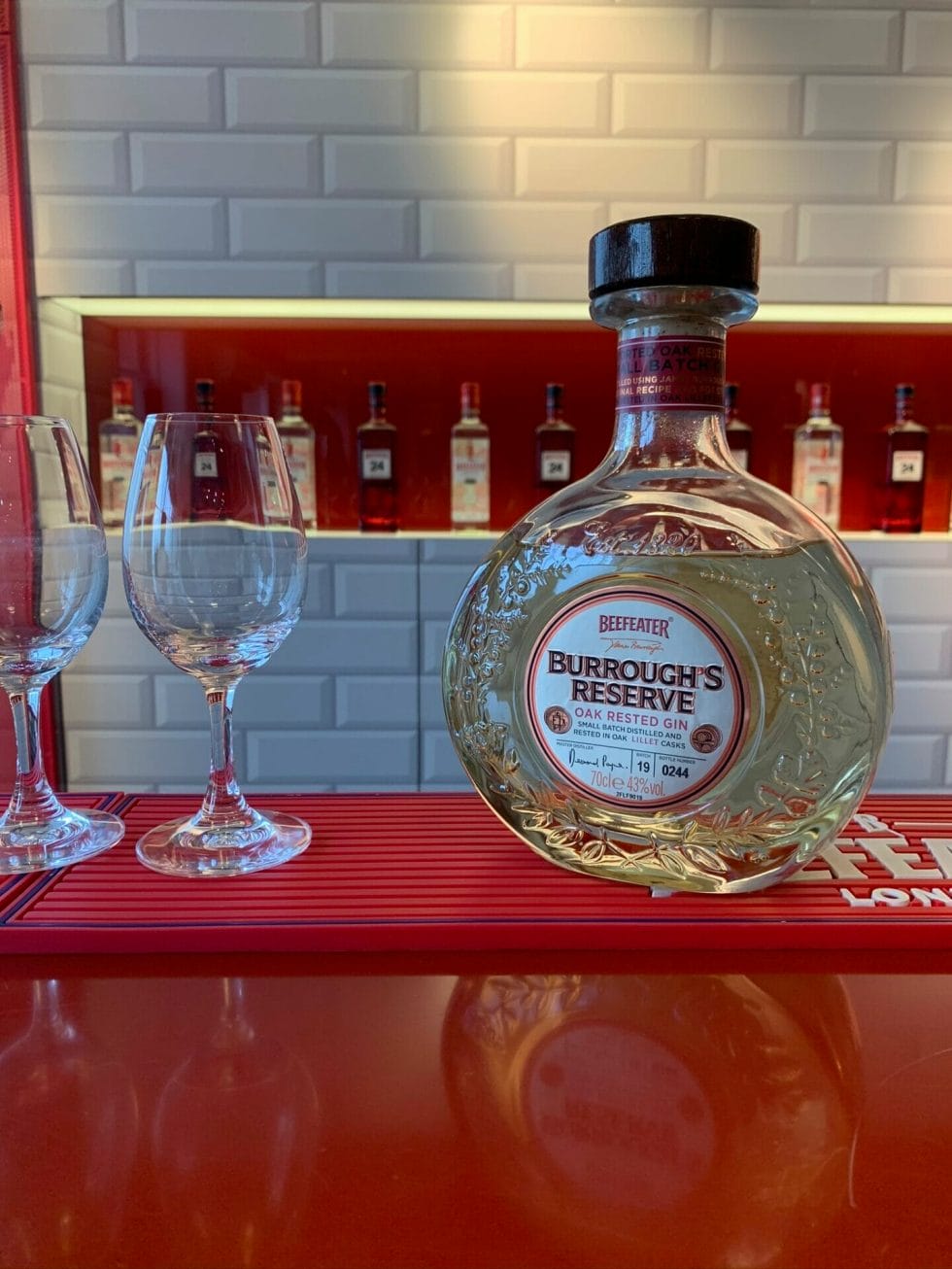 For the 2nd edition they used Lillet Rouge barrels so slightly different flavours come out. I preferred the 1st edition and snaffled a bottle in the distillery shop (they are very limited editions!)
Crown Jewel
Beefeater Crown Jewel was originally created for the duty free market as a super premium gin. It's bottled at 50% and served in a special blue bottle. As with all the Beefeater gins this uses the 9 core botanicals, with the addition of grapefruit. It was created in 1993, so it could be considered a precursor to Beefeater 24… We heard that they may be doing a special edition for their 200 birthday year, so watch this space!
Flavoured gins
All the flavoured gins are based on the Beefeater London dry. They first did a flavoured gin 2 years ago and it's now 10% of the business, so Beefeater have definitely seen a boom in this section of the market. Currently they have 3 flavoured gins, strawberry 'Pink gin', blackberry and blood orange. All use natural flavourings for their colour and taste. The strawberry one is a great combination with Campari in a negroni!
The Beefeater stills
After the tasting we headed up the stairs to the still room.
Whilst there are a lot of stills in the room, there are only 6 stills they use. They only use the pot stills now to make the gin. The old columns stills were used the columns to rectify the base spirit to 96%, but now their base spirit is already at 96%, so they don't use those.
The steps of distillation:
Over 21.5m litres of gin are made every year by 4 still men. The total Beefeater team is 10 people, so this is pretty impressive!
Finishing up in the Beefeater bar
After seeing the stills where the gin is made we headed to the bar for a Beefeater gin and tonic to wrap the tour up.
Exit via the giftshop:
We then had the opportunity to visit the gift shop and buy goodies to take away.
I bought a bottle of the distillery exclusive Monday's gin, as well as edition 1 of the Burrough's Reserve (not many of those left!)
How to book your Beefeater gin tour:
The tour I was gifted was their £16 1.5 hour tour and tasting. These run Friday afternoons from 1pm to 6:30pm and from 11am to 6:3-pm Saturdays and Sundays. You need to pre-book your tour in advance.
You can also book to do an Exclusive VIP experience, which is £40 and takes 2.5 hours. This promises additional access to the heart of the distillery and a spot the juniper challenge. These experiences are only available on select Fridays starting at 10:30am – get in touch with Beefeater to find out more.
Already done the Beefeater gin tour? Well take a look at my round up of gin distilleries you can visit in London: