What do you think of when you think Brighton? Is it debauchery and excess from partying? If yes, then you are really tapping into the essence of Brighton being a place to have fun! And what better fun and excess than having its own gin, and tasting that gin in the sky overlooking the city?! Read to find out more about Brighton Gin as well as how the BA i360 is celebrating it's 5th birthday in 2021 with all sorts of events, including gin tastings.
*Full disclosure, my gin tasting on the BA i360 was free in return for coverage on Instagram*
**The next Brighton Gin tasting is on 4th March 2022 – book now!**
Brighton Gin tasting on the BA i360
Have you ever heard of the BA i360? Well it's down on the sea front in Brighton by the old pier location and takes you up 450 feet into the air. This was the second time I've been up and it's worth a trip for the views alone. This time I was there courtesy of Brighton Gin, doing their first IN PERSON LIVE gin tasting for 2021! Can you tell I was a little excited?
What is the BA i360?
It's a viewing tower with a difference. While it's tall – 450 feet high – you don't have to climb up. You enter the BA i360 at ground level and it rises, taking you into the sky for amazing views of Brighton and the surrounding areas (depending on how clear the day is). So it's super accessible for people of all ages and abilities.
The enclosed glass pod that takes you up has signs in the North, South, East and West pointing out key sights. It gives you a 360 degree view around, hence the name. There is also a bar in the pod should you need/want a drink at height (especially if you aren't on a gin tasting!)
For our special Brighton Gin tasting event we started with a Brighton Pavilion gin and tonic, garnished with a slice of orange, their classic recommended serve, whilst Founder Kathy Caton told us about the origins of Brighton gin.
Inspired by a passion for Brighton (and also gin), Kathy wanted to create a spirit that embodied the Spirit of Brighton: 'unusual, playful and fiercely independent'.
The gin recipe took months of experimentation with different botanicals and techniques before it was finalised. It starts with an organic wheat base, plenty of juniper, orange and lime peel, coriander seed (which adds lemony notes as well as spice), angelica to fix the flavours and milk thistle, which is foraged locally. The old wife's tale is that milk thistle is good for your liver, so whilst gin drinking is the fun, perhaps the gin won't give you that hangover? (not tested and probably not true!).
Brighton Gin is a London Dry style, which means that it's distilled with all the botanicals together in one shot, with nothing added post distillation except water to dilute to drinking strength. It's very much a small batch process, and mainly done by hand. Such is the focus on sustainability that they deliver locally by bicycle and even the wax and label glue are vegan.
Tasting the Pavilion strength (40%) as a gin and tonic I was impressed with how refreshing it was with the local Folkington's tonic and orange garnish. A beautiful gin and tonic to quench your thirst. The orange garnish really pulled out the orange notes from the gin, but as it also has lime and lemon notes in it, pretty much any citrus garnish would work.
We then tasted both the Pavilion and Seaside strength gins neat, before finishing with a taste of one of the Brighton ready to drink cocktails:
Tasting Brighton Pavilion Strength Gin 40%
The classic for a reason, the Pavilion gin is named after Brighton Pavilion, specifically built for a place for the Prince Regent to have fun! Neat the gin is smooth and pleasantly juniper led, with the orange notes really coming out when tasting. Angelica adds some earthiness to the finish and there is some spice from the coriander coming through too.
Tasting Brighton Seaside (Navy) Strength Gin 57%
For the Navy Seaside Strength gin, the recipe was tweaked a little. It has 4 times the citrus and 4 times the juniper from the original Pavilion strength gin, really ramping up those flavours! Neat I found this still had a smooth mouthfeel, however the flavours needed a little dilution as they were so packed in. A little ice helped the gin to open up and release those lovely juniper and citrus notes. This is the gin for serving in cocktails, where it will stand up to other flavours and not diminish. Alternatively if you serve in a gin and tonic, then you'll probably need less gin in your glass as it can take more tonic with those concentrated flavours.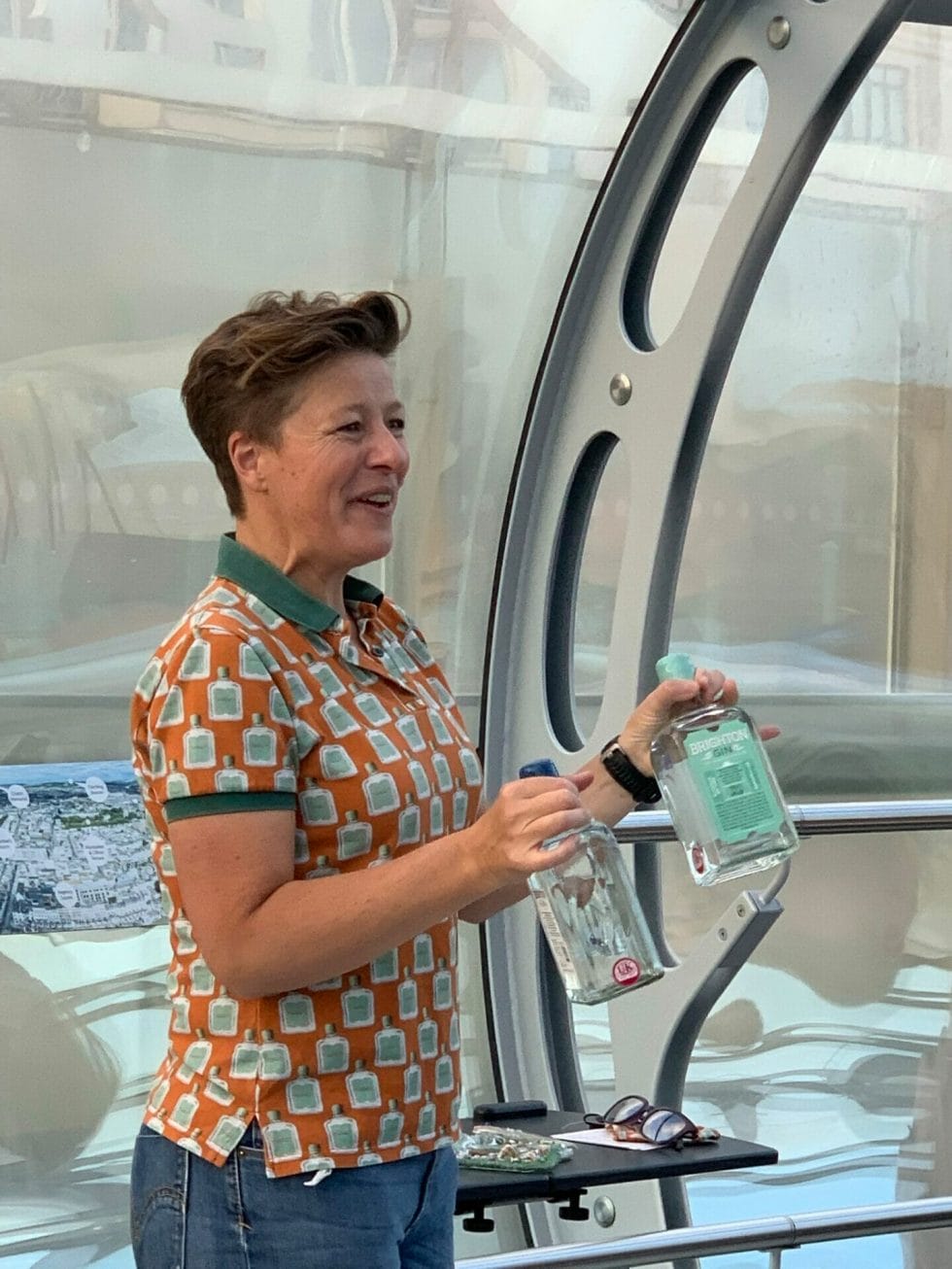 Brighton Gin Raspberry Crush ready to drink cocktail 4.8%
Meena was impressed by this pre-made cocktail. Pairing the gin with English raspberries and Sicilian lemons, this was refreshing and tasty. So often the gin in a tin selection can be a little dire and this cocktail certainly put a pep in our step!
As well as the Raspberry Crush, Brighton Gin have a classic gin and tonic with blood orange or you can get the Brighton Gin lemon verbena garden Collins cocktail. I'm sure both are as classy as the Raspberry Crush cocktail.
Visit Brighton Gin Distillery
If you like what you've read so far and want to find out more about Brighton Gin, then you can also visit their distillery down the coast from the i360 in Brighton (you can see it from the top!). The distillery tours are hands on and you get to wax your own bottle top and design your own label. Tours are £30 and run on Saturdays at 2 or 4:30pm for 90 minutes. They also have gift vouchers available if you want to treat someone.
Events on the BA i360
You can book a Brighton Gin Tasting Flight for £35, which includes 2 samples of gin and 2 full size drinks. Other events that the BA i360 is hosting include Nyetimber Sparkling Wine tastings and building a car in the sky.
Keep checking back for different events and the next lot of gin tastings.
Top tips for visiting the BA i360:
Be ready for security ahead of your 'flight' – you'll need to go through airport style security (metal detectors and bag searches) before can enter the BA i360 (in case anyone was missing airports)
Get there early – after going through security you'll want some time to use the toilets (there are none in the Ba i360, so go before / after) and maybe get yourself a drink (we didn't but we had a lot of gin to look forward to)
Plan your flight time so you will be in the air for sunset views over the seafront!
How to get to Brighton:
Brighton is super easy to get to on the train from London. It's a direct route from either Victoria with Southern or London Bridge/ Kings Cross St Pancras with Thameslink. An off peak day trip costs from £32.20.
Where to stay in Brighton:
If you fancy making your Brighton trip more than just a day, then I highly recommend staying at Colson House in Kemp Town, only a couple of blocks away from Brighton Palace Pier and the Royal Pavilion.
Other things to do in Brighton:
EAT!
I highly recommend Riddle and Finns for seafood if you are in Brighton – they have 2 restaurants, one in the Lanes and another down on the seafront, but check in advance that they are open before you head there. They always hold tables for walk-ins, however you may have to wait to be seated.
Another great place I've enjoyed is Plateau, with their small plates and cocktails (it's actually a wine bar).
For something more casual and healthier, check out Greens and Grains on St James Street. For brunch check out Wolfox Avenue.
The Lanes are full of a wide selection of restaurants and bars also, which cater for all dietary requirements.
DRINK
You can get drinks on the boardwalk on a sunny day, or retreat to a pub on a rainy evening.
For cocktails I recommend the Plotting Parlour and Plateau as mentioned before.
There are plenty of bars by the beach front and pubs in town also.
Check out Brighton Pier and play some games
There is always plenty to entertain you on Brighton Palace Pier!
Or you can just relax by the sea
Hopefully the weather will be as good as it was when we were there!

Whatever you do enjoy Brighton and taste some Brighton Gin!