You may have seen that I have attended a gin festival or two in my time, including Bristol Gin Festival and Copenhagen Gin Festival. However the one that holds a special place in my heart and spoilt me for all future gin festivals is Junipalooza. So let me tell you why Junipalooza is my favourite gin festival!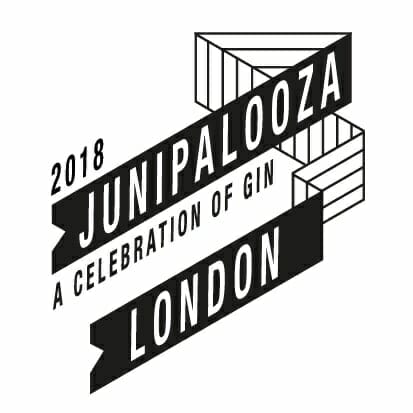 ** Full disclosure, this post includes affiliate links. These help support the blog and keep me in gin!**
Why Junipalooza is my favourite gin festival:
My first encounter with Junipalooza was in 2015 and I've been back every year since (I think). Seeing as 2018 is Junipalooza's fifth year, then that's a pretty good run.
Back in 2015 I was getting more into gin. The prior summer I had worked behind the bar at The Oliver Conquest and it was Sara the landlady who switched me on to Junipalooza gin festival. Sara always takes The Oliver Conquest staff down on a Sunday to check out the new and interesting stuff from the distillers.
That first Junipalooza I went to was held at the Vinyl Factory in Soho – a very central venue. With 'only' 23 distillers I think Laura and I still managed to try everything we hadn't tried before and re-try some great gins that we knew we liked already. But that was only after having a break with lunch half way through.
Now contrast that with 65 distillers at this year's Junipalooza in Tobacco Docks and you can see that you cannot cover all distillers and gins in one session and probably not if you went for the whole weekend!
Junip = Juniper the main ingredient of gin, looza = party, so Junipalooza is a party or festival of gin!
So what sets Junipalooza apart from the other gin festivals? I think the main thing is that it's always held over World Gin Day – so its the perfect celebration of gin.
But here are some more reasons for you:
It's run by gin geeks for gin geeks
Olivier and Emile Ward from Gin Foundry are the brains behind this celebration of gin. You may recognise Olivier from such TV shows as Sunday Brunch on channel 4!
Their websites Gin Foundry and Gin Kiosk are great resources for information on gin and to obtain those special bottles. So you get a festival that is focused on people who know and love gin (although approachable to newbies!). Whether you are in the industry or just a consumer, there is something for you here.  You will find out more about the gin brands you drink and discover new and exciting things from other distillers.
You get to meet the makers
With over 60 distilleries represented it's fantastic that the distillers come to represent their products. This means you can have in depth conversations on their inspirations and methods. This leads on from the Gin Geekery from the previous point! ? I'm often found tasting 5 different products, trying to make notes and sharing my views and insights with people.
All the gin (& tonic) samples are FREE
When you enter the festival you get a tasting glass and all the gin tastings are free. You can try them neat (like a gin head like me!) or with tonic in a mini g&t.
You don't need to drink everything either, there are spittoons available if you want to pace yourself on the tastings.
Actual full size gin and tonics and cocktails are available from the bar in case you want to try your favourite gins like that, those are priced separately. There's no need to buy 'tickets' to swap for gin and tonics. Anyway you'll be wanting to save your pennies for the Gin Kiosk to buy your favourite gins to take away at the end.
A top tip is to bring some sturdy bags for your loot at the end, or even a shopping trolley!
They keep you well hydrated
Some gin festivals don't have water freely available – or nowhere to refill or buy a bottle. Junipalooza is sponsored by Hildon water, which guarantees as much water as you need, for free! So make sure you keep topped up.
There is proper food available to buy onsite
No packets of crisps here! The Mac n' cheese from last year went down very well. I can't wait to see who is catering this year, although I also recommend having a hearty (but not too strong flavoured) meal before you start drinking. This will help you from absorbing the alcohol too fast (it can't stop it though); and the flavour aspect will ensure that your palate is still OK to taste all the subtleties in the gin.
A great place to line the stomach before the festival is at St Katherine's docks, which is only a short walk away and has a tonne of different restaurants to choose from. Tobacco Docks is not far from The Oliver Conquest either if you want to get some more gin and tonics after the festival.
Read more gin festival tips from Inka at On the Sauce Again on her Everything you need to know about attending a gin festival post.
It's a great place to make new friends and catch up with fellow gin geeks!
I found my tribe basically – all gin enthusiasts united through our common love of gin, you can't get better than that!
So what's new this year?
This year the focus of Junipalooza in the main room is on glass to grain distillers. So expect to see Ramsbury, Lone Wolf, TOAD, Renegade and Adnams featured heavily. But TOTALLY new this year are the experimental rooms. These are 4 different rooms each dedicated to a different brand:
Caorunn is presenting the Highland Bothy. This will have meet the maker sampling stations, apple-picking-cocktail-making zone (for an extra charge), bar, shop and lounge area. There are sure to be some Highland games too!
Warner Edwards will be showcasing LIVE distillation. The ticket to enter the room will be £20 and will include a custom made Warner Edwards bottle made onsite on the day. You can't get more exclusive than that!
Fever-Tree will be hosting a room full of G&T goodness. This is all I know at the moment, more on that to be announced soon!
Copperhead Gin are recreating their Gibson gin launch at the Gibson bar. Of course this will involve pouring amazing cocktails, such as the ones I was lucky to try at the launch and their green bottled Gibson gin. I've been informed that it will be chilled, relaxed and with plenty of Gibsons to go round!
Tickets to the experimental rooms will be available on the day. Just check out the registration stands at the entrance to the festival.
Junipalooza are selling tickets from £30 for 2 sessions on Saturday 9th June 2018: 11am-3pm and 4pm-8pm and for a single session on Sunday 10th June: 11am-4pm (you get extra time!)
The Saturday late session usually sells out – so get tickets quick for that! When the £30 tickets are sold out the price goes up to £35, so another reason to get your tickets quick!
WIN TICKETS!! (competition now closed)
I'm giving you lucky readers not 1 but 3 chances to win a pair of tickets to the Sunday session of Junipalooza London on 10th June 2018.
You'll need to follow the instructions to enter on Instagram, Twitter and Facebook on the following days:
22nd April – Instagram competition: follow What's Katie Doing? and Junipalooza on Instagram, like the video shown below and tag a friend you'd take with you. I'll announce the winner on 27th April before the next post is up. The winner for this pair of tickets is @gnteasing – congratulations, still 2 more chances to win!
28th April – Facebook competition, follow What's Katie Doing? and Junipalooza on Facebook, like the post and tag the friend you'd take with you, I'll announce the winner on 4th May before the next post is up
5th May – Twitter competition, you must have got it by now! Follow me and Junipalooza on Twitter and retweet the tweet, I'll announce the winner on the 11th May
*Competition!* win a pair of tickets to @
Junipalooza Sunday session 10 June, my favourite gin festival, simply like & retweet this post & follow me @katiebhughes & @junipalooza https://t.co/jNnyRPFWPn (over 18s only) closes 11 May @ukbloggers1 @ginfoundry @ginkiosk

— What's Katie Doing? (@katiebhughes) May 5, 2018

The competition is open to anyone who can get themselves to Tobacco Dock for Sunday 10th June 2018, however you MUST be over 18 (i.e. legal drinking age) to be able to attend this event.
If you don't win the tickets, never fear! You can still buy tickets for both Saturday and Sunday via EventBrite (as at time of publishing this post – Saturday evening will sell out so get in there quick.)