Cornwall is known for having lots of gin distilleries, as well as great food. So it makes perfect sense for a pair of gin-loving foodies to head on a Cornish gin break for the weekend. My friend Meena and I headed to gin taste and eat the weekend away in Talland Bay, Cornwall. Read on to see what we got up to.
*Full disclosure, my stay & food at the Talland Bay Hotel, as well as the distillery tour of Colwith Farm Distillery were free, in return for this blog review, however all opinions remain my own*
A Cornish gin break
This post covers the following:
How to get to Talland Bay Hotel
Talland Bay is near to Looe and whilst it's easy enough to get to Looe via train on the branch line, it does leave you at the mercy of the local taxis. So instead Meena and I decided to hire a car when we got to Cornwall. We took the train from London Paddington, down to Plymouth, where there are multiple car hire options.
We went down on a Friday afternoon – the train journey from London takes 3 hours. We then picked up the car and promptly got stuck in Friday evening traffic getting out of Plymouth. However having the car meant more flexibility on going to different places on our own timetable. Even better, as Cornwall is set up for drivers, most distillery tours have the option of taking away a sample if you are the designated driver. Perfect to make those far flung distilleries!
Our train on the way back took a lot longer, due to the Sunday service stopping at more stations. It's worth noting that the car hire places are closed on Sundays however it is possible to leave the car and deposit the keys at some firms.
Talland Bay Hotel location
Talland Bay Hotel is approx. 40 minute drive from Plymouth, however on a Friday evening you need to leave an hour for the additional traffic. Use the postcode from the hotel address to get satnav (or google maps) directions:
Talland Bay Hotel, Porthallow, Looe, PL13 2JB
Talland Bay Hotel is situated at the end of a long narrow road with passing places. So note that you might have to back up if you meet traffic coming the other way. This happened to us twice, Meena wasn't impressed!
But when you arrive you immediately see the view from the front of the hotel – straight out to sea.
Staying at Talland Bay Hotel
Talland Bay Hotel is known for being dog friendly, and the first thing I spotted was the doggy water bowl outside the front door. When inside, manager Jack helped us to our room, a superior sea view room on the first floor.
The superior rooms have more space than the standard ones and ground floor rooms open straight out to the gardens. Great if you need to walk the dog first thing.
I loved the space of our room, with it's own sofa seating area and little touches, such as the tea pot and coffee press.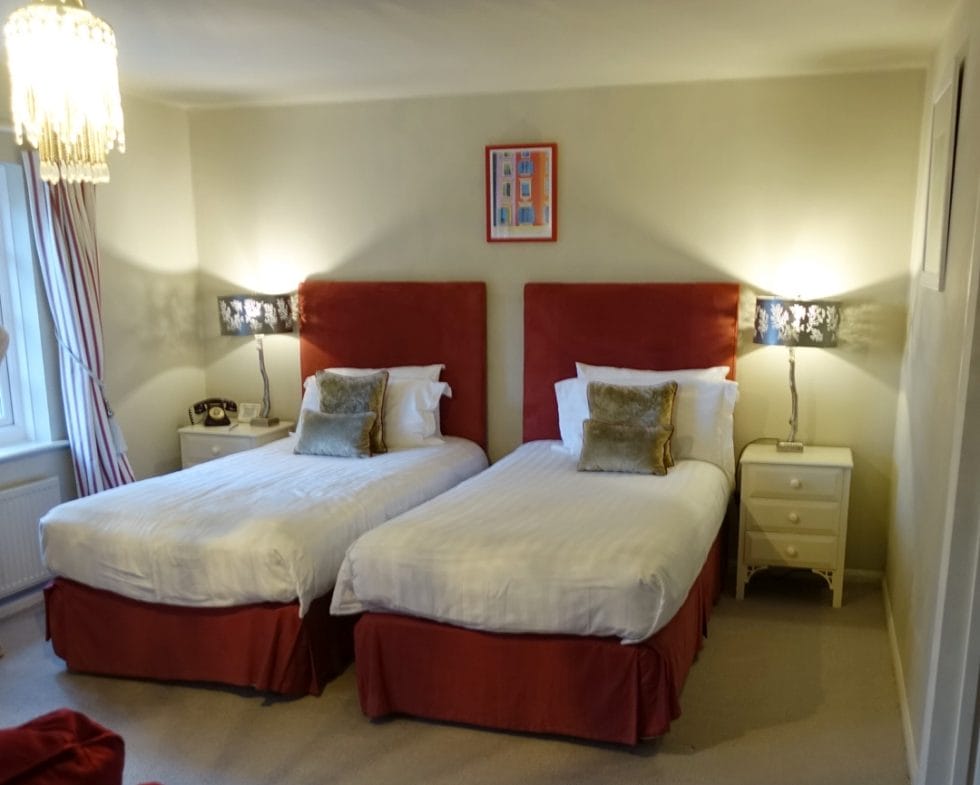 We had a twin room and the beds were very snug, I slept well both evenings. They can also make this room into a double.
We also had a spacious bathroom, with it's own tub as well as a free standing shower and toiletries from the White Company.
If you like the look of this room, then book room 29! Each room is individually decorated, so I'd recommend checking out their website to see what each one offers:
Hotel general decor
The general decoration of the hotel is eclectic.
It's seaside meets Alice in Wonderland meets animal (print)!
Many pieces are by local artists and available to purchase too.
Breakfast at Talland Bay Hotel
I had to mention this as the breakfast was also superb!
With a large selection of items from the hot menu, as well as a buffet table of cereals, fruit, yogurt and pastries, there is something to satisfy everyone.
The eggs Benedict had beautiful thick sliced local ham and a superb hollandaise sauce (so much so that I wanted some too).
They very kindly gave me a jug of the hollandaise sauce on the side with my avocado toast. They were also very flexible with mixing and matching items from other dishes – I heard another table order extra smoked salmon to go with their breakfast.
As we stayed two nights (the minimum stay really when you are travelling this far), we got to try two breakfasts! Having seen the salmon the previous day, we both had to order it.
The quality of the smoked salmon was superb; not overly smoked, moist and generously cut. (I really want to know where they source this from.)
Drinking at Talland Bay Hotel
Pre-dinner drinks
We started our evening in the bar area.
As we were here for a Cornish gin break, we had to start with the Colwith Farm Distillery gin tasting. This included three gins from Colwith Farm Distillery (read all about the Colwith Farm Distillery tour & gin tasting that we did too).
We tried Talland Bay gin, made exclusively for the hotel and only available onsite, alongside Colwith Farm distillery's own gin, Stafford's gin and one made for nearby Fowey River.
The following evening we had a Cornish negroni (Meena and I are both member of Negroni Club UK dontcha know!).
The bar manager Simon made this with Tarquins Seadog gin (Navy strength at 57 % abv) and it certainly got our approval.
Talland Bay Hotel gin
The hotel manager, Jack, took us through the process of creating the Talland Bay Hotel's own gin. The base is made from Colwith Farm's potato vodka (made from their own potatoes). The process of selecting the botanicals for Talland Bay Hotel took a lot of iterations. Jack told us how they wanted to represent the hotel in the liquid, so used pine as a key part of the Talland Bay Hotel experience (the pine trees in the garden are also part of the hotel logo). They took 1.5kg of actual pine tree out of the garden and soaked that in the spirit before the distillation started. They tried using lavender, but this didn't work. Peppermint, elderflower and rose stayed in though, with coriander to help the flavours bind together.
This created a complex but easy to drink gin. You definitely get the pine and juniper notes up front, then the floral and citrus. There's a lovely creamy feel in the mouth coming from the potato base as well as a decent length.
This is very exclusive as you can only taste and buy Talland Bay Hotel gin at the hotel. Bottles sell for £35 for 50cl and they have around 50 left of that original batch of 400.  Jack also told us that he was looking at the potential for creating a Cornish blackberry gin similar to a sloe gin, so watch this space in 2020.
Wine
On our first night eating at Talland Bay Hotel, we stuck with a glass of white wine each to go with our meal. They have a fabulous wine selection – including some local Cornish & English wines, which you need to try. On the second evening we decided to go with the paired wine flight. Each of the dishes on the menu comes with a recommended pairing, including sweet wines for dessert. We had three courses, so three different wines. This was incredibly good value for money, priced at £25 per person, so I'd highly recommend this option (especially if you are staying – don't drink and drive!).
Fine dining at Talland Bay Hotel
The best bit about staying at Talland Bay Hotel is not having to drive for dinner! They have two dining spaces – the formal fine dining room and the less formal brassiere (that also allows dogs to join you for dinner).
Catching up with Head Chef Nick Hawke
I had the opportunity to catch up with Head Chef Nick Hawke. He told me about his plans to change the menu going forward. There will still be the same focus on local, seasonal produce that showcases Cornwall. However he wants to simplify the menu – having the same one across the brasserie and formal dining. Sustainability of the sourcing, for example of the fish, will be key.
Nick also wants to source meat using a 'nose to tail' approach – he aims to buy whole carcasses and butcher themselves. This will provide different cuts of meat, which Nick wants to offer up alongside the more traditional ones we are used to. I think this is quite exciting and definitely a draw to see how the kitchen will innovate with these changes.
Pre-dinner snacks
As part of the fine dining experience, you get to enjoy pre-dinner drinks in the bar area, whilst you chose your meal. They then present you with a selection of snacks to accompany your drinks – very civilised!
We were then taken into the formal dining room to be seated at our table.
I have to start with mentioning the bread and butter. They give you a selection of freshly made bread. We had rye, sourdough and brioche. These are served with 2 types of butter: salted and smoked. The smoked butter was *out of this world* – simply divine. Apparently they smoke it themselves, so my top tip is to eat as much as you are able!
Amuse bouche
Each evening the kitchen serves up a small item to whet your appetite before the dinner 'proper' starts.
Starters
I was influenced by the savoury Tarte Tatin on Great British Bake Off this season, so had to order the beetroot, apple & shallot Tarte Tatin to start. This was served with local Boy Laity Camembert and roasted hazelnuts.
Whilst this was a great seasonal dish, and a perfect combination with the cheese, I think Meena won with her selection:
This dish looked amazing and when I ordered it the next evening I could confirm that it tasted amazing! Again local produce and classic flavour combinations for the win. Meena also ordered the Cornish crab and mussel cannelloni the following evening. I think when you are this close to the sea, fish and seafood is a must.
Mains
Following on with the fish theme, the main courses included 2 different fish options. Again both Meena and I chose the cod – just on different evenings. This came roasted with a generous serving of pomme sarladaise, brown shrimp, lovage beurre and a cep ketchup. The combination elevates the dish from plain old cod and makes it quite fancy. This is a generous portion for a menu that's fairly rich.
I went for the wild British venison the first night. The roasted loin was served alongside the slow cooked haunch wrapped up in a crispy package (it's the cylindrical part below). This was served with cripsy potatoes, red cabbage, chicory and elderberries. This is a great dish for Autumn, but fairly rich and heavy (so much so that I couldn't fit in dessert!).
If that sounds too heavy for you, then you can always do like Meena did on the second night and stay vegetarian.
The vegetarian main was roasted chestnut gnocchi, with Autumn squash, broccoli, locally foraged girolles and Cornish Nanny goats cheese. Definitely a lighter option and one that Meena enjoyed. They also had brill and beef on the menu when we visited. I saw another table get the beef and that looked superb.
Pre-dessert
These were so fun! Like a sweet amuse bouche or palate cleanser, they also changed between the two nights we were there and showed off the kitchen's creativity:
Cheese
The first evening I just couldn't fit anything else in. The cheeses are a supplement to the menu, but as I love to taste the local produce one of us had to order some. So Meena took one for the team and ordered three cheeses (which I did manage a wee taste of). Again the cheese is all locally sourced and quite varied.
We had to try the locally made Cornish Gouda from the Cornish Gouda Co – this is the middle cheese above. It was an extra mature cheese and you could definitely taste the nutty flavour profile. The one nearest was Driftwood Goats Cheese from White Lake Cheese ltd. This had an ash rind, that you can just about see and was lovely and creamy in texture, but with a tangy flavour. The cheese at the furthest edge of the board was the Cornish Crumbly from Whales borough Farm – a 'Lancashire style' cheese that was more acidic.
A lovely touch on the menu is that they name the cheesemakers. For example the Cornish Gouda is made by Giel Searing, the Cornish Crumbly by Sue Proudfoot.
Dessert
The second evening we had strategised before dinner (aka no lunch and picking the lighter fish or veggie options so that we had space for dessert). So we were able to taste the desserts and let you know about them. I think Meena won this round with the classic prune and Armagnac souffle:
I went with the seasonal Granny Smith Tarte Fine, served with miso caramel ice cream. This was the only thing on the menu that was a bit of a let down for me. It just didn't have much wow factor, there was nothing wrong with it as such. Perhaps I should have stuck with my usual and gone for the chocolate dessert?!
The team also do a savoury dessert that we didn't try – this was a pear and blue cheese mousse when we went. Which would be a good alternative if you don't like sweet things. Check out what this looks like on their Instagram:
Talland Bay Hotel currently caters for lunch, afternoon & cream teas, as well dinner. Don't forget to check out their offers for Dine and Stay too!
Things to do around Talland Bay
Colwith Farm Distillery tour & gin tasting
As Colwith Farm Distillery make the Talland Bay Hotel we had to visit and see the distillery. The distillery is a 40 minute drive from Talland Bay Hotel in Lostwitheil. The distillery tour and tasting takes around 90 minutes and you'll come away *slightly* tispy. Luckily they do a designated driver package, so Meena got to take away a sample of gin to taste after she'd finished driving (a big thanks for her doing the driving too!).
Talland Bay Beach
The beach is only a short walk down the hill from Talland Bay hotel. However note that what goes down must come up again and it's a steep slope! When you are down at the bottom the cafe is adorable. It's a must to stop here for tea or a sandwich. They also stock lots of things you need for playing around on the beach and in the sea (maybe not ideal for October…)
There are also toilets and parking available. I can imagine how crammed this place would be in the height of Summer though, so it was nice to be there in the off season, enjoying the lovely weather.
The South West Coastal Path
The best way to appreciate the coast is to walk along the cliff top path from Talland Bay to Polperro. The walk takes about 45 minutes, even if you are woefully under prepared like we were.
It's not an easy walk and was very muddy, even though we didn't have any rain on the day. We survived in trainers and city boots, but you might want to take walking boots or wellies!
You really feel like you've earned your dinner at the hotel after walking to Polperro and back, up and down the cliffs. I definitely felt my glutes after all that walking and made my step count for the day. We were lucky to have lovely weather the whole weekend, with only a little rain when we were driving, which made it a lot easier.
Polperro
This cute fishing village seems to be mainly holiday homes (they were all being cleaned as we walked past on Saturday morning). It's basically car free as the lanes are so narrow, so really feels like stepping back in time.
Apart from walking around the village, there is the Harbour Heritage Museum, tea rooms, restaurants and of course pubs.
We stopped at the Blue Peter Inn on the recommendation of the The Real Juniper Chick. However we were there at 11am, so we didn't indulge in a drink, they do a mean latte… (plenty of other people were watching the rugby world cup with a pint though). Instead we did the walk back to Talland Bay, managing to get there before the rain came in.
The Verdict
We had a lovely weekend at Talland Bay Hotel. We certainly had the opportunity to taste lots of local gin and enjoy lots of local food. Talland Bay Hotel is a lovely property with some quirks that make it truly unique and they definitely fed us well. We needed the walk to Polperro and back to burn off breakfast and to build up an appetite for dinner.
Here I leave our Cornish gin break. A big thanks to Talland Bay Hotel for hosting us.
Will you be heading to Cornwall for a gin tasting weekend break?