So there are more drinks out there than gin…. so what are you drinking this festive season? Well in time honoured fashion I've done some drinking research for you and here are my recommendations, including a ginny twist on that Christmas favourite: eggnog.
Drinks for the festive season, that aren't just gin!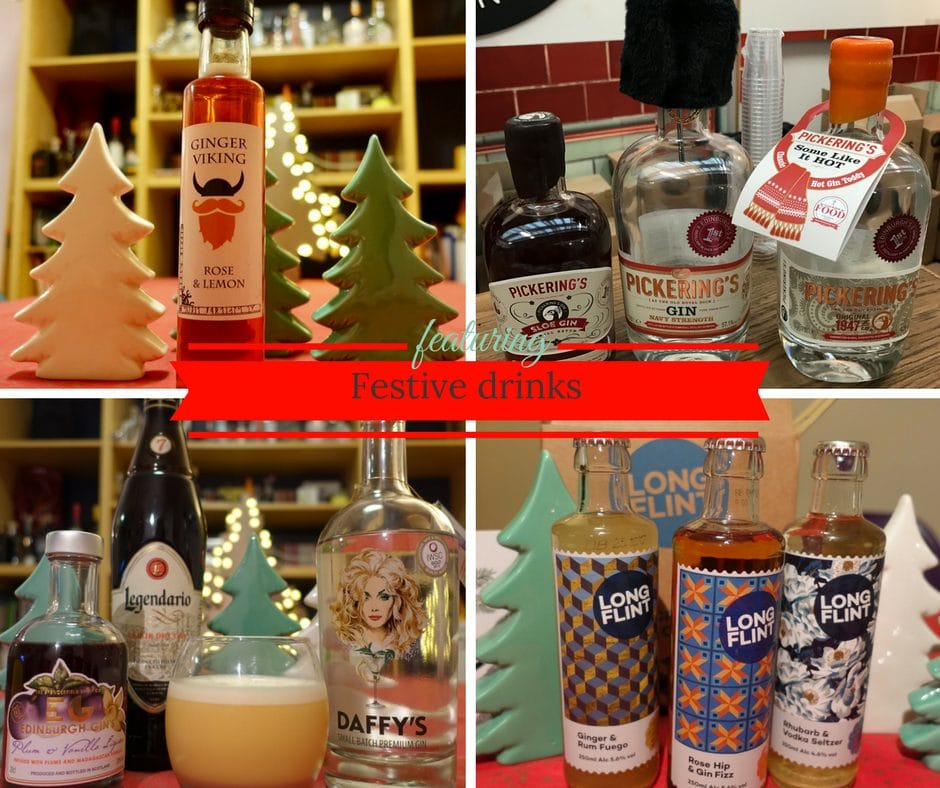 Get festive with some fizz!
Whether it's a Christmas party, Christmas day or New Year's Eve, you can't go wrong with a glass of fizz. I recently attended the Tesco wine fair at Olympia and did some taste testing of the best they have to offer. Even better is that the pricing is really competitive and you can get wines from all over the world – including some I first tasted on a trip to New Zealand five years ago.
The prosecco had a pear flavour and was lovely and balanced – £10. However we all know that we can find prosecco in every corner shop – can you find English Sparkling wine though? The answer to that is not in the corner shop! Tesco have an absolutely gorgeous English Sparkling wine in their finest* range – Hush Heath. This is a classic 3 grape 'champagne style' wine and got the thumbs up from me – even better its only £17.50 a bottle!
For something a bit special why not try a rose champange. The finest* rose champagne is a gorgeous colour and being crisp and dry in style would work well with a smoked salmon starter or nibbles (this is how my family start Christmas lunch!)
Or why not pimp your prosecco with a modern twist on the Kir Royale and add a splash of the Ginger Viking's Rose and Lemon Cordial?
Find out more about the Ginger Viking cordial range. It was actually designed to complement gins in place of tonic, so I know I'll be trying out all the flavours!
Wine for the meal
I know that not everyone loves gin, and they certainly don't think of it as the main thing to drink alongside food. This is where wine is traditionally chosen to complement.
And it's also where Tesco wines have you covered!
We rated the Finest* English White 2014 – I thought this was easy drinking with floral aromas. My friend likened it to a garden of white flowers! For something less floral try the Picpoul de Pinet 2015 (shown above on the left). This was light and creamy, a French grape that is up and coming.
As we worked our way through the range we estabilished that our tastes suited the Finest* range! The Albarino 2015 was very tasty, the Pouilly Fume 2015 amazing and the Chablis Premier Cru 2013 quite lovely, definitely suited to serving with food.
I rated the Gavi 2015 highly, however we both didn't like the Passerina 2015 (this is not a grape I've ever tried before). The North Row Vineyard Sauvingon Blanc 2014 went down well and the Tingleup Riesling 2015 was ok (a wine for specific serving!). However the star of the selection above was the Soave Classico Superiore 2014. This had a green melon flavour, leading us to think this would be perfect with a starter like melon and prosciutto.
With the reds I really liked the Montepulciano d'Abruzzo – perfect with garlic and tomato sauces. The Montagne St Emilion 2013 was dry and tasty, the wine notes say spicy and medium bodied. One to note is the Barolo DOCG 2012 – very deep in flavour, so probably not one to pair with turkey!
We found the Shiraz shown above to be very smooth. If you are serving duck or venison then the Chile Merlot 2015 with its blackcurrant flavours would go very well. For steak we tried several wines that would work. The Vina del Cura Rioja Gran Reserva 2010 has lots of vanilla from the American oak and is spicy and full bodied. The Swartland Pinotage 2015 needs the protein to even out the tannins in the mouth. We found the Trilogy Malbec 2014 to be very solid and smooth.
All of these wines are reasonably priced, from £7 up to £25 for the champagne, so definitely check out Tesco wines in store and online.
Celebrate with a cocktail
Why not make some traditional or less traditional cocktails? Now here I have to include gin 🙂
Gin 'eggnog'
This is actually a take on a gin flip and is a lot quicker to make than a traditional eggnog (which is basically uncooked egg custard!).
This layered beauty has two different gins in it – Daffy's and Edinburgh Plum and Vanilla gin liqueur.
Ingredients:
35 ml Daffy's gin
15ml sweet rum like Legendario (although I picked this up in Cuba, so you may have to try another brand)
15ml milk
1 egg
15ml Edinburgh gin Plum and Vanilla liqueur
Ice
Method:
Add the Daffy's, rum, milk and egg to a shaker and shake up to combine the ingredients.
Add ice to the shaker and shake again.
Pour into your choice of glass, using a strainer to keep the pieces of ice out.
Add the Plum and Vanilla liqueur, this will sink to the bottom to add a layer of pink.
Enjoy!
Classic hot gin toddy
Having tried this hot gin toddy at the Foodie Festival, I can totally vouch for it!
Ingredients:
125ml apple juice
1 teaspoon of honey
Lemon
35ml Pickering's 1947 gin
Cinnamon stick and lemon twist to garnish
Method:
Heat up the apple juice, drizzle in the honey and add a generous squeeze of lemon. Just before you remove from the heat add the Pickering's gin (basically don't let the alcohol burn off!). Garnish with the cinnamon stick and lemon twist and for extra festive cheer add a dash of sloe gin.
Or take it easy with these pre-mixed drinks:
Long Flint
I tried out Long Flint at Taste of Christmas this year and I love their flavours – definitely grown up! Stocked in Selfridges, they are also available online, find out more here.
Funkin Cocktail mixers
And for the non drinkers, Thor!
For those of you that don't drink or have to drive over the festive season, why not try an adult alternative to soft drinks with a Thor. Not only low sugar, these apple based drinks are dry in flavour. Think dry cider, but without the alcohol. They have a selection including the apple, ginger and also an apple and mint if you want to mix it up and pretend like a mojito!
Find out more including stockists here: Thor Drinks.
Note that brands have provided me free samples and entry into the wine fair, however I would not be writing about them if I wouldn't be happy to pay to drink them, so I hope you like my festive recommendations!
What are you drinking this festive season? Let me know in the comments!