Hello and welcome to my first collaboration post. After some recent work trips where I got to try out both Emirates and Qatar Business Class long haul, I wanted to see what experiences others have had and how the airline's Business Class offering stacks up.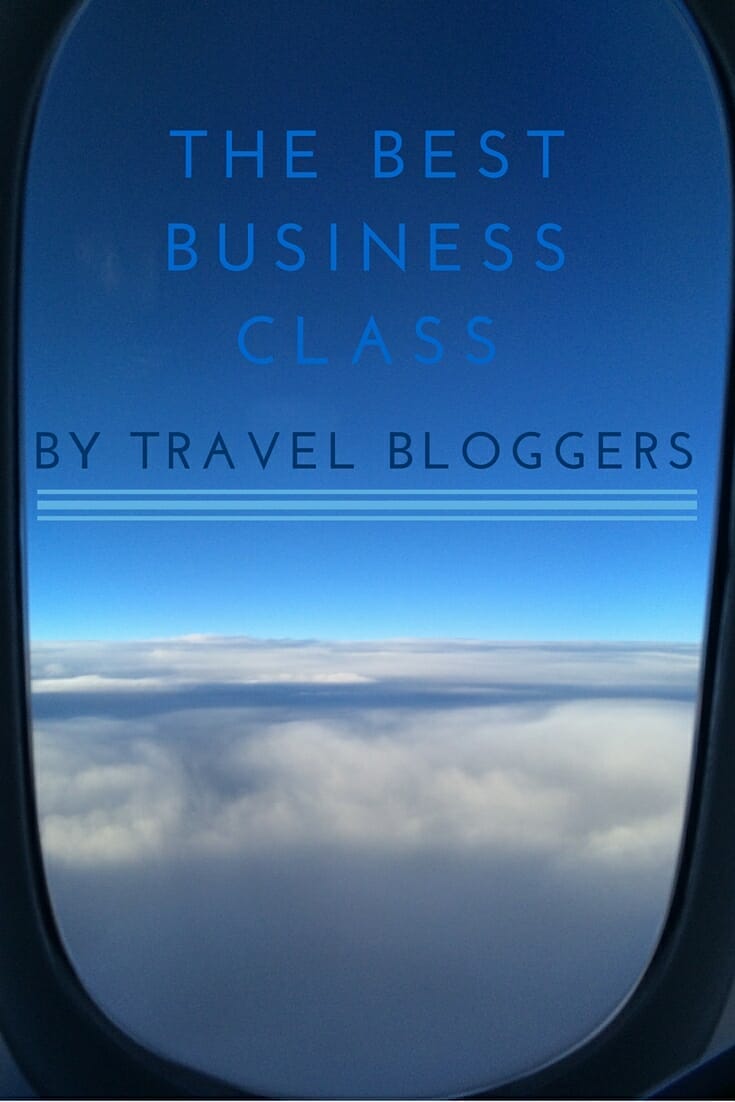 So I asked fellow Travel Bloggers, Angie from Silverspoon London and Marie from Luxury Travel Blog to share their experiences on Business Class flights.
Supporting British Airways is Angie Silver:
I always travel with British Airways as I have a loyalty card with them and plenty of points saved up. I also like the high standards of quality and service offered by the airline.
Angie enjoying her Business Class seat on British Airways
Check in experience:
There is no chauffeur service, but there's a dedicated desk for club class meaning shorter queues for check in. Fast track through passport control, very friendly and efficient staff complete the check in experience.
The lounge:
I really like the British Airways Business Class lounge at Heathrow. The food is good quality, plenty of choice and the public area is up to date and well serviced.
On the plane:
For long haul flights there's a flat bed which is comfortable. I do think that the layout of the plan isn't always practicable as you have to step over other people to get to the aisle. I usually find the food of good quality, though I generally choose the healthy option which is often cold. I'd like to see more healthy options served as a hot meal. The meal is served at a set time though in first class you can have it whenever you want. Good selection of drinks!
Other flight amenities:
You receive a decent wash bag but not much else in Business Class. First class amenities are better.
Angie Silver
is the blogger behind 

SilverSpoon London

, a leading UK lifestyle, food and luxury travel blog, following Angie's adventures in her hometown of London and around the world. Angie aims to give the low-down on London's hottest new restaurants as well as cool and inspiring destinations globally. You can follow her luxury travels on

Twitter

,

Facebook

,

Instagram

and

Google Plus

.
Supporting Etihad is Marie:
Time goes by and I find First or Business Class travel is essential as I get older. Nowadays, I would rather stay at home if the only choice was Tourist class flying!
Marie enjoying her flat bed in Etihad Business Class to get a decent sleep!
Check in experience:
The joy of a complementary Etihad driver with a comfortable Mercedes whisking me away from my front door with a mountain of luggage is unsurpassed. Especially on those cold, frosty mornings, the knowledge that we won't be freezing cold in an airport carpark struggling with luggage is a real treat.
The lounge:
Glide through fast track and settle into the calm, luxurious Etihad Business Class lounge. Choose a delicious snack or meal and settle back in a quiet, refined environment to await the flight. You will feel relaxed and calm, especially if you indulge in a massage or manicure at the Spa in the lounge.
On the plane:
Step aboard and into a quiet and tranquil plane, especially the A380 – the best Business Class plane in the world – with your own private little area which turns into a flat bed at bedtime. In the meantime you are spoiled and pampered by the best Air Stewardess who will serve meals as and when you want – no set mealtimes here. Etihad food is the best airline food, without doubt. The Seafood menu is especially perfect for a non-meat eater like me. The wine list would be at home in the finest Michelin starred restaurant.
Marie, Luxury Travel Diva writes for http://www.luxurytraveldiva.com covering her trips around the world, the good and bad experiences.  Helping people to make informed choices when choosing an expensive holiday, she is a writer for several worldwide publications including in Russia and UAE. You can follow Marie on Twitter, Facebook and Instagram.
And who am I supporting as the best Business Class? Well that would be Qatar Airways:
Whilst Emirates also provides a chauffeur service to and from the airport for Business Class flyers, this isn't something I'm going to hold against Qatar, who I think provide a superior service.
Check in experience:
As with all the airline check in's, Qatar has a dedicated check in for Business Class and this means zero queues. The fast track through Heathrow security wasn't as fast as expected, due to numerous passengers with access, but it was probably better than the economy queues.
The lounge:
Once inside the lounge you realise that the service is personalised, there is no buffet option here, but instead the staff provide menus and take orders for you. Whilst the lounge at Heathrow isn't as extensive as British Airways or Emirates, it has everything you need – including a martini bar! (I didn't indulge last time as I was travelling for work and needed to sleep on the plane, but I will plan a martini stop next time I fly) and of course their lounge at Doha airport is the flagship lounge. I made liberal use of their shower facilities, restaurant & bar!
On the plane:
The air stewards greet you personally and are so friendly. They provide the requisite drinks – champagne for me – and let you get settled into your seat, before confirming if you would like meal(s) and when. The choice here is yours on when you eat and the selection was decent. The wine list was well paired with the food choices too. The beds are flat and the layout of the cabin (reverse herringbone) means that everyone can access the aisle without stepping over and annoying your neighbour (something that I found defeated the point of having a flat bed when trying to sleep on an Emirates flight in the A380).
Other flight amenities:
As well as the standard wash bag you can get pyjamas to change into when you want to sleep, something that is standard on First Class for other airlines.
Don't forget to keep up with What's Katie Doing? via Facebook, Instagram and Twitter.


The verdict?
So what is the best Business Class? It really depends on what you've experienced! Each time I travel Business or First is a whole new experience and spoils you for the next one where something isn't quite perfect. Obviously the best Business Class is one you don't have to pay for, so make sure you collect those air miles!