One of the main reasons I visited Iceland in the winter, was to see the northern lights.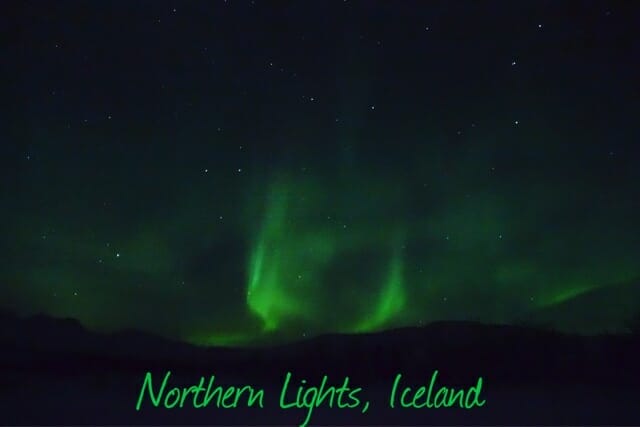 This has been on my bucket list for ages, but when I took my year out and went travelling two things stopped me coming: the cost and the closeness to the UK.
As a backpacker cost is very important and even though we got a great deal for a long weekend, the overall costs of Iceland meant that I'd rather save it for when I could visit with money to spend.
The closeness to the UK meant that it was possible to do a weekend trip – we did a 3 night stay – so it was less important to fit in than some of the places in South America where I may not get back to see….
So basically this trip was the culmination of a life long wish to see the northern lights and I'm totally escstatic that we managed it!
Northern Lights tour
We booked the tour as part of our weekend package – including the hotel and flights, but they cost around £40. The operator was Grayline – who we did all of our tours with in Iceland.
They pick you up and take you out of Reykjavik – about an hour or so drive – into Pingvellir national park (which we saw on the
golden circle tour
).
You basically get out of the bus in the dark at a car park in the middle of nowhere and then wait….
We had just gone into the cafe for a coffee when we heard people exclaiming and then a mass rush of people out of the door!
The lights started as a blur behind the mountain, then morphed looking like they were being blown over the mountain by the wind.
You can see the outline of the mountain on the right side.
They eventually stretched over the whole sky like a bright rainbow (just not with the rainbow colour!) and then the fun started….
The rainbow shape morphed and split, ebbing and flowing, surging and retreating, with fingers reaching up into the sky.
The lights danced for us moving rapidly and even changing colour – we got see a bit of red, which is unusual. They flowed but also twinkled – splitting into vertical shards that flashed, before moving off into wisps that curled around. This was stunning! Everyone in the crowd of tour buses was oohing and ahhing and exclaiming!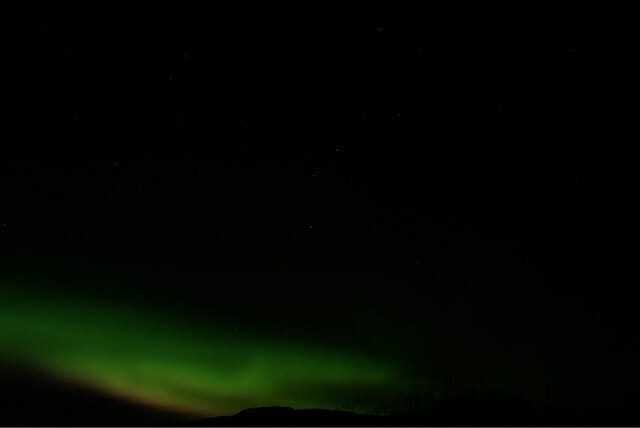 Not my best shot – we were too busy looking to set up the camera (tricky in the cold!) – but you can see the colour changing to red at the bottom.
The whole display moved as well – starting off behind the mountain in front of us and then ending up all over the sky and above us.
Looking straight up above us.
When we left it had faded – and yet more tour groups were arriving, but we got our show!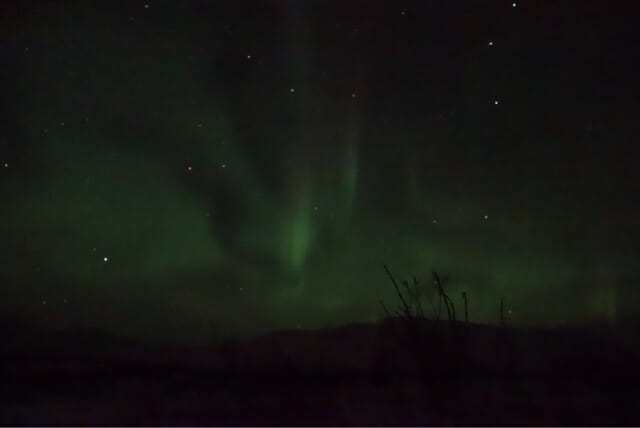 Best night ever and another thing to tick off my bucket list! ?