If you've been following my Instagram or Facebook then you'll know that I spent two weeks in South Africa last November/December (only a couple of months ago, but it feels like longer!) This is my top three in South Africa – lots more detail to follow! You can see previous posts from my Top Three series here.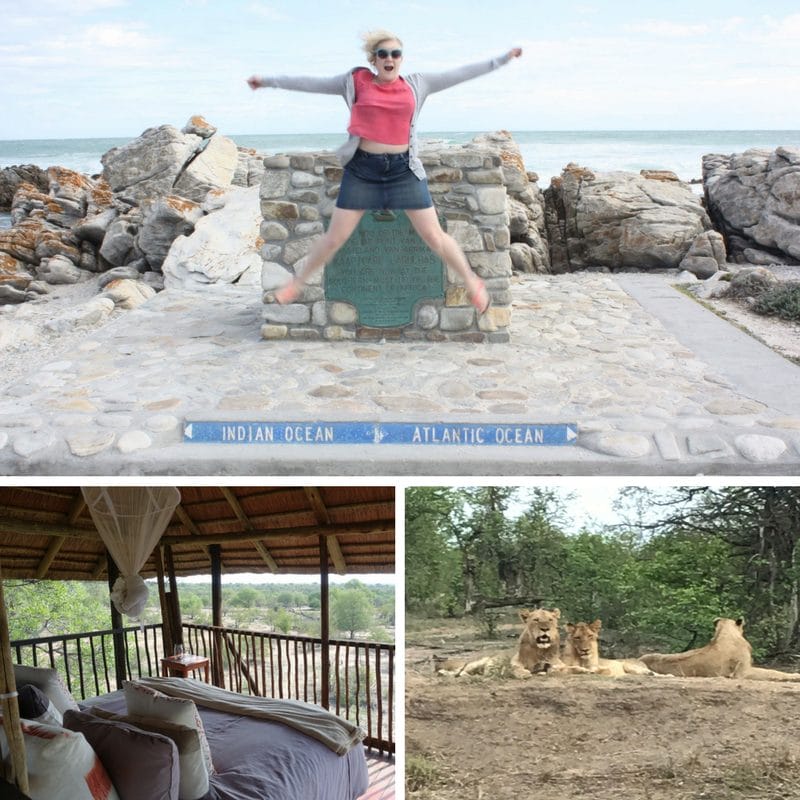 Top Three in South Africa
Top three smells
There is something about the smell of jacaranda blossoms that evokes Spring in the Southern Hemisphere to me, as the first time I smelt them was in November in Sydney. However in South Africa our driver and guide said that they remind people of sitting exams…. I know which I prefer. You can read more about our day in Johannesburg here.
Garden route
There is a certain smell that is unique to the Garden Route (the inland piece). I couldn't quite place what was causing it – a combination of different plants, maybe even some of their famous botanicals, such as Rooibos. But now it evokes a sense of foreignness and excitement that will forever be tied up in my country number 59 – South Africa.
The sea!
I do love to be beside the seaside! We spent several days of our trip on the coast, whether it was chasing waves in Wilderness, eating seafood at Plettenberg, wading with penguins at Boulders beach or drinking cocktails at Camps bay. So really you couldn't get away from the sea… or the wind. Cape Town is known for being windy and we were sand blasted on the Cape of Good Hope.
Top three tastes
Steak
You can't go to South Africa and not eat steak (well I guess maybe if you are vegan?). The South African's love their meat and alongside some great seafood we had several steaks. the best was in Stellenbosch, but I also tried Ostrich in Wilderness.
Wine
Again you can't go to South Africa, especially the wine regions like Stellenbosch and not try the wine. Well we tried a lot of wine (for elimination purposes obviously – they all passed our test). They make great wine of all styles in South Africa, so we took full advantage of the very reasonable prices to try and bring some back.
Gin
Well you know me, I wasn't going go to South Africa without trying the gin. This is a fairly new market and expanding rapidly. They make some great gins such as Hope on Hopkins, Triple Three and heaps more that I will write a separate post about.
Top three achievements
Hiking table mountain
We thought we were doing the easy route… well it still took us 3 hours. So the sense of achievement when we got to the top was high!
Being surrounded by lions when on safari
I didn't get any (good) photos of when our safari vehicle was surrounded by lions in the dark one evening. But you can see from the above that we also managed to get very near this pride. Safari was amazing – we saw so many animals, big and small.
Sleeping in a tree house
This was one of the draws for staying at Africa on Foot for me. We only did one night in the tree house, but it was much cooler than staying in our rooms as we felt the breeze. However I still didn't sleep great – must have been imagining being watched by wild animals….