A quiet Saturday afternoon on a street in South London. A massive queue of (mainly) women. Everyone dressed up to the nines.
What could it be? Reggae Brunch of course!
Reggae brunch: bringing the party to London!
This isn't any old brunch, this is a PARTY!!
So whilst you may have come for the rum punch and Cotton's jerk chicken, you'll stay to dance to the music and have fun.
I was lucky enough to be invited to review Reggae Brunch via Love Pop Ups London, big thanks to both!
The concept:
Hosted in a secret location, reggae brunch moves around between venues. Brunch starts from midday with an hour of bottomless rum punches. Then you get a three course meal from Cotton's.
Through it all and until 5pm you have the music, naturally! Whilst it starts off tame, people were dancing from the start and it gets fully into the party mode after the food is finished. When I say party, I mean full on twerking… Tiva made sure that I mentioned that!
At Fu Manchu, where it was hosted when I went, they even closed the blinds and you got the full nightclub experience… at 3pm!
Each table was laid with free colourful garlands and vuvuzelas to get everyone in the party mood! If you want a laugh check out my Instagram videos for my attempt on the vuvuzela (it's tricky!!).
Whilst we left before the end, it was an awesome party, perfect to kick your Saturday off right. Check out my Instagram stories for the videos!
The drinks:
As mentioned the brunch starts with an hour of unlimited rum punches. You get a glass when you enter and have to swap it back in for your next drink. They also have non-alcoholic options for the non drinkers too.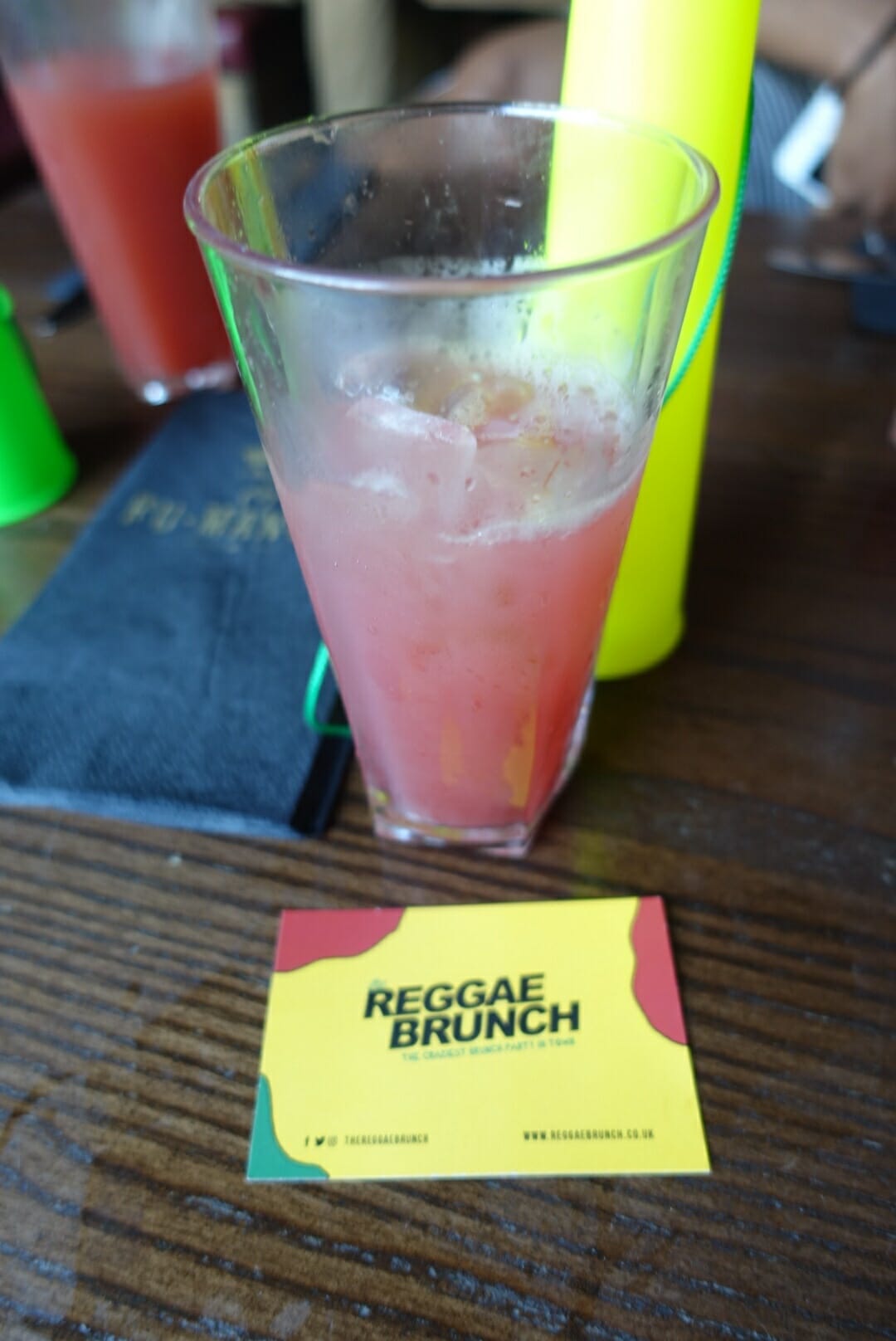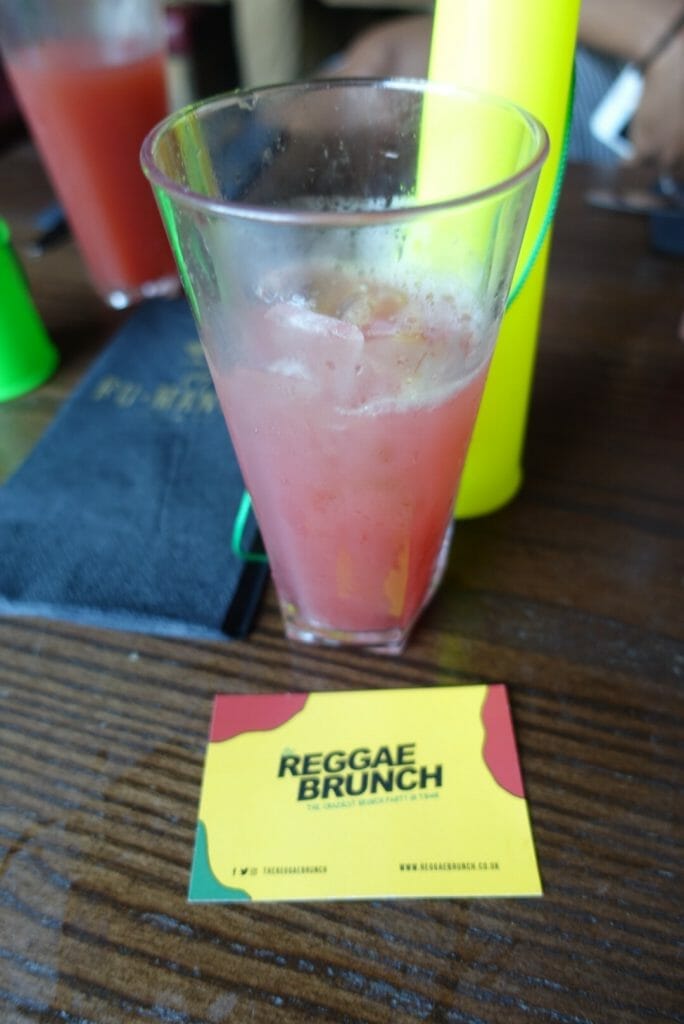 After that hour is up you can buy additional drinks. If you are there for a party you can also prebook a party package that includes a bottle of prosecco and a sparkler to announce its appearance at your table. Birthdays also get birthday cakes for their groups.
We tried out some fabulous dark 'n stormy cocktails – however not all the bartenders knew how to make them.
The food:
So to the best bit: food from Cottons restaurant.
Our three courses included a vegetable pasty and salt fish fritters (vegetable and vegan options also available – but needs to be notified in advance). The pastys had great pastry and an OK filling (not quite the pastys you get at carnival). However the salt fish fritters didn't contain a lot of salt fish. In my opinion The Mango Room in Camden does this better.
We didn't try the veggie version with pumpkin and sweet potato. The starter was served with sweet chilli sauce and we ate everything!
For the mains it was jerk chicken served with rice and beans, dumplings and coleslaw. The chicken was very tasty and had a kick to it from the scotch bonnet chillies in the marinade. The rice and coleslaw acted as great cooling agents if you found this hot. The corn dumpling was very tasty too. All in all a nicely balanced plate of food that went down well.
For veggies there was the option of halloumi and veg kebabs, with jerk sauce, instead of the chicken.
By the time dessert came most people were up dancing and so didn't seem to eat it! We did though…..
The rum cake was basically a ginger and carrot cake, with icing. It was very tasty and served with cream and berries, we cleaned our plates quickly.
The verdict?
Given that the menu for the food would would probably cost c£20 and the drinks are £5-£10 each, the ticket price seems very reasonable. After all you don't come to Reggae Brunch for the food and drink – you come for the PARTY!!! And that was kicking off!
To check out their next events and book tickets, go to the Reggae Brunch website.
**Full disclosure – I got my brunch for free and my friends got a discount in exchange for this honest review**