As you may have seen on social media I was in Killarney Ireland this autumn for the TBEX conference. This is my first visit to Ireland, that's right, I've never even been to Dublin before this! Killarney is surrounded by national park with some stunning views, it's so easy to get out and about in nature. Here are some ways you can explore the area around Killarney:
*Full Disclosure: These activities were free for me as I was in Killarney as part of TBEX Travel Bloggers conference, however all opinions remain my own!*
If you prefer a city break over greenery and nature, then check out these top things to do in Dublin.
Outdoor activities in Killarney, Ireland
Kayaking
Our first Pre-TBEX tour was with Wild 'N' Happy Tours. They met us at Lough Leane by Ross Castle with the kayaks and wet suits… yes wet suits!
A few us were less prepared than others, ideally you want to wear your swimsuit under the wet suit and definitely bring a towel. It definitely helps to be wearing your swimmers before you get there as we had to change in a minibus. A pair of trainers that you don't mind getting wet are also a must have, otherwise you can go barefoot like me – but feet will get cold!
We posed for the obligatory group picture, before following our guides out onto the Lough (lake).
In the water…
The weather was typically Irish – i.e. wet, so we were rained on as well as getting soggy bums from the water in the kayaks (the wind meant choppy waters). To keep out of the worst of the waves we took a short cut under a bridge, rather than going around Ross Castle. This involved about a 2 foot clearance and having to limbo under the bridge whilst still in our kayaks! This was certainly a sight to see and kinda fun, using our hands against the ceiling to push the kayak through, whilst trying not to drop the oars!
We went through to the other side of the lake and kayaked to some stone outcrops (they were a bit small to be islands…). There we learnt about the geology – the outcrops were limestone, with the surrounding area mainly sandstone. OK so I might be the only geology geek! We also learnt about the local area, including the copper and tin mines and the bird life and nature.
We had a race back to the bridge before our final limbo under the bridge and the end of the tour. A change of clothes later and we were ready for our lunch, I definitely felt like I had earned it! This activity is great for beginners and those with kayaking experience. My kayak mate and I had both done it before (although we were a little rusty!). I learnt in a river when I was a kid and remember friends having the more portable inflatable kayaks on UK beaches. If you want to bring your own gear then an inflatable kayak is great!.
Cycling
The next activity we did was cycling around the national park. We picked up bicycles from the Rent-a-Bike shop and with helmets safely secured we followed our guide, David O'Sullivan, into the park, entering via Killarney House garden.
We cycled out around the northern shore of the lake and saw the local deer and cows. The cows are known for being a breed that have shorter legs and don't mind the wet conditions! The deer were rutting and we managed to see some stags in the distance (always best not to get in the way when animals are breeding!).
We then circled back to head to Ross Castle – I think we did quite a lot of cycling that day!
Our cycle tour wrapped up with the cycle back to town – it really was easy to cover lot of area with the bikes.
Walking
It's literally so easy to walk out of town and straight into Killarney National Park from St Mary's Cathedral:
This was part of the area we had already covered on the bikes, but there is much more that you can see if you go a little further… We walked with Ireland Walk Hike Bike from Muckross Park Hotel, via the Abbey through to Muckross House:
Muckross Abbey
Or rather the ruins of Muckross Abbey… the very well preserved ruins despite not having a roof! The abbey was founded as a Franciscan Friary in 1448 and was frequently subject to raids and hence reconstructed several times.
The central cloisters house this magnificent yew tree. Yews were venerated in Pagan times and it seems likely that the Abbey was built around the clearing that the toxins from the tree would have created.
Muckross House & Gardens
From the Abbey we walked to Muckross house in the drizzle. The rain is a given in Ireland, but makes for the best greens in nature!
I even ended up hugging a tree!
The walk up the drive to Muckross House – it's an impressive view even in the wet.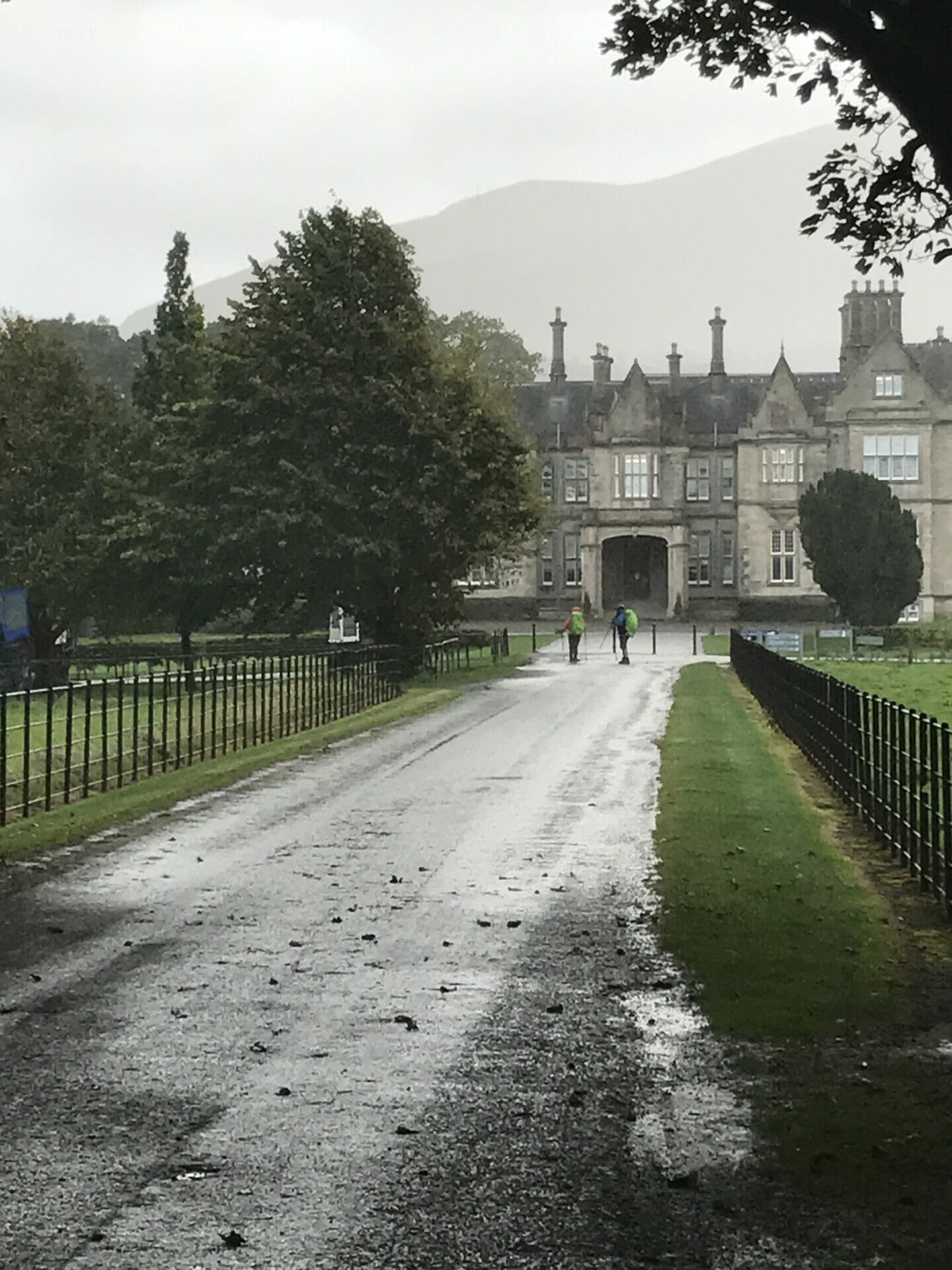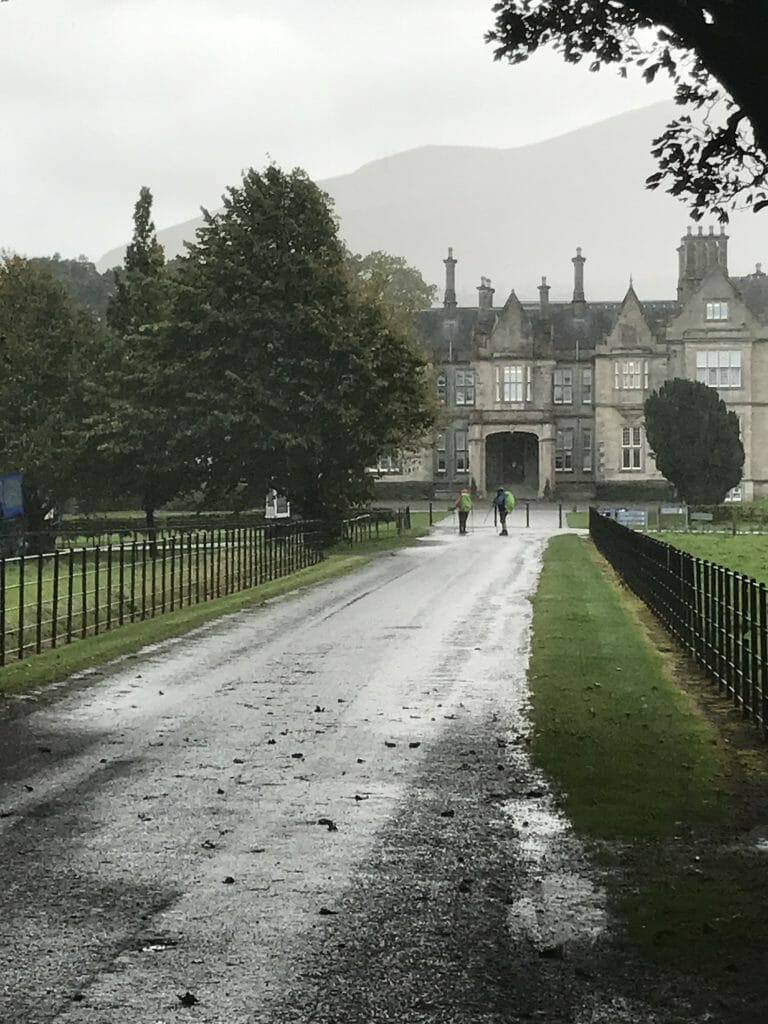 A closer view of Muckross House. They've recently spent a lot of money renovating, however we stayed in the gardens. The house was visited by Queen Victoria in 1861 and the Herbert family did extensive works on the gardens in advance of her visit.
Torc Waterfall
We walked through the gardens towards Torc waterfall, a popular destination, which is also accessible by bike and car. We saw plenty of people following the same routes as us on bikes.
Our end destination: Torc Waterfall – so pretty!
Even better was the post walk surprise of fruit cake and Dingle gin!
Other things to do in around Killarney:
Gap of Dunlow
I was sad to have missed this, but there wasn't enough time before the conference started. You can hike or bike the Gap of Dunlow and I know people who have done both, plus locals like Karen from Murphy's ice cream, who totally recommends it for the scenery!
Here's an example of the scenery from Eran Breiman of The Laughing Traveller:
And even when it's not such great weather, you always have the locals around!

Used with permission from Jonathan Sacks of Everybody Hates a Tourist
Ring of Kerry
If you have time and car (or grab a tour) this is perfect, as the route goes through Killarney.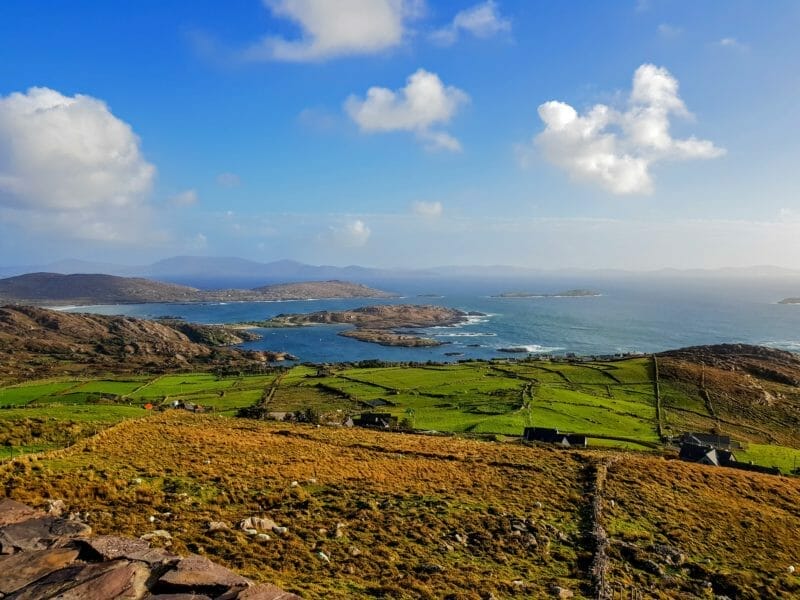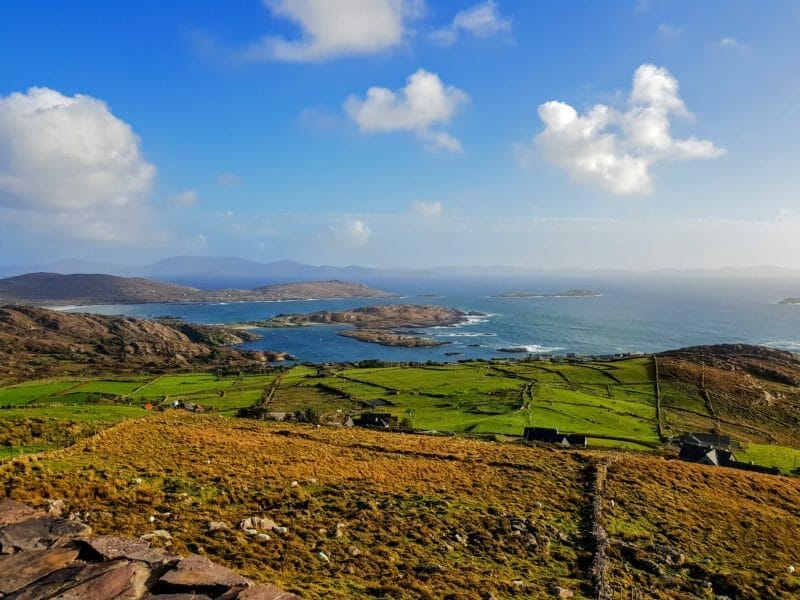 Photo used with permission from Roma and Russell of Roaming Required – check out all of their pictures from the Ring of Kerry at their blog: Ring of Kerry Scenic Drive.
Dingle Peninsula
They make gin and whiskey here – what more reasons do you need to visit? Next time I will definitely be heading to the distillery!
Check out this blog post from the Wondering Viking:
I really enjoyed my time out in nature in Killarney National Park – being active and surrounded by clean air and greenery really suited me!
Let me know what activities you try in Killarney in the comments!