Aka 'The History of Gin as Told Through Cocktails' made with Ford's Gin! I was lucky enough to score an invite to the Ford's gin presentation at Opium last week. Thanks to Regina from Love Pop Ups London for making that happen!
*Full disclosure, I attended this event for free in exchange for this blog review*
The history of gin through Ford's Gin cocktails
We were greeted in the Peony Room at Opium by our story teller and bar tender Nick and a Limer's Punch cocktail.
This was a riff on a classic gin punch. Before 'cocktails' as we know them today became popular, drinks were usually made in batches, like punch and served from that.
Actually Nick had pre-batched all his drinks using the handy markers on the side of the Ford's gin bottle (designed just for that purpose). Any way before I get ahead of myself here is the background to Ford's gin:
History of Ford's Gin
Ford's gin was started in 2015 with the aim of making a gin for cocktails. With that aim they surveyed bartenders and got lots of feedback when the gin was in development.
They reckon they've cracked it for now! The flavour map that we all had on our settings for the tasting, shows the versatility of Ford's Gin. It maps the different botanicals to the cocktails that they complement. Part of the testing was to ensure that Ford's gin worked in all of these cocktails… I wonder which *poor* person had to do that taste testing?!
I was dying to see which of these cocktails would make it into Nick's presentation of the history of gin….. I had my bets, but I wasn't always right!
As I mentioned the design of the bottle was focusing on the practical needs of bartenders also. The ridges make it easier to grip and the volume is marked out on the side of the bottle (in both metric and American scales…)
History of cocktails
On to the good bit = the tasting!!
After our opening Limer's Punch we moved on to taste a 'Ori-GIN-al' cocktail. This is a take on the first time a drink was called a cock-tail in 1798, when the drink, a mixture of gin, ginger syrup, bitters and citrus, was a common one.
Dry Martini was up next
The martini came about in the late 1800's, although no one is quite sure who invented it. We were served the Ford's classic martini, which is made with a ratio of 5:1 gin to vermouth. We then garnished with something from the tray:
I went with grapefruit peels, pressing it to release the oils. There was also lemon and orange peel, or olives and gerkins for a dirty martini, or pickled onions for the gibson variation. Basically you can make a martini anyway you like – so it's very versatile!
Lip smackingly good – the Bee's Knees
Bee's Knees is from the 1920's and probably was used to mask the taste of poor quality 'bathtub' gin during prohibition. The balance of lemon and honey works so well to make a very moorish drink.
Gin Sling:
A take on a Singapore Sling (as no one quite knows the original recipe!). Weirdly enough some version of the Singapore Sling was seen on cocktail menu's around the world from 1960s-1990s (even if badly made…) This wasn't my favourite cocktail, I guess I should have figured that out already (I ordered a daiquiri at Raffles instead of this famous drink!)
During the same time frame Vodka had gained market share on gin… (another reason why it was weird that Singapore Sling, a gin cocktail was so popular!). Gin was seen as no longer being hip… what was it to do?
The cocktail that brought gin back into the game – the Bramble
Apparently according to Nick this was the Bramble… A gin sour with the addition of creme de mure (blackberry syrup), the one we tried certainly went down well! I've also heard variations on the history of gin that specify that Bombay Sapphire assisted with making gin 'cool' again. Maybe both are true?
Tasting the gin on it's own
And at the end of our cocktails we got to finally taste the Ford's Gin that had been hiding under these coasters all evening!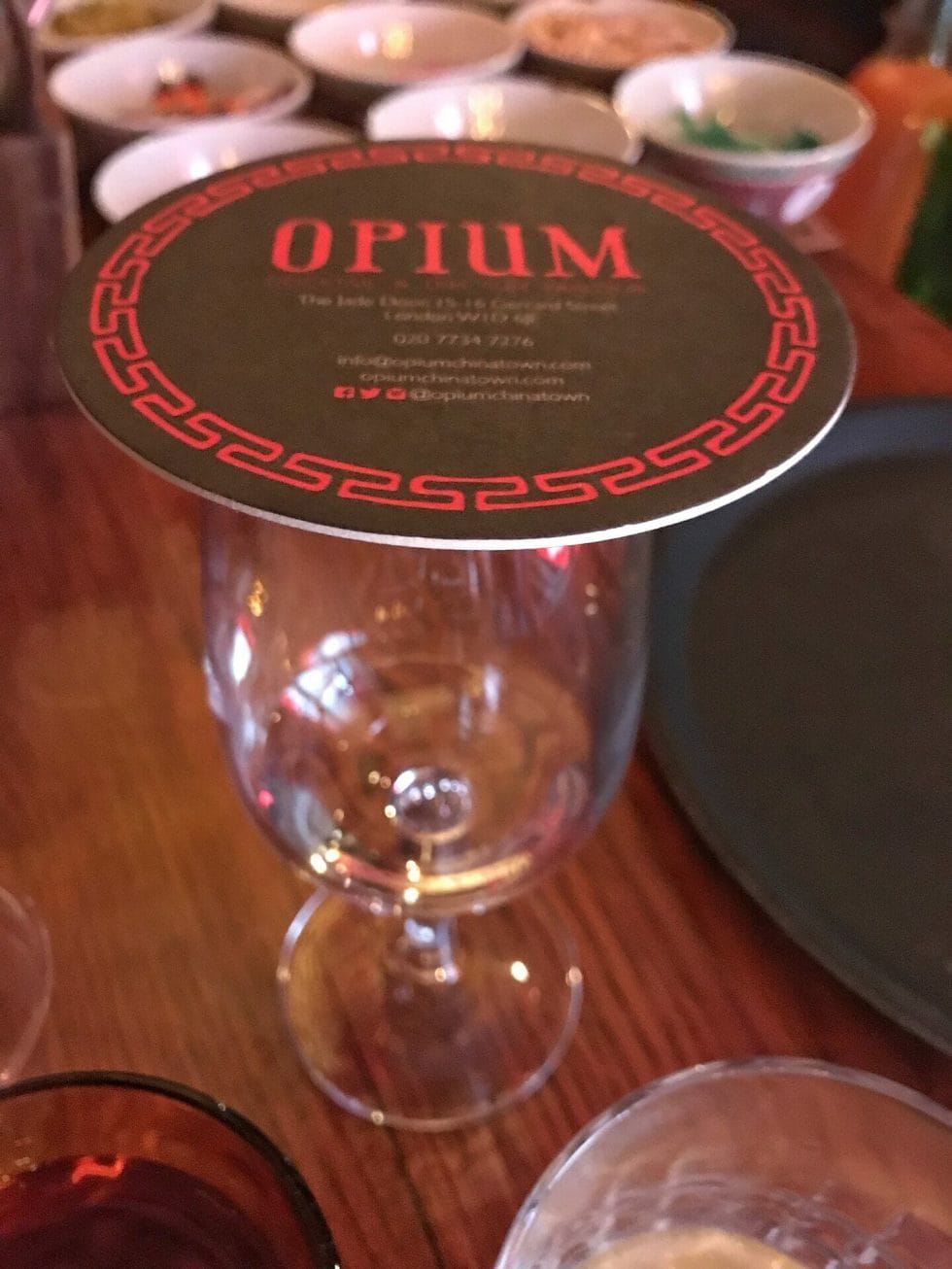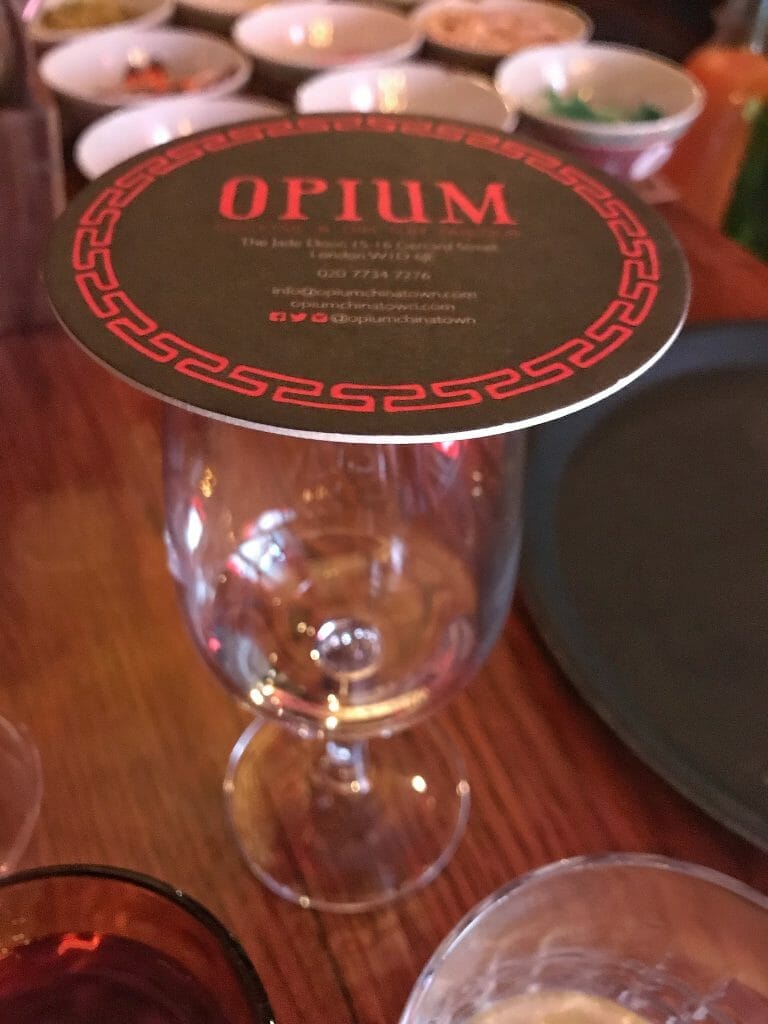 The gin on it's own is a juniper forward classic style. Whilst I wouldn't choose it at first for a gin and tonic, it was very clever to showcase it in all the cocktails first! (This is contrary to how most gin tastings run!)
And finally a dry martini
When the Ford's gin presentation was over I repaired to the bar with some of the other bartenders who had come along. We tried Ford's Martinis and negronis and this was more my style. (Dry with a citrus twist, less vermouth than the 5:1 serve that Nick gave us).
But obviously I stuck with my favourite classic – the negroni!
The Verdict
This is amazing value – even if you don't go for another cocktail in the bar at the end, you still get 1 full size cocktsil, 5 tasting size and a large measure of gin to try. For tickets from £10 each – what a bargain! Find out more about these events on the Love Pop Ups London site. Whilst the advertised events have now all happened, I'm sure that Ford's will be running more soon.
Also I have had Opium on my must visit list for a long time, so being able to see the bar and the Peony room was a treat too. Opium have just launched their new menu, so some more delightful cocktails to try too.
and the gin?
Oh yes the gin was good too! Ford's wouldn't have been my first choice for a gin and tonic. However after trying it in all these classic cocktails, it really highlighted the versatility of the gin, picking out the key botanicals that complement the cocktail flavours. It really does do what it was designed to. Also the bottle feels great!
This is a must have gin for your collection, especially if you like to mix it up with different cocktails. You can buy Ford's gin at all good gin stockists or online from Master of Malt or Amazon.