Last weekend kicked off in style with a gin cruise on Friday night. Read all about my London Gin Cruise experience below!
**Full disclosure, I attended the London Gin Cruise as a guest of Artisan Drinks in exchange for my honest review**
London Gin Cruise
I joined the Electric Barge at its mooring on the Regents Canal in Paddington. Finding the boat was fairly easy when you know to head to Sheldon Square (signposted from Paddington station).
My top tip is to turn up early, as this boat sails!
You don't want to be left on the quayside because you literally missed the boat. Aim for 6.30pm for the 7pm boat, or earlier if you are prone to being late…
Once checked in on-board I got three tickets to swap for different gin sample 'perfect serves' and free rein of the Electric Barge. There were chairs on the front and back decks and inside, in the surprisingly spacious main area. (The Electric Barge is a doublewide barge – so twice the size of a normal narrow boat and also hosts the floating classroom).
After allowing time for everyone to get onboard and get settled we departed from Paddington, up Regents Canal. The route we took avoids locks, but goes through several tunnels.
We headed first through pretty Little Venice, along the top of Regent's Park, past London Zoo (where I did indeed see an African Hunting Dog – a bit scary though as they looked like they were stalking us for dinner!).
Then we made it as far as Camden and turned around, stopped by the lock. We then returned to the original mooring back in Paddington. The trip took just under 3 hours in total, so don't plan on being back before 10pm.
But whilst the barge & the journey were interesting I was here for the gin!
The Gin
The choice of new and interesting gins at the bar was impressive. Some I knew were going to be there, like Family of Hounds and some were a surprise, like Konsgaard gin, who were represented by owners Soren and Bettina.
Whilst classics were represented with Gin Mare, local London based Jensen's, Slingsby Rhubarb from Harrogate and Elephant Gin, there were loads of gins that were new to me.
New gins:
Roby Marton
This gin is from Italy and is made using the cold compound method (aka 'bathtub'). Hence the colour retained from the botanicals, which include liquorice, ginger and pink pepper, as well as the usual suspects.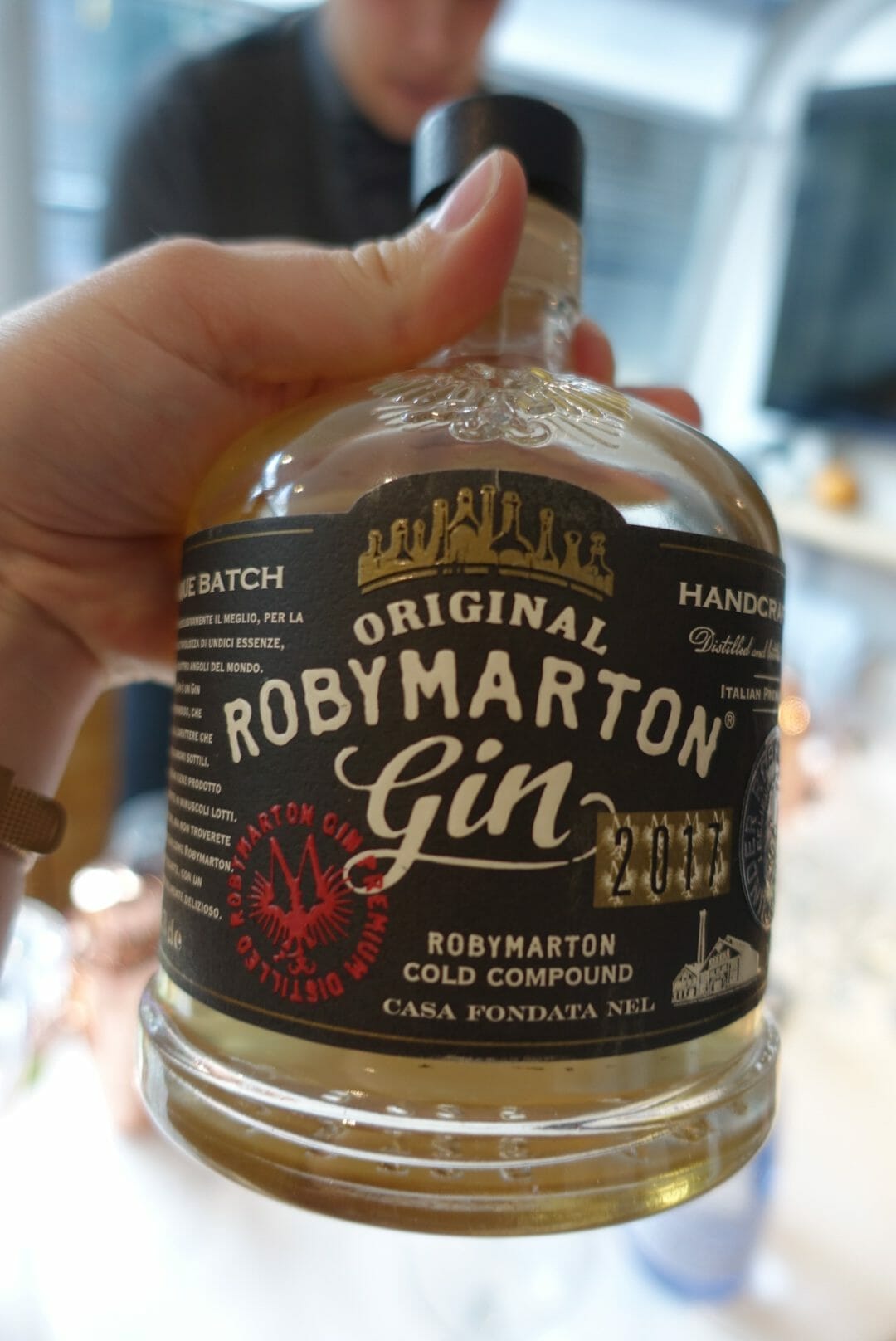 Roby Marton gin was represented by brand ambassador Oscar on board. He was roaming the boat with samples of not only the gin, but also a Roby Marton gin infused blue cheese and the 'Italian Mule'. This was Roby Marton mixed with ginger ale and garnished with mint – a different take on the perfect serve with raspberry garnish and something to get the non-gin drinkers into it…
Family of Hounds
This is one that I knew was going to be onboard and I wanted to try. They aimed for a gin made for g&t and a family of spirits, so they won't be stopping with gin! It's a classic London dry in flavour and works well with the Double Dutch Cucumber and Watermelon tonic for a very summery drink.
Mary Rose gin from HMS Spirits
A more floral gin, with grapefruit and rosemary included in the botanicals, Mary Rose is a lovely addition. Served with Indian tonic and  rosemary and grapefruit to highlight the botanical flavours, it was beautiful.
Hero g
in
This bottle instantly catches the eye with the red cape around it! A German gin with 6 botanicals, including lavender and 2 secret ones… Its a lot of fun and tastes great in the perfect serve with orange and basil.
Double Dutch tonics
Double Dutch tonics sponsored the London Gin Cruise and so we could sample their different tonics on board. They also provided the gorgeous copa glasses for the drinks.
Cocktails
As well as the perfect serves, you could also buy cocktails. I had to try a negroni, naturally and went with the Hounds of the Baskervilles, made with Family of Hounds gin.
In addition to the cocktails, you could also buy the perfect serve gins for £6 for a single or £9 for a double, when your tokens were used up.
VIP table
As well as the regular tickets you can book a VIP table. This includes a full bottle of gin and mixers, in addition to the perfect serves. They also got additional canapes for the table.
Canapes
We enjoyed several canapes on board – I tried the hams and tortilla. However please note this is not meant to be a meal. I did have to stop for a wrap on the way home as I hadn't eaten before the cruise left (given I was running late to get there!)
The Verdict
As this was the inaugural gin cruise there were a few teething problems. Some guests (who weren't as late as me!) spent a while queuing for their first drink. Mike from Artisan Drinks says that he will ensure that drinks are prepared and waiting when people arrive for the next cruise, which should solve the issue. Also the gin masterclass didn't happen due to unforeseen circumstances. With the distillers and brand ambassadors on board and Luke behind the bar doing a very good job at telling people about the gins, I don't feel we missed a lot. Mike has also told me that the masterclass will be going ahead for future cruises.
Whilst there are chairs throughout the boat, unless you've booked the VIP table you are not guaranteed a seat. As people moved around during the evening – between decks, to the bar etc – I didn't find this an issue. It's not a seated event and being able to move around the boat is aided by less space taken up by seats. I always found a seat when I needed one and they even had blankets for those out on deck after dark when it got cooler.
The ticket price of £60 is high, but this is a special event. The gins are not your usual ones from down the local pub (unless you happen to live locally to The Oliver Conquest – in which case, lucky you!); The atmosphere on a beautiful Spring evening was fantastic and you are sharing the boat with fellow gin lovers. I certainly made new gin friends!
The cruise itself is a lovely way to experience the Camden area in a very much more gentile way – ideal if you are visiting for the first time.
I didn't receive a goody bag to be able to review this – but the ticket includes a bag to take away with a copa glass to keep and mini gin sample.
How to book
Go to Design My Night to book tickets to the next London Gin Cruises, including the special one on the River Thames to celebrate World Gin Day 2018!
**Full disclosure, I attended the London Gin Cruise as a guest of Artisan Drinks in exchange for my honest review**