Despite long periods of lockdown, 2021 showcased some innovative new gins and I even got back to gin festivals, which introduced me to a lot of the list below! Note that not gins will be newly released in 2021 but they were all *new* to me this year. Find out which gins I rated: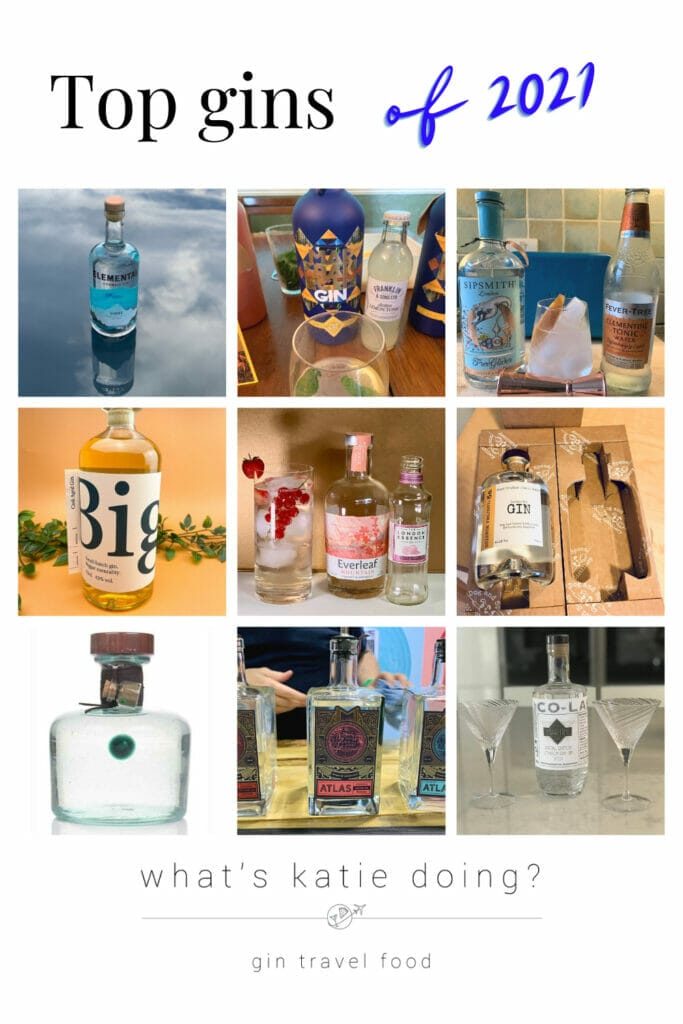 *Full disclosure, some gin companies mentioned in this post I've worked with previously so samples were gifted. These are clearly marked as [gifted]. This post also contains affiliate links, which raise money to support the blog at no extra cost to you, these are marked as [affiliate link].*
My top gins of 2021
In no particular order here are my top gins of 2021:
A special gin for #WorldMartiniDay, this juniper bomb took a few tasty attempts to load with juniper and balance. Perfect served as a direct martini straight from the freezer, it didn't last long in my house!
Early on in lockdown this year Bruce from Brentingby Gin decided to launch a 'no-frills' quality gin and also a botanical spirit, that would be sold at rock bottom prices direct to consumers. The gin is a powerful juniper bomb that works well as a gin and tonic (less gin is needed!) as well as in a negroni or other cocktail. The botanical spirit is one for the vodka drinkers – basically it's made like a gin but without the juniper, and it makes an amazing dirty martini!
View this post on Instagram
I've loved Biggar's light and aromatic gin from the start. Their Navy Biggar Strength took the gin to the next level and is perfect for negronis. However the French Oak cask aged gin is another beast entirely. As part of a limited edition, Biggar will be aging their gin in different casks with only limited amounts available, the oak and juniper work in harmony together. The juniper is balanced with the oak, which adds a lovely sweet note and I think helps the smooth mouthfeel. I can drink this neat at room temperature, however you can try it over ice or the recommended serve is an Old Fashioned, which I've got to try!
This quirky little distillery (why are they called Dog & Spoon? They will neither confirm or deny why!), makes a London Dry gin that is light and fragrant and perfect for the gin beginners out there. I'm excited to see how they've adapted this recipe for their 60% proof Miner's Strength gin. Even more impressively for a newcomer they heavily focused on sustainability and their bespoke bottle packaging is pretty cool (even if I undid it the wrong way – doh!).
After Procera Red Dot coming up on last year's list Green Dot did need pride of place this year! A unique gin that is made with 3 parts of the same Kenyan Procera juniper bush, the berries, both fresh and dried, the bark and the foliage, and it's a lovely sip. I tried it at Junipalooza in September, but haven't had an occasion to open this special bottle at home yet, but it's worth the investment with it's hand blown glass and unique gin.
Victory like to mix things up and challenge the conventions. So their Pink gin is pink because of the red Verjus that is added to the gin. Verjus is pressed unripened grapes and it adds natural colour and fruity notes to the gin, without adding too much sweetness. The result is a gin that has tartness, fruitness and juniper. They recommend a Pink Gin French 75 cocktail – perfect for celebrations at any time of year.
View this post on Instagram
Cocktail masters Phillip and Jenny are known for their bar tending skills and are serving up ready made cocktails in Cardiff for your delight. If you want to play around with your own twists on some ginny cocktails then you should definitely check out their Mixing Gin. Made specifically for cocktails, they made it to use in their own cocktails, so it's literally made it for it & very reasonably priced for the job!
View this post on Instagram
Hrafn Valkyrie
[gifted]
A gorgeous light and fragrant gin that showcases the jarra lime. Yes it's citrussy, but it's also so much more than that! It makes a lovely aromatic white negroni and even neat dances on the tongue. I also love their launch video – got to appreciate a strong woman Valkyrie!
View this post on Instagram
With their motto 'If you can't go in person, go in spirit' both of the Marrakech and California gins from CBA Gin Co conjure a sense of place with their botanicals. I was super impressed with how the Marrakech one transported me to the souk with its Moroccan spices. The California one is bursting full of orange evoking the Golden State. Both are lovely to drink as gin and tonics, but also would be fun to play with in cocktails.
Elephant Gin is known for making 'proper' juniper forward gins, fans rave about their Navy Strength and even their Sloe Gin. However their foray into the world of flavoured gins has led to a juniper forward gin, balanced with delightful orange and cocoa notes. One that is lovely as is or beautiful in the cocktail!
View this post on Instagram
Andrew and Chris are a little mad – having visited them on my Scottish trip in September, we had the full foraging experience, a sneaky taste of the maple cask aged gin before it was finished *and* a cocktail making session. That was quite the Saturday afternoon! However their resulting gins are a representation of the local area, with extremely local foraged botanicals. The maple syrup cask aged gin is not a sweet gin, the wood notes from the cask are prominent, and there is a lovely dryness balanced with a punch of juniper – truly delicious, try it in a Martinez or Old Fashioned.
From their Shichimi and Chai gins to their Love Cake gin, I adore the ethos and inspiration behind this brand! I was lucky enough to try all three gins at the Glasgow The Gin to My Tonic Show in September. Embracing the spirit of adventure, each gin draws inspiration from traditional recipes, from the spices in chai, to the fragrant and sweet Persian Love Cake. The Shichimi gin is inspired by Japanese tradition, using nori seaweed, Sichuan pepper, poppy seeds, sesame seeds and hemp seeds, it has a more savoury umami flavour, with warmth from the chilli and peppercorns, balanced by the inclusion of green tea. Try it in a martini for something totally unique.
In a glorious Art Deco bottle, Monterey Gin is more than a pretty one. This gin is perfect for a martini. The gin is named after the Monterey pines that grow next to the distillery in Cornwall. With cardamom, keffir lime, sea buckthorn, Mate and gentian root, it's a smooth and tasty gin, and was created specifically for cocktails. Definitely try it in a martini, but it also works well in a negroni.
When is a coffee gin not a coffee gin? When it's distilled coffee! This gin was a surprise to me, but actually it shouldn't have been. It keeps to the Sipsmith ethos of creating well balanced and juniper forward gins, but with a lot of innovation behind them.
I love that you can make a clear espresso martini with it too!
View this post on Instagram
Shivering Mountain burst into the gin scene with a stunning bespoke bottle, but what about the contents? The Premium Dry gin uses sloes, bilberries, gorse and heather to create floral and fruity notes, complementing the juniper and citrus base, with some spice coming through at the end. While their Premium Dry gin wasn't my favourite, I loved their Premium Pink Gin. Not a fruity berry gin, but beautifully balanced pink grapefruit citrus gin, refreshing and aromatic. Buy this one as a gift for someone who will let you try it too!
I reviewed Elemental Cornish Gin earlier in the year and was very impressed. The new owners of the brand, Nicki & Joe, have redesigned the bottle and packaging and expanded the range of gins as well as introducing new limited editions.
All their gins are fantastic – I was surprised at how well their flavoured gins, especially the Apple & Elderflower and Raspberry gins. These are proper gins flavoured with locally grown fruit juice not from concentrate and you can really tell, with the natural sweetness of the apples and tartness of the raspberries coming through.
View this post on Instagram
*NOT GIN* alcohol free options:
Everleaf doesn't pretend to be a gin replacement, it is more about the mouthfeel and the element of bitter in the drink, which makes it a standalone non-alcoholic spritz favourite. It's definitely one you can serve with tonic or soda – think spritz for a drink that is refreshing and different and totally delightful! The two new flavours this year are Marine, which does include some juniper and my favourite (after the original Forest), Mountain, which includes strawberries and some lovely bitter notes to balance the fruit sweetness. Very unique.
This gin replacement has been much lauded by the ginfluencer industry, so I was super happy to receive a bottle to try at home. On the nose the citrus was the most prominent note for me, with herbal notes supporting. To taste (neat!) its obviously not a gin, however the flavours are well balanced, with more herbs coming through. For me the juniper isn't prominent, but as this is a non-alcoholic extraction of flavour, I just think it presents a different way than a gin. With tonic this is a lovely replacement for a gin and tonic and I still need to experiment with it in other cocktails – from social media this is where it will shine!
One top tip for Christmas serves is to use a flavoured tonic, such as the FeverTree Clementine Tonic Water, or their limited edition Damson and Sloe Berry one. Note that as this is alcohol free it you need to keep it in the fridge for it to last up to 2 months.
A non-alcoholic apertif that is a fabulous stand alone bitter that doesn't just replace Aperol and Campari – it has it's rightful place in the spritz world! Using rosemary and bittersweet orange, there is enough taste that you don't need the addition of alcohol at all. Try it with soda, prosecco or why not try a lower abv negroni by using in place of the Campari? All serves went down well with my family last Winter.
View this post on Instagram
*NOT GIN* low ABV serves:
As Mary is 6% it's not alcohol free, and as such still has some mouthfeel from the alcohol. For me this lower abv serve is delicious with lovely herbal notes that work well in a lo-mojito or a basil smash, which both emphasis the herbs. For a low abv spritz or even a white negroni Mary adds a lot of interest, so you don't notice the lower alcohol.
I was happy to be introduced to the London Vermouth Company over Zoom this year! (You can't get more 2021 than that, can you?) Their range includes a sweet red vermouth, Camille's Red, that is more delicate than some I've tried, a S.E. Dry vermouth and their impressive Amber Limon, which is a sweeter white vermouth. All source their botanicals from around & outside London, which include honey in the Amber Limon, apples in the S.E. Dry, Kentish wines in the Camille's Red. Definitely some to check out if you are a vermouth newbie, or even if you are a connoisseur and want to sip neat or play with cocktails.
View this post on Instagram
In September I took a road trip in Scotland and was lucky to be able to visit the home of Wermod Great British vermouth in the Dalmeny estate, overlooking the Firth of Forth and it's bridges.
In an old walled garden, they grow all of the botanicals that flavour their vermouth. The wine base is also made in England, so this truly is a British product! Make a British martini with any British gin, whether that be Scottish, English or Welsh
Gower Gin announced their collaboration with Glyndwyr, the oldest vineyard in Wales, this year and I got to sample the vermouth at Junipalooza in September. A semi-dry vermouth, its sippable on it's own or perfect as a Vesper martini. It's currently sold out as it was a limited edition, but it paves the way for future collaborations and more delicious products! I've heard about a red vermouth….