Have no idea what to get the gin lover in your life? Don't fear, the 2018 gin gift guide is here!
2018 Gin Gift Guide
This guide covers:
Gin (obviously!)
Gin Reads
Gin Accoutrements
Gin Eats
Gin Christmas Jumpers
Stocking Fillers
GIN!
Obviously I had to recommend some actual gin here….
Ginvent Calendar
Gin Foundry famously kicked off the trend of having 24 mini samples of gin for the month of December. And they have continued this year! The Ginvent Calendar is back, with no repeats, but with higher ABV gins included. To read more about this year's calendar check out the Gin Foundry website (spoiler alert!!!).
Order from Gin Kiosk for £124.95 (all orders come with a handy booklet and 2 cans of Franklin & Sons tonic). Watch out for Black Friday offers….
Order by 2:30pm on 20th December if you want to receive this by Christmas day – I'll be getting mine for the 1st December!
That Boutique-y Gin Calendar
24 amazing Boutique-y Gins packed into this advent calendar mean a whole lot of fun this Christmas! Here's a suggestion for just one of the gins:
You can buy the Boutique-y gin advent calendar for £99.95 from Master of Malt. 
York Gin gift set
York gin comes in their distinctive square bottles and this gift set is perfect as tasters before diving into the full size versions. The Cocoa and Roman Fruit versions are great for variations on a classic negroni also.
Pinwydd Gin from Gower (Gwyr) Gin Company
Pinwydd gin is the perfect gin for the season. With pine needles, cranberries, pink peppercorns and orange included in the botanical mix, this gin makes a warming g&t and some great cocktails. It also has great packaging and branding!:
Available at Cheers online for £29.95
Yuletide Gin from That Boutique-y Gin Company
That Boutique-y Gin Company went one step further with Yuletide gin and threw everything Christmas in there (except the kitchen sink – but it was a close run thing!). Definitely the essence of everything Christmas this gin even sparkles with real gold inside!
You can buy Yuletide gin at Master of Malt for £34.95
Tappers Darkside and Summer Fruit Pudding
When I finally got around to tasting Tappers Gins at Catford Gin Festival I wasn't disappointed. Their signature Darkside gin, refers to the local area in the Wirral being the 'darkside' of Liverpool. It uses a combination of local coastal botanicals to make this Dry, but herbaceous gin with floral notes. But they didn't stop there, I also tried their Eggcentric Easter special (think chocolately Easter Egg notes!) and the Hydropathic Pudding (aka Summer Fruit Pudding), which totally reminds me of my Mum's summer pudding dessert. It's absolutely packed full of English berry flavours – great for cocktails, cooking or a Summer Cup when served long.
You can buy the Darkside original gin for £39.95 on the Tappers website.
The Hydropathic Pudding (Summer Fruit Pudding) is £32
The Teasmith premium Scottish Gin
I reviewed The Teasmith earlier this year and it's definitely a premium product that would make a classy gift. Read more about the flavour profile and my suggested serves.
Buy for £38.95 from their website: Teasmithgin.com
Brentingby Gin
Whilst the bottle definitely looks the part (ticking that gold box!), the gin is worthy of a place on your Christmas list too! Combined with the hibiscus based Ginfusion garnish (see below!) this makes a great tropical (& pink!) G&T, definitely a show piece for any Christmas party.
Buy at Master of Malt for £36.95
6 O'Clock Gin 5 year aged sloe
Now this was a very late addition to the list this year! This new 6 O'Clock gin was only released the other week – after 5 years of aging. All accounts from those who have tried it, is that it's something pretty special for a sloe gin. So naturally I want it! (hint hint family….)
At £50 for 350ml this is not a cheap present… but I think I'm worth it!
12 Days of Christmas from Chase
Perhaps you don't want a whole 24 days of advent in gin… well Chase has you covered with the traditional 12 days of Christmas gift. Their collection includes 12 spirits (not just gin, but others too) and suggested cocktail serves:
Buy from 31Dover.com for £53.96
Drinks in Tube gin gift set
Drinks in Tube is a great concept, where decent sized samples of gins come in a securely packaged set. Not just for Christmas, but these make great gifts! This set with tasters of the Mason Yorkshire Gin range is a good one to start with.
Buy online at Drinks in Tube for £24.99
Gin Spa
Why not give the gift of gin in a different format? The gin spa in Glasgow does gift certificates for it's gin themed spa days. Choose your treatment based on some of the key botanicals included in the making of gin. After your relaxing treatment you'll have afternoon tea served with a g&t!
You can read more about my friend Inka's experience at the Gin Spa here.
Order gin spa gift vouchers online for £90 for a 60 minute treatment and afternoon g&tea.
Gin Reads
Gin Distilled by Gin Foundry
This recently published book covers everything you need to know 'to drink gin with a connoisseurs confidence'. It's a modern history of gin, starting from 1950 and if I don't get one of these for Christmas I'm going to be very sad!
Order before 20th December for Christmas delivery
Gin Foundry Annual
Every year Gin Foundry publish an annual that looks at gin and gin trends. Definitely a collectors item, the 2018 Gin Annual is no different!
Order before 20th December for Christmas delivery – an ideal stocking filler (If you have weird shaped stockings!)
The Gin Dictionary
David T Smith (aka Summer Fruit Cup) has written a comprehensive guide to everything you need to know about gin! (Literally from A-Z) Every gin lover should have a copy for reference, that's for sure.
Buy online at The Works for £6
Gin Accoutrements
Everything you need to make a good g&t or a negroni… or a martini…. the list is endless!
Gin glasses
A copa glass is the go to way to serve a gin and tonic these days. These dishwasher safe glasses from Lakeland not only look pretty, but they multitask for red wine too!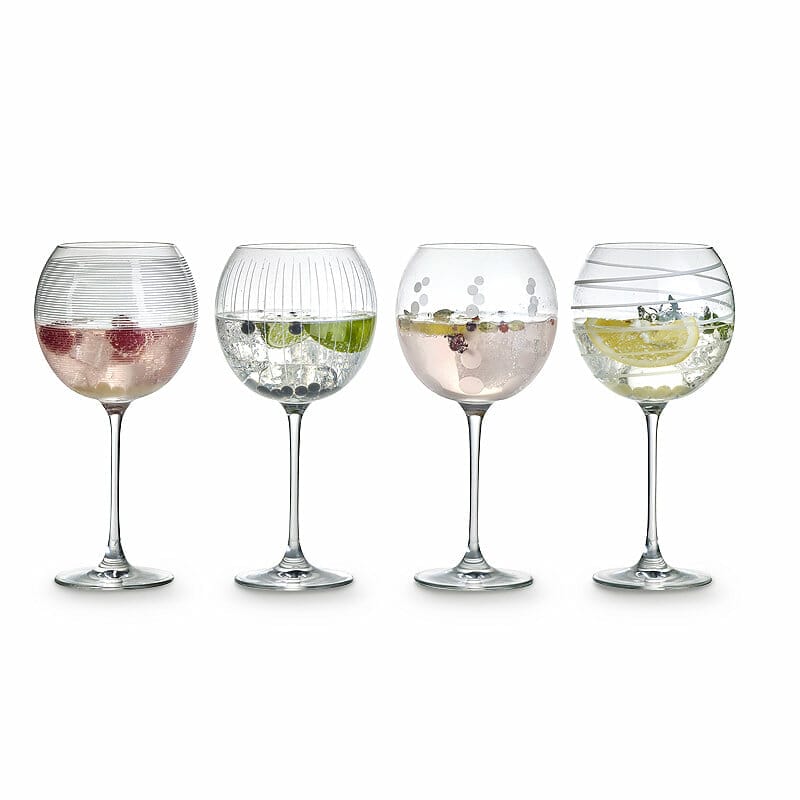 £19.99 for a set of 4 from Lakeland
Martini glasses
Isle of Harris have launched martini glasses that go with their beautiful bottle. I already have the tumblers and they are lovely glasses, I'd be totally up for expanding my range!
£30 from Isle of Harris online.
Negroni glasses
As I mentioned I received the Isle of Harris tumblers as a present and these make excellent negroni glasses. However if you want something in a different style, then check out these tumblers made from thermal resistant glass:
I love the design of these and they sound like they are going to last a long time too!
Negroni poster
Why not celebrate the classic gin cocktail with a classic poster design?
Starting from £5.95 unframed (£14.95 with frame), this poster is sure to appeal to the negroni lover!
Starter Negroni kit
Whilst googling Negroni I came across this London Negroni Kit. I've called it a starter negroni kit, as we all know, there is no negroni without Campari! But this would be a great introduction to the classic cocktail, with a slightly less bitter focus, given the hibiscus cordial,
It's not cheap at £79, but will make you a few negronis and comes in the pretty box with snacks!
Buy online at Craved London for the best price.
Metal straws
Make sure you are doing your bit in reducing single use plastic use, by getting one of these reusable metal straws:
Gin genie
I first came across these at the launch of Brentingby Gin. Emma Stokes (aka Gin Monkey) was sporting one of these in her Brentingby G&T and naturally we all wanted one!
Gin genie straws are priced from £60 (when you buy a pack of two), these are made from silver and will last you a lifetime. Think of all the plastic you'll be saving!
Buy at GinGenie.com
Copper straws from Hidden Curiosities
Jenny at Hidden Curiosities not only makes a great gin, but she has an eye for an accessory too! These beautiful copper straws are available in two sizes to fit whichever size glass you use.
Now you really can't use a plastic straw again, can you?! Ps there is Black Friday code valid until 10pm Monday 26th November – get 10% off at Hidden Curiosities by quoting BLACKFRIDAY on check out.
Gin tea towel & note book from Posh Yarns
The other half of A Gin Thing, Posh Yarns shares his taste in gin and personalises both tea towels and note books:
Both are perfect for gin lovers.
Order at PoshYarns.com before the 18th December, to guarantee Christmas delivery.
Gin Eats
Gin Jams
Larkin's Larder make their cocktail inspired jams and marmalades in mini gift sets:
Buy them online at Larkin's Larder for £5 each, or why not try both?
Larger sizes are also available for £12. Last order date for Christmas is 18th December.
Gin PopCorn
OK, so when I actually tasted this I wasn't overwhelmed by the flavours. However these make a nice little gift for someone, or get the savoury cheese ones to have alongside your favourite G&T aperitivo style!
Bags from £4, order at Joe and Stephs online.
Gin Christmas jumpers
Of Life and Lemons is the original and best gin Christmas jumper design. So make sure you support small businesses and buy from here! I will certainly be wearing mine this Christmas.
Last order date for Christmas is the 22nd – so no excuse not to take advantage! (ps this jumper is also super soft)
Jumpers are £27.99, order at Of Life and Lemons.
Stocking fillers
Small things to pad out a stocking or as a token of appreciation:
Ginfusion gin garnishes
Make a gin and tonic pop with Ginfusion garnishes. Or even better let them infuse with the gin before adding tonic. The Spice flavour will go really well with aged gins and create a seasonal flavour, or add the Tropical for a burst of colour from the hibiscus in your g&t.
Order from Ginfusions UK for the stocking filler sized taster pack for £4.99.
Hidden Curiosities gin baubles
Not the same as the Pickering's ones that swept the UK with a storm a couple of years ago… These baubles are a fab way to present a 50ml sample of Hidden Curiosities gin in their signature square bottle. Treat someone to a taster of this gin presented in a fancy way!
Order from Hidden Curiosities £10
Ps there is Black Friday code valid until 10pm Monday 26th November – get 10% off at Hidden Curiosities by quoting BLACKFRIDAY on check out.
Christmas cards with gin included!
Or why not combine 2 things together with Daffy's gin Christmas cards? They come in a slim box that fits through the letter box and contain a 50ml sample of Daffy's gin!
You can order from Daffy's online, a single card is £7.49 and a pack of 6 is £44.94
Ginspired Christmas cards
Of Life and Lemons keeps the great gin based designs coming!
They have various gin and other alcohol themed designs. A single card is £2.99, a pack of 6 is £8 and 12 £12.
Have a browse through the different designs at Of Life and Lemons.
Gin crackers from Drinks in Tube
Make your Christmas lunch more luxurious with these gin filled crackers from Drinks in Tube:
A box of 6 crackers is £47.50 and each cracker contains 50ml of an English gin.
Gin botanical candle by Gwyr Gin
So basically I want to match my candles with my stripey top – just like I matched the gins!
The candles look great and I'm sure it smells great too!
£19.50 from the Gower Trading Co
So what are you adding to your wish list this Christmas?
Hopefully this gin gift guide has given you plenty of ginspiration and you now know what to get your gin obsessed friends this festive season! (Could I fit the word gin in anymore?!)