Yes it's that time of year again… when Halloween is done and gone all thoughts turn to the C word – Christmas! I visited the Spirit of Christmas fair at Olympia last weekend, expecting that the 'spirit' would be gin – and I wasn't disappointed! That visit gave me the kick to write this round up of gifts for the gin obsessed in your lives. Read on for gin based ideas – both alcoholic and non alcoholic!
Gin gift Guide 2017
Lets start out with the good stuff – all the gin gift sets that I've spotted after running around the show:
Gin gifts
Sipsmith
If you need a gin gift for someone this Christmas Sipsmith's basically have you covered – all types of gifts at all different price ranges make sure that there is something suitable for everyone! Find all the items shown below at the Sipsmith online shop.
V.J.O.P. – for the serious gin lover this super charged gin is perfect! £40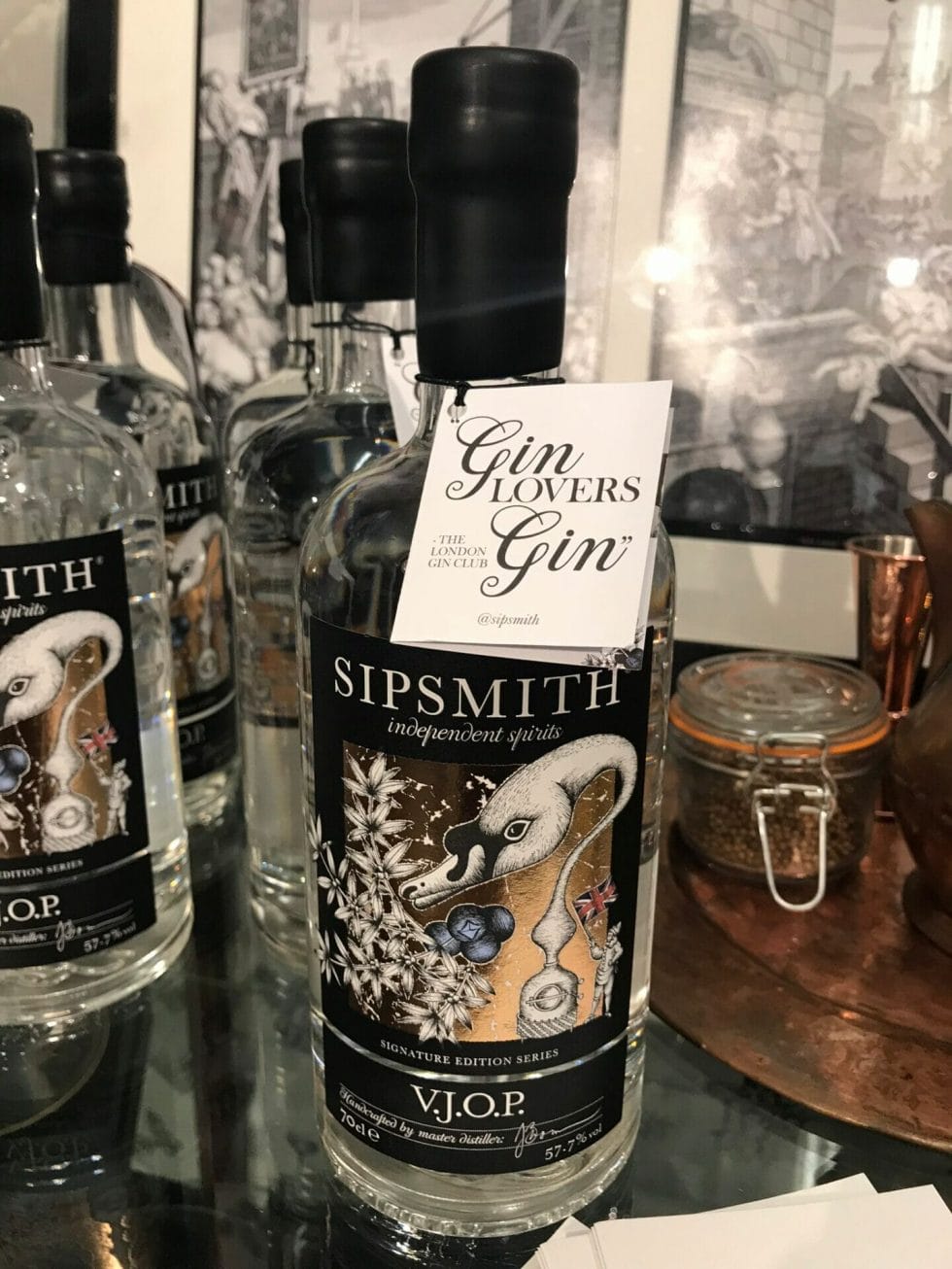 Sock and gin set – perfect for those Dad's out there (in fact my Dad got London Sock Co socks last Christmas!) £22
Sloe gin – because why not! £25
Gin and truffle set – for the chocoholic gin lover (ps that's me – hint hint!) £18
Now things start get serious with the Hot Gin & Tonic set £40
Proper tin mugs to serve and the tonic syrup needed to make a hot gin toddy – this year's must drink
Chase 'gin book'
A secret way to hide your gin from others in this sneaky hollowed out book. Check it out on 31 Dover! £17.95
Gun Dog Gin Liqueurs
These great gin liqueurs are amazingly flavoured – the Blackcurrant is like alcoholic ribenna, perfect topped up with prosecco! They do a gift box where you can choose two different gins for £27, check out the shop on their website or for local stockists of Gun Dog Gin.
Wild Spirits of Kent – Gin and Hipflask set
You can choose any of the gin flavours in different sizes to go in the gift sets, and the hipflask is the perfect way to have your gin on the go! (think country walks with some sloe gin to keep you warm). Check out the Wild Spirits of Kent website for where to try and buy their great liqueurs and that vital hipflask. Taster size bottles start at £4.50, the size shown below is £12.
Drinks in Tube – tasting sets and Christmas crackers!
You may have seen me feature Drinks in Tube on my Instagram giveaway and cocktails. They do tasting boxes which are perfectly sized to try some great brands before you buy full size.
The full set of Mason's gin – including their special edition slow distilled sloe gin! This tasting set is £24.99.
The full line up of the crackers – each has a £50ml measure of gin in it (other spirits and even wine available too). £47.50 for a set of 6.
Rock Rose gin and miniatures
Rock Rose has some great seasonal flavours. We tried their Autumn and Winter special editions. The Autumn gin was warm and spicy, whereas the Winter gin was crisp and piney – very juniper forward. You can get these special editions from £37.5 from their online shop, or get the miniatures tasting set including the Holy Grass vodka for £15. Check out the Rock Rose Gin website for the whole range.
Edinburgh Gin
Edinburgh gin is one of my favourites – not only because of their great flavours – but also because they are great fun! The guys behind the stand at the Spirit of Christmas show were having fun and obviously loved the products. Every year Edinburgh gin come out with new flavours. This year the new one is the Pomegranate and Rose gin liqueur £18.50. This tastes like liquid Turkish delight! (but not too sweet!). I could see this being great in cocktails to add a middle eastern flare, or even in baked goods (although I would totally drink it neat! #ginlush).
You can also still get their special Christmas gin distilled with frankincense and myrrh for £35. There are gift sets with the small bottles of gin liqueur and glasses for £18.

I love the rebranded bottles and labels too!
The whole range of the gin liqueurs.
The Oxton Liqueur Company
The Oxton Liqueur Company have a great idea – different flavours of liqueurs (made from more than just gin!) and different sizes of bottles to mix and match with. The small bottles start from £7 and you can even decorate your tree with them like they did on the stand: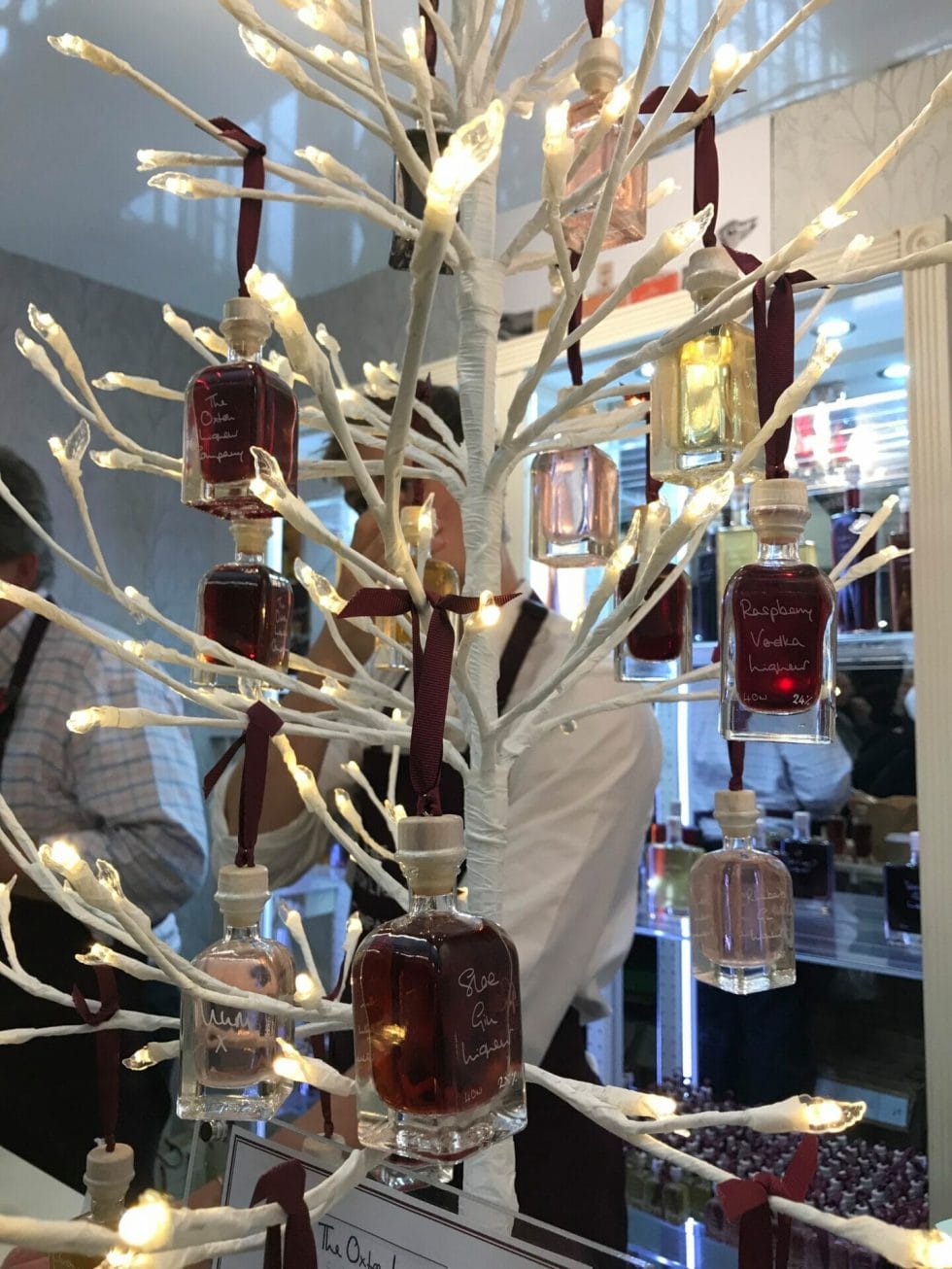 I loved their plum and damson liqueurs, but there is literally something for everyone to enjoy – check out their website for all the options.
Anno Spirits
I have to say a big thank you to Anno as I got my tickets to the Spirit of Christmas show through their competition! They had a great set up on their stand – with all the bottles decorated with little santa hats. We had a chance to try their relatively new Navy Strength and Sloe gins.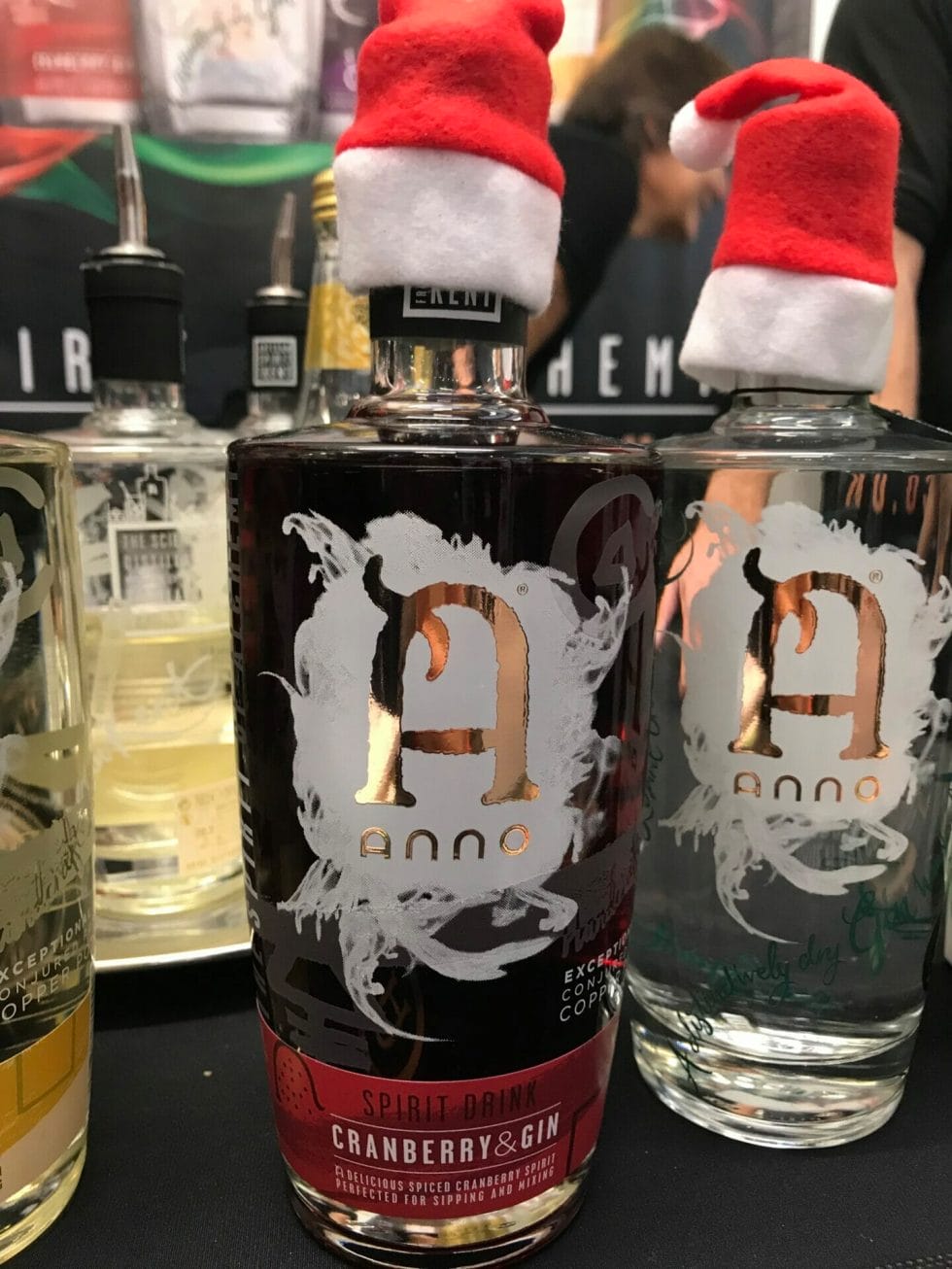 However the star of the show was the Cranberry & Gin £36. It's the perfect balance of Christmas spices and cranberry, but is not technically strong enough to be called a gin…  I don't mind though – it's a great Christmas drink on its own or topped up with Prosecco.
For a taste of the Navy Strength or Sloe gins, you can even get these miniatures gift sets for £16.
Daffy's Gift Box
Get a 70cl (full size) bottle of Daffy's gin and their Daffy's branded copa glasses in this beautiful box for £49.99. What a great and generous gift!
Kinsale Gin Hamper
Kinsale go one better with a complete gin and tonic hamper. A bottle of Kinsale gin, 2 copa glasses and FeverTree tonics mean you are good to go! I've not yet tried Kinsale gin, so I guess I need to go back to Ireland to try it?! (Or they also offer free shipping to Ireland and the UK – you can get the set for €75!)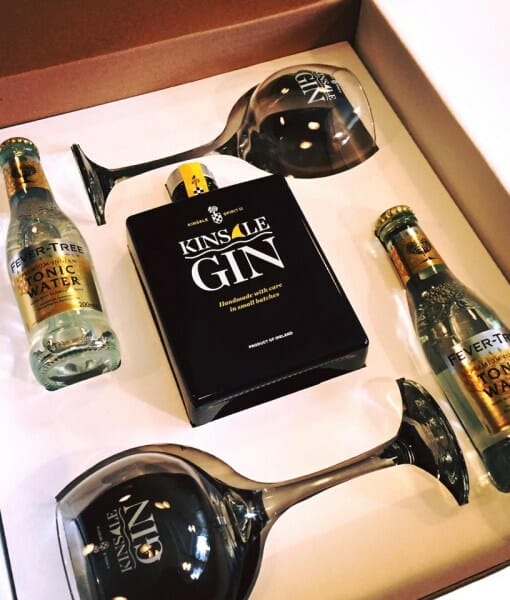 And for those who want a non gin, gin themed gift:
Non-alcoholic gifts
Tatty Devine gin bottles
Er I mean water bottles… you can basically put any liquid you want inside! I spotted these at the Geffrye museum shop in Shoreditch. Tatty Devine has a great gin range online too, with many more ways to show your love for the green gin bottle!.
Just Gin cards
You may have seen my recent Instagram give away of Just Gin cards second edition packs for €9.95. This card game is a fun way to incorporate gin into play! You can either play it top trumps style or as a quartet. They are also doing G&T sweeties now from €2.95! I would recommend ordering in advance to ensure they are delivered before Christmas as Just Gin are based in Germany, check out all their merchandise online.
Hic Haec Hoc gin coasters, chopping board & cushion
I love the bright colours on these coasters and the matching items. The chopping board is perfect for slicing up your lemons and other garnishes. It's made from melamine and therefore doesn't scratch, plus you'll never get the flavour of garlic in your G&T with a dedicated lemon board! £9
La de la Living
La de la Living was a gold mine of great gin related ideas!
These vintage spoons are stamped with different phrases – they only had Tea now Gin later at the show, but online is my favourite – Gym? I thought you said Gin! £14
Ideal stocking fillers – what every Gin Queen needs for a perfect pout: G&T Queen lipbalm
These candles come in all different scents – not banana flavoured though! I think I my favourite is Gin… the true spirit of Christmas one. £20
Bespoke Verse Gin-vincible print
Not only did I spot Bespoke Verse at Spirit of Christmas, but they were also at Stylist Live = so they obviously know their market! This gin-vincble print is great (from £12) and they also have gin mugs and coasters.
Rock Rose candles
You can't have a Christmas gift list without including gin candles! These candles from Rock Rose are juniper scented with citrus oils and they crackle like a fire when lit (something to do with the oils and that fat wick!). Small £10, large £15 from the Rock Rose website. [hint hint family!]
And for those that just want to mix things up with just a nod to gin:
Foodie gifts
Pinkster Gin Jam
This Pinkster gin jam is the best way to incorporate gin into your brekkie!! (just kidding… or am I?!) definitely good for a decadent Christmas morning. It's also great for cocktails, so why not experiment?
Spice Drops
Spice Drops are a great idea to flavour anything – from cooking to baking, to cocktails and mocktails – these concentrated flavour drops are fantastic! We tried a mulled grape juice at the show and you can get sets of complementary flavours grouped together:
All the mulled spices and Christmas flavours in the Christmas Collection £15
Pimp up any regular gimlet or mojito with a hit of herbal flavours in the Cocktail Collection.
The home made curing kit… salmon
This is a great idea – not only a traditional salmon curing kit – with smoky and beetroot flavours – but also with Cotswold Gin flavour! From £21 these curing kits look like a great way to incorporate gin into your food! For £65 you can get a bottle of Cotswold gin with the curing kit too.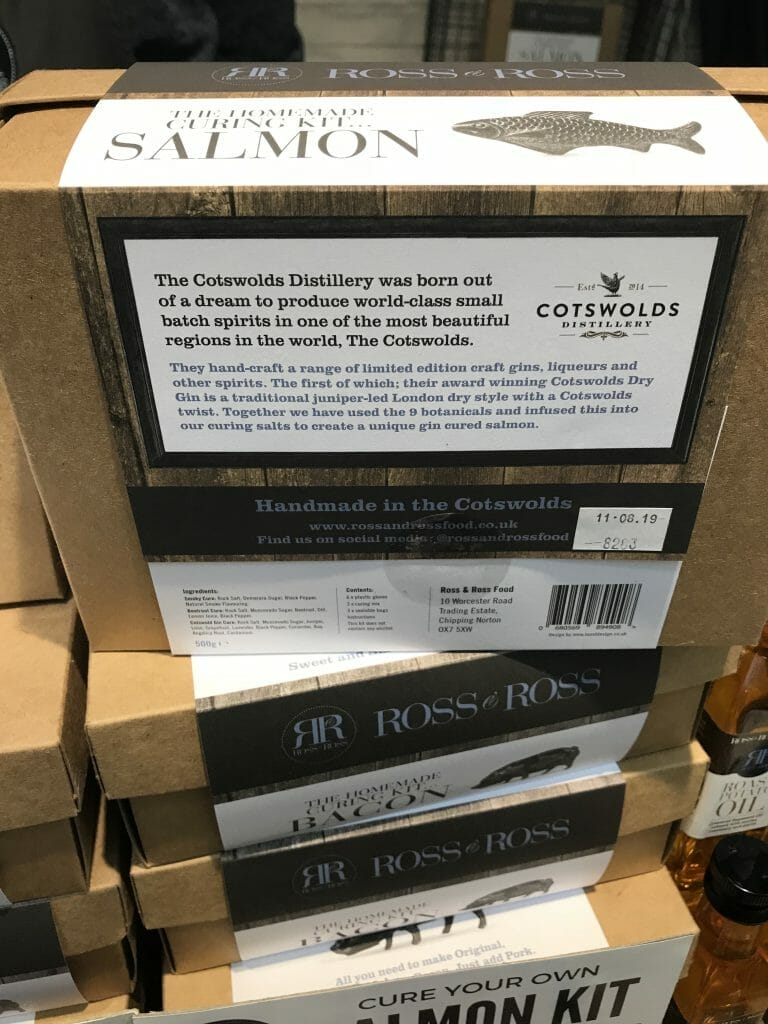 I love the pink colour of the beetroot cure!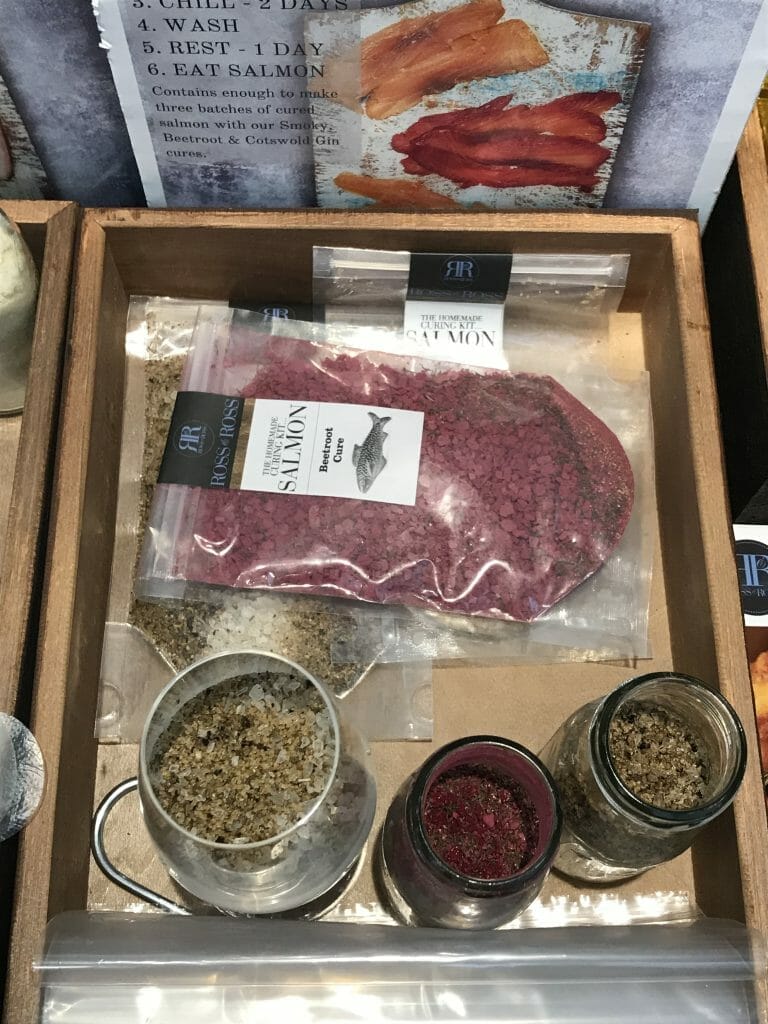 EDIT: Junipalooza tickets!
Inka from On the Sauce Again reminded me that I don't have any gin festival tickets on here as gin gifts! So go ahead and buy your Junipalooza tickets, the super early bird are now on sale at £25 and they will sell out for the Saturday pm session on WORLD GIN DAY! (so you may have guessed that Junipalooza is my favourite festival – read more on these blogs!)
Whilst this is not an exhaustive list, I hope that it's given you plenty of ginspiration for Christmas 2017!