You may have seen a lot of new Scottish gins entering the market recently. The Gin Cooperative, run by Natalie and Martin Reid, want to promote and support Scottish gin, so for the first time they've created International Scottish Gin Day to celebrate all things ginny and Scottish. This day is going to be GLOBAL, so even if (like me) you can't be in Scotland, you can still participate! Read on to find out more:
*Full disclosure, I've previously worked with some of the brands mentioned in this post and I'm an official supporter of International Scottish Gin Day, with no associated compensation. As ever all opinions remain my own!*
Celebrate International Scottish Gin Day!
The growth of Scottish gin
Scottish gin has been growing profile since the days when Gordon's or Tanqueray were the main players in the gin market. Scotland has a history of gin making that is linked with its history of whisky making. Simply put you need a still for both, however whisky needs a minimum of three years aging in the barrel, but gin can be sold straight away. So many whisky makers will make their whisky and store it to age, then make some gin to sell and keep the business cash flow going. Obviously there are a lot more complicated stories than that – but it's a good starting place!
Fast forward to more recent times and the explosion of the gin market across Scotland, the UK and around the world has seen many new brands produced. Some examples of these brands that capture consumers and bar tenders alike:
Edinburgh Gin
One of the most well known Scottish gin brands, Edinburgh gin is famous from its gin liqueurs. I certainly first heard of them from their Raspberry gin liqueur served Kir Royale style in a glass of fizz. But their gins are also amazing. From their classic gin, to the Seaside and Canonball Navy strength, all the gins are interesting.
They have recently made a  'proper' gin version of their popular Rhubarb and Ginger Liqueur, which I'd highly recommend trying. You can even visit the distillery and I'd recommend booking ahead to do this, especially over the busy festival season.
Pickering's Gin
I also visited the Pickering's Gin distillery at Summerhall when I was in Edinburgh (that's also covered in the Gin Guide!). I love the Pickering's vibe as well as their gins. Their recipe was 'rediscovered' from an old one that was in the family and they make some interesting varieties, including a pink grapefruit and lemongrass liqueur that is perfect for Summer drinks.
Isle of Harris
Isle of Harris is known for it's beautiful bottle (& you can get the matching glasses – they make excellent presents as my family found out!). The gin itself is representative of the area, with local sugar kelp adding a unique note of the sea. Absolutely beautiful in a martini or a gin and tonic. Keep your eyes peeled on their social media for a heap of International Scottish Gin Day content and info on events.
The Teasmith
The Teasmith is a relatively new craft gin, that has tea as one of it's unique botanicals – hence the name. I wrote up a whole detailed review about this amazing gin and gorgeously designed bottle.
However Teasmith have just brought out a limited edition which is made with Scottish tea – Broich Single Estate gin. Yes you heard me correctly – the tea is grown in Scotland! With only 1,000 bottles made this is one you need to get your hands on before it runs out… For International Scottish Gin Day they are running tastings of both gins at the Inverurie Whisky Shop.
Mackintosh
Some of my new best friends in the gin industry are Jim and Deborah from Mackintosh gin. Before I'd even tried their gin they warmly greeted me (at the hotel reception – not even the Gin to My Tonic show I was visiting!).
They've managed to build a great group of supporters by being themselves – amazingly friendly and super passionate. Their gin is a lovely adaptable London Dry, which makes a great negroni as well as a gin and tonic. I highly recommend you check it out.
Tanqueray
Whilst an old brand, and definitely not to be considered a 'craft' gin, Tanqueray are still relevant today. If you've tried some of their gin editions, like the Rangpur or Malacca. then you'll be familiar with their excellent variations. Their Flor de Sevilla orange gin is definitely a great one for a Summer's day BBQ.
International Scottish Gin Day
The first #ISGD is being held on 3rd August 2019. The big focus of the celebrations will be the Gin Fayre in Edinburgh that weekend (which is also the opening weekend for the Edinburgh Fringe Festival). Here are some events I wanted to highlight:
Edinburgh
The Gin Fayre
The Gin Fayre is based at Mansfield Traquair in the centre of Edinburgh. There will be two sessions – 12-3:30pm and 4:30-8pm and a whole selection of gins to sample. The easiest way to tick off a lot of new gins!
After the Gin Fayre, pop into Bar Prince at the Balmoral Hotel Edinburgh to check out Mackintosh gin's cocktail take over.
From here head up to 56 North – whilst I've not drunk here, I have popped in and eyeballed their impressive gin selection on the back bar.
This place is on my list to visit when I'm in Edinburgh later in August for the Fringe festival.
London
If you are based in London then you need to check out Merchant's House from 4pm for a Scottish gin cocktail menu. Or else head to Mr Fogg's Gin Parlour for their special International Scottish Gin Day menu.
New York
New Yorker's should head to another top 10 bar – Dead Rabbit – for a special International Scottish Gin Day cocktail. You won't regret it!
Singapore
The world famous Atlas bar in Singapore, with it's double height floor to ceiling back bar stocking over 1000 gins, will have a special menu, showcasing some Scottish craft gins. These gins will be available to try on the day and will become part of the tower of gin. Atlas bar is on my must visit list for when I get to that part of the world again!
Athens
The Clumsies in Athens (in the top 10 world's best bars), was already included in my gin recommendations for Athens.
Head to the Clumises from noon to check out some Scottish gin and tonics as well as special cocktails (naturally!).
Barcelona
You can't mention gin without mentioning Spain. Both Bobby Gin and Dry Martini in Barcelona are creating special tasting menus and cocktails to celebrate Scottish gins.
Hong Kong
One of my favourite gin bars in Hong Kong, OriGIN are creating an exclusive International Scottish Gin Day menu. The level of flair at this bar means that you will not be disappointed whatever you order!
Melbourne
Show casing the truly international aspect of this day – it goes as far as Australia! A truly global celebration of Scottish gin. The Gin Palace in Melbourne is sampling the finest Scottish gins, as well as creating a range of fabulous cocktails to showcase them. There are also bars in Sydney showcasing Scottish gins for sampling and in cocktails.
Proud to be an International Scottish Gin Day official supporter
As mentioned earlier, I'm proud to be an official supporter of International Scottish Gin Day #ISGD. I get no compensation for doing this – it's all for the love of Scottish gin! I hope you have a great time celebrating the inaugural International Scottish Gin Day on 3rd August 2019.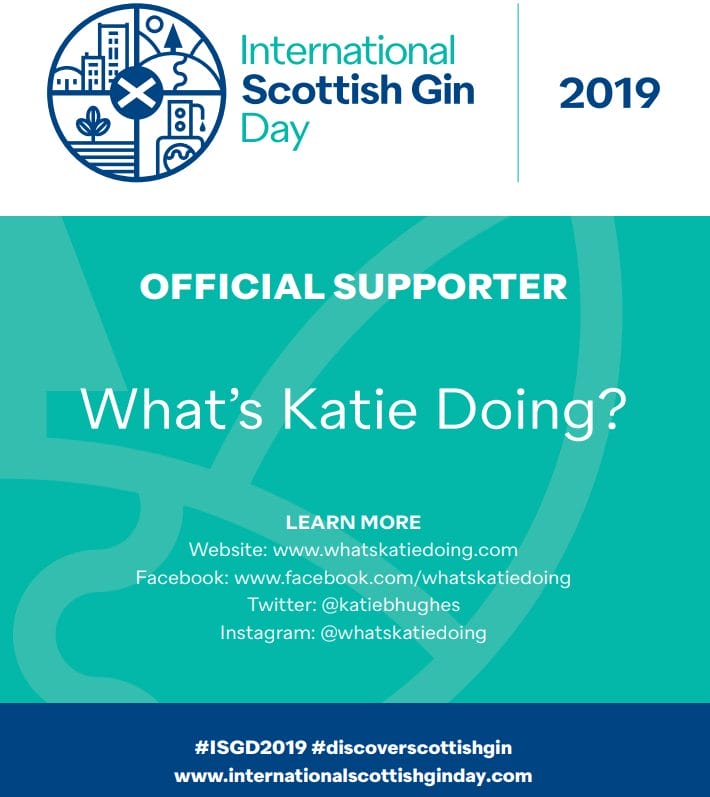 Let me know how you are celebrating in the comments below!