It's that time of year. When everyone starts to admit saying the 'C' word. Yes I'm talking about Christmas! Never fear, the gin gift guide for 2019 is here. I've captured many items that will be perfect gifts for all the gin lovers in your life. Obviously this includes some stand out gins, gift sets, and gin related items too. Read on for some #ginspiration this festive season & don't forget to keep your eyes peeled for Black Friday discounts!
*Full disclosure, this post contains some affiliate links. These generate funds for the blog at no extra cost to you and will be clearly marked by the relevant link with [affiliate]. In addition some items have been gifted or were previously sponsored by the brands. I've marked these items as either #gifted, #sponsored for full clarity*
Gin Gift Guide 2019 – gifts for all gin lovers
Gin gift guide 2019 contents
As this is such a bumper guide I've categorised it into sections to make it easier for you to find things:
Advent calendars including #Ginvent
The cream of the crop #ginvent from Gin Foundry
The original and best gin advent calendar from Gin Foundry. Not only do they showcase some interesting gins here, they also include special editions.
Apart from the different gins the main thing that separates Ginvent from the pretenders is the community aspect. If you are based in London then there is the #ginvent pop up based in Notting Hill. Book your tickets here [affiliate]: Ginvent 2019 Pop Up – Gin Cocktails
Otherwise you can taste along with the community on Twitter at 7:30pm every evening of advent using the hashtag #ginvent.
Ginvent gin advent calendar is £124.95 and is available from Gin Kiosk. Don't forget to keep your eyes peeled over Black Friday for discounts on Gin Kiosk.
The Gin to My Tonic 12 days of Christmas
The team from The Gin to My Tonic have come up with something slightly different this year. Instead of a surprise gin for each day of advent, they have you sorted for the 12 days of Christmas. They are keeping the gins a secret, but say they are all 'proper' gins – no gin liqueurs here, and represent the whole of the UK.
You will be able to learn the backstory for each gin and keep in touch with their gin community using the hashtag #thegintomychristmas
Buy on The Gin to My Tonic site for £54.99
That Boutique-y Gin Calendar
Boutique-y Gin really push the boundaries of what makes gin. Originally starting with collaborations with existing gin brands, they then moved into new and bizarre flavours, even sending botanical ingredients into space for their Moonshot gin! The Boutique-y Gin advent calendar is guaranteed to show you the wide variety of gins that they make.
That Boutique-y Gin Calendar is £49.95 and is available on Amazon Prime [affiliate]
Edinburgh Gin Advent Calendar
A showcase of the all the Edinburgh gin and liqueur flavours from 20% ABV to 57%.
Edinburgh Gin advent calendar is available on their website (& at John Lewis) for £99.
Gin Christmas Crackers
Fever-Tree gin and tonic crackers
Each cracker includes a can of Fever-Tree tonic matched to a miniature of gin.
Buy online at John Lewis for £60 for 8.
Biggar Gin crackers
Each containing a 5cl bottle of Biggar gin, these make a great start to Christmas lunch.
Buy Biggar gin crackers online for £6.50 each – note that they will take a little longer to dispatch, so order early!
The gift of gin – Scottish gins
As you may know I'm an official supporter of International Scottish Gin Day. So I get to try a lot of Scottish gins and there really are some fabulous ones out there!
The Teasmith [sponsored]
I first tried The Teasmith over a year ago. This gin is a superbly designed liquid in a superbly designed bottle. Since 2018 they have also come out with the Broich limited edition, made from tea grown in Scotland, so it's pretty special!
Buy the original Teasmith gin here: [affiliate] The Teasmith original gin 70cl for £38.
Get the Teasmith Growers Edition here: [affiliate] Broich single estate gin 50cl for £35.
Darnley's Smoke and Zest gin
This limited edition is a great addition to the Darnley's gin range. With orange peel, smoked barley and lapsang souchong tea, this is wonderfully citrusy on the nose with great smokey notes on the palate. It makes a smashing smokey negroni!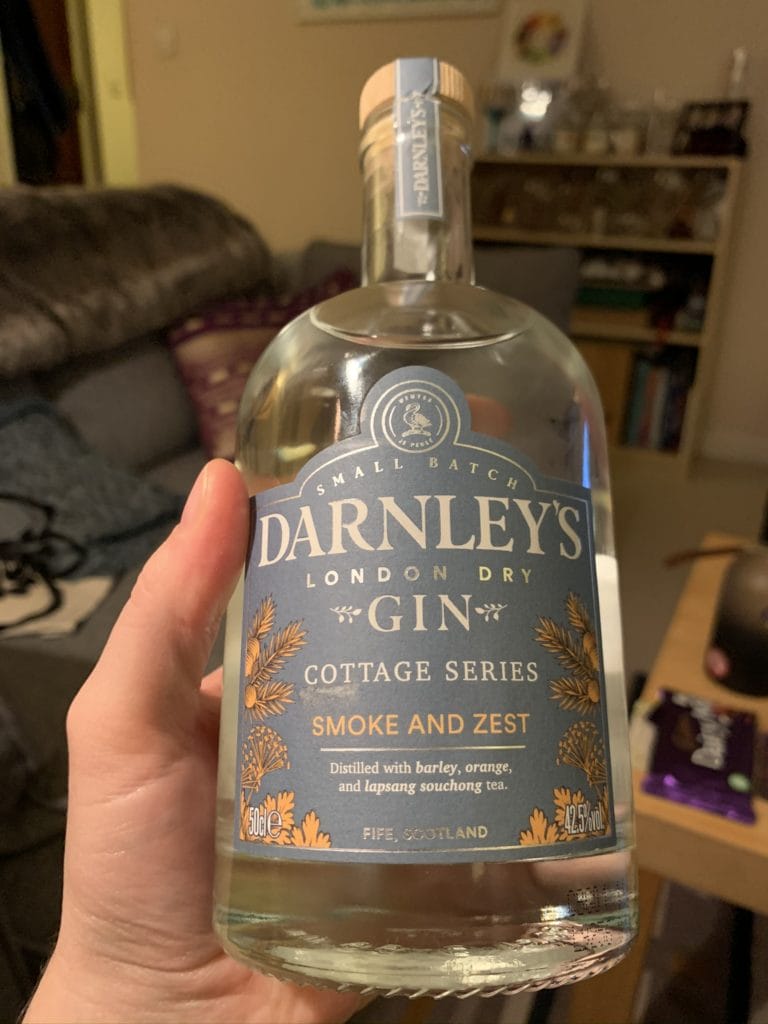 Buy Darnley's Smoke and Zest gin from their website for £29.95 for 50cl. If you sign up to their mailing list you can get a 10% discount.
Mackintosh Gin [gifted]
One of the loveliest families in gin make Mackintosh Gin. With Jim, Deborah and their three daughters all involved in the brand, it's very much family run. You'll always get a hug from them at gin festivals and the gin makes a lovely negroni – my favourite drink!
Buy Mackintosh gin for £38.95 [affiliate]
Seven Crofts Gin [gifted]
Seven Crofts Gin is a newly released gin made by the Highland Liquor Company up in Ullapool. The gin is a soft London Dry that is perfect in a martini or a gin and tonic. Even better the bottle is stunning, the green ombre representing the area it's made in. This would make a perfect gift for any gin lover.
Buy Seven Crofts Gin from their website for £40.
The gift of gin – other gins
Slingsby Marmalade Gin
Slingsby have recently brought out their Marmalade gin and it makes a fantastic breakfast martini! (See below for the serve at London Cocktail Week with toast topped with gin marmalade!)
Slingsby is based in Harrogate, Yorkshire and do a range of gins, from their London Dry, Navy Strength to their famous Rhubarb, and now Marmalade gin. It makes a lovely citrus gin and tonic, or some amazing cocktails, like above!
Order from Slingsby online for £39.99.
Martin Miller's Aurora Edition
This special gift box features imagery from award winning night sky photographer Babak Tafreshi. The Aurora Borealis in Iceland is a reflection of Martin Miller's gin, which fuses an English distilled gin, with pure Icelandic spring water.
This special edition box is available to buy from Waitrose, Sainsbury's and Morrisons for £28 for 70cl.
Fifty Pounds gin [gifted]
A classic London Dry, this gin is juniper forward and makes a great martini as well as a lovely gin and tonic.
Buy Fifty Pounds gin from Amazon for £27.79 [affiliate]
Pink Pepper gin from Audemus Spirits [gifted]
This year Audemus Spirits have released a special edition box for their Pink Pepper gin. This box turns into a cocktail book with a few folds and turns:
This special edition is available in Waitrose Stores and also selected places online (spotted for £45 at Great Western Wine). However not all bottles will come with this special box!
Bright Spirits [gifted]
Bright Spirits make three very different gins. They have Citrus, Roots and Pips. Citrus is the easiest to guess the flavour profile for (heavily citrus). Roots is a more spiced and earthy style, which is great for Autumn/Winter. Pips is a berry forward gin, perfect for those that like sweeter drinks (but there are no sweeteners in it!). All the gins are distilled with the botanicals to create their unique flavours.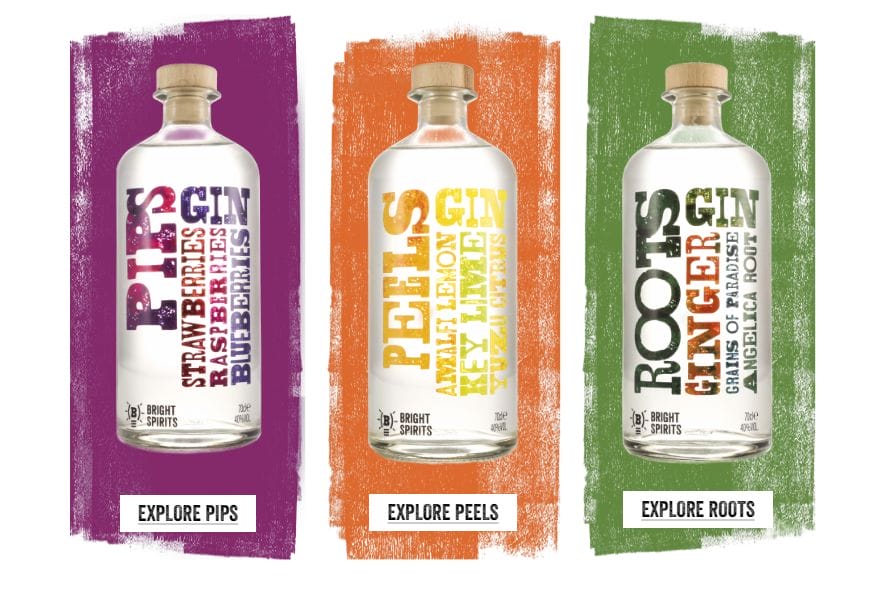 You can buy Bright Spirits gins on their website for £36.95 for a 70cl bottle
CBD Gin from Top Beverages [gifted]
If you are anything like me you'll have seen lots of CBD (Cannabidiol – an extract of the cannabis plant that is legal in the UK and 'non high') spirits being released this year. CBD is said to have many benefits, however I've still skeptical about this, but willing to try most things once! So when I had the opportunity to try the classic gin from Top Beverages, I took it.
This gin is 54.5% and has 10ml of CBD per 100ml of the gin. In appearance it's slightly cloudy – this is from the oils that they use to assist with the delivery of the CBD into your body on drinking. At first there is a herbal note on the nose, followed by juniper and orange citrus. To taste the gin is juniper forward with sweet notes from the Valencian orange. It makes a decent gin and tonic and also works well in my favourite drink: the negroni.
All their spirits are CBD infused (in case you want to dabble in rum or vodka too!). They've just launched a signature collection that includes Super Gin (with super berries included in the botanicals) and a spice collection with Bloody Mary gin. Also the bottles are pretty special too and would make a great gift.
Get 20% off from 18/11/2019 through 15/12/2019, with free UK shipping using this link: Top Beverages CBD gin
Pink Gin (joke) Pinkster Royale liqueur
For something special on Christmas morning, add a dash of Pinkster Royale to your champagne. This liqueur is a by product of the Pinkster gin making process. So not only does it taste fab, but it's sustainable too!
Buy at Pinkster for £25. While you are there, check out their boozy berries and gin jam too!
The gift of gin – gin gift sets
The Yard of Gin
The Yard of Gin includes 12 50ml gins and a copy of the gin guide for £49.95. See the full listing of the gins on Tipplebox and also keep your eyes peeled for Black Friday discounts: Tipplebox Yard of Gin
Ice and Slice gin gifts [sponsored]
Ice and a Slice do all sorts of gin gift sets, however the best (if you ask me & my mum!) is their gin spa set.
This set comes with a copa glass, a 35cl bottle of gin, matching tonic and soap:
Currently these gin spa sets are out of stock, however you can still purchase Ice and a Slice gift sets in their signature boxes on Amazon [affiliate]
Craft 56 Gin and Tonic gift sets
Craft 56 stocks several gin and tonic gift sets, which come with a copa style gin glass, 2 bottles of Cushiedoos tonic and a bottle opener.
Buy the Teasmith set for £56.50 [affiliate]
Buy the Biggar gin gift set for £55.00 [affiliate]
Or go for something a bit different with the Hills & Harbour gin gift set with 2 branded gin glasses:
Buy the Hills & Harbour gift set for £45 [affiliate]
Makar mini gin gift set
A great taster of some superb gins. Makar Original gin is joined with their Old Tom Gin and the Oak Aged Gin. I'd also recommend checking out their cherry and other aged gins (especially if you like whisky or an Old Fashioned cocktail!)
Buy direct from the Makar website for £12.
Gwyr mini gin gift set
This miniature set is the perfect way to taste the Gower Gin range. Including their Pinwydd, Rhosili and new Bara Brith gins, this is great for any Welsh gin lover.
Buy the miniature gift box on their website for £18.95. Also check out their gin pins and gin candle!
Esker 'ice cube' gift set
With 4 x 5cl bottles – one of each of the Esker gins: Esker, Esker Gold (previously Esker Honey Spiced), Silverglas Scottish Raspberry, Silverglas Valencian Orange, this is the perfect tasting set for Esker gins.
Buy from Esker Spirits online for £20
Gin that does good: Hedgepigs
Hedgepigs are gin liqueurs by Pinkster gin, where 50p from each bottle goes towards the British Hedgehog Preservation Society.  This boxed gift set contains 20cl bottles of Cambridge Gage, Wild Bullace and Quince, and Zesty Elderflower and £1.50 goes to the charity.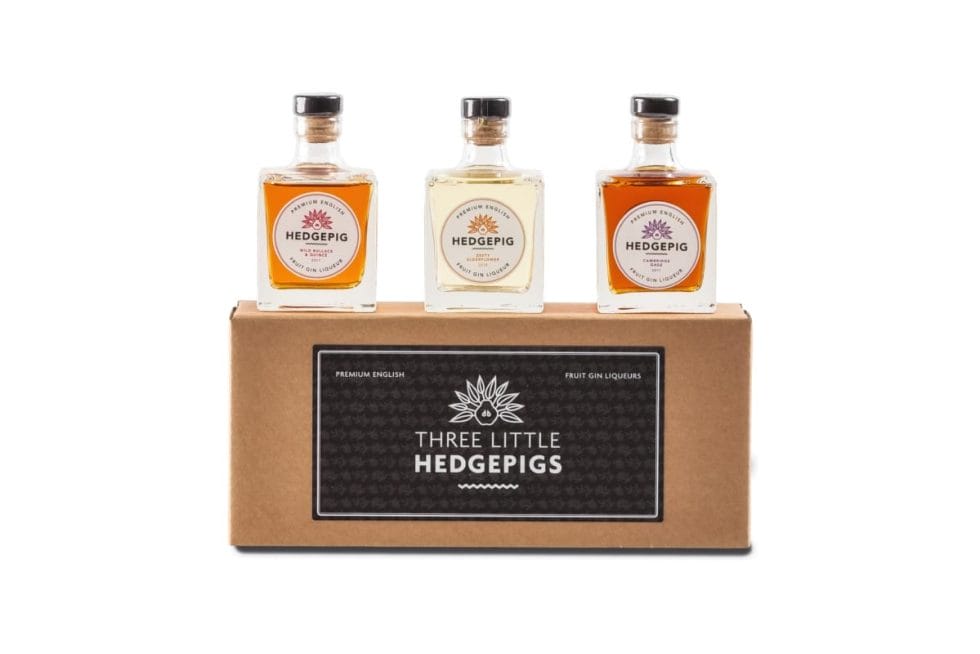 Buy for £45 on the Pinkster website.
Gin that does good: Graveney Gin
Not only is Graveney Gin organically certified, it's a one woman show, with distiller Victoria Christie making each 'nano' batch. Victoria feels strongly about giving back, so 10% of all profits go towards Gearing Up For Gorillas. This charity protects, educates & care for the rare mountain gorillas in Virunga National Park, Eastern DR Congo including the rangers who dedicate & risk their lives to look after them.
The Graveney gin hamper contains a branded glass, 250ml bottle of award-winning London Dry gin and a choice of tonic to complement the gin's flavours.
Buy direct from Graveney gin for £27.
Tonics
Walter Gregor's
Scotland's first tonic water, made in Aberdeenshire. Walter Gregor's has a few unique flavours that turn your gin and tonic into a cocktail. Apple & Cinnamon and Spiced Tonic water are both particularly great for festive drinks!
Buy this selection pack at Craft56 for £9 to sample them all [affiliate]
Yorkshire Tonics [gifted]
Yorkshire Tonics have a great range of classic and flavoured tonics. The Premium & Skinny tonic will pair with most gins. The citrus I found worked well with a citrusy London Dry gin, however they also recommend herbal gins with that.
The flavoured Strawberry & Pomegrante, Apple & Elderflower and Pink Grapefruit, all elevate a g&t into a cocktail. The flavour wheel helps you to match each tonic to make your perfect gin and tonic:
Buy the mixed selection pack on Amazon Prime for £11.95 [affiliate]
Gin subscriptions
Craft56 Scottish gin club subscription
Craft56 does a gin subscription club for £40 a month. For this you get a 70cl bottle of Scottish gin, Scottish tonics or mixers, handmade sweet treats to complement the gin, a copa gin glass in your first box and a special tasting card with image from a local artist.
You can order this subscription box monthly/bi-monthly/quarterly and you can get a voucher to give it as a gift too.
Check out the Craft56 gin subscription box here [affiliate] and Craft56 vouchers here [affiliate].
Sipsmith Sipping Society
Sipsmith have a great experimental gin subscription service. This is where they will send you 2 x 20cl bottles of what ever concoctions are the latest ones they have come up with. Previous examples are their Lemon Drizzle gin and the Orange and Cacao, both of which had great feedback, so they made them part of the main ranges!
For £185 you can buy an annual gift subscription, where you also receive a 5cl bottle to gift alongside a gift card. You can also sign up pay bi-monthly for £35 every other month. Check out all the options on the Sipsmith's website.
Gin experiences – distillery tours where you can also make your own gin
London: 58 Gin Distillery
Based near Haggerston in East London, 58 Gin offer a make your own gin class for £120. This includes a 3 hour immersive experience, 4 gin cocktails and a full size bottle of your own gin to take away (although it's 2 to a still).
I did this in the Summer with my friend Meena and we thoroughly enjoyed it. Blog coming as soon as I get around to finishing it!
Book 58 make your own gin class here.
London: City of London Distillery
In the heart of the City of London, this distillery has had a recent refurbishment. They are open for tours & tastings, just to visit the bar for a cocktail, or join one of their gin making experiences on your own mini still named after the 7 dwarfs!
Please note that pre-booking is required and it's best to check that the bar is open before you visit (they sometimes close it to the public for private events). City of London Distillery experiences start from £25 for a tour and tasting, up to £125 to make your own gin. Book online at City of London Distillery.
Cornwall: Colwith Farm Distillery
On my recent weekend in Cornwall, we visited Colwith Farm Distillery, as they make the gin for the Talland Bay Hotel where we were staying.
You can do the tour that we did, including the tasting, or you can do the gin masterclass and go away with your own bottle of gin at the end!
Book your Colwith Farm Distillery experience here.
Sheffield: Locksley Distilling Co
If you are based up North, or just fancy a weekend in Sheffield, then I'd recommend booking in at Locksley Distilling co to make your own gin. You will be given a tour around the historic site, tastings of all the Locksley gin (& some non gin!) products, before getting started on your own recipe to take home.
My full blog will come as soon as I have time to write it all up, but for now you can book your Locksley Distilling gin experience here.
Edinburgh: Edinburgh Gin
Find out more about Edinburgh Gin tours and tastings in my Gin Guide to Edinburgh:
Holyrood distillery – whisky and gin!
This one is for people that like whisky too. Holyrood distillery only opened in Summer 2019. When I visited they hadn't moved production onsite yet, but if you go in 3 years the whisky will be ready!
Ahead of that they have a fabulous distillery experience and tasting, however you can't make your own gin there. Book tours here: Holyrood Distillery tour.
Gin experiences – Junipalooza
Junipalooza is THE GIN EVENT OF THE YEAR. This is an ideal event for any gin lover, with numerous distillers onsite (so you actually get to meet the owners/distillers of the gin you are trying!), and so many gins to taste. Tasters are included in the ticket price, so this is incredibly good value for money. Read about why Junipalooza is my favourite gin festival.
Junipalooza occurs on the weekend of World Gin Day in June each year and there are three sessions: Saturday morning 11am-3pm, Saturday afternoon 4pm-8pm and one longer session on Sunday 11am-4pm. Tickets start at £26.80 (including booking fee) for the early bird ticket, these will sell out soon and move up to the next price bracket!
Gin Books
World Atlas of Gin
I was lucky to attend the launch of this book as someone else's plus one, where I got to meet the authors Joel Harrion and Neil Ridley. The book is a great showcase for gin and it's history around the world.
Currently on offer on Amazon Prime for £15 [affiliate] – it's well worth investing in for anyone who is a gin lover (or even yourself!)
Gin Foundry 2019 Gin Annual
The 2019 Gin Annual is a yearly retrospective of the gin world, with reviews, news and interviews (OK I didn't write that, I borrowed it from their website!). A great look at the state of the gin scene in 2019.
You can pre-order the 2019 Gin Annual from Gin Kiosk for £8 (to be dispatched in November).
Sipsmith: Sip 100 gin cocktails with only three ingredients [gifted]
This great book from Sipsmith has a simple concept: take 3 ingredients and make a cocktail. To be fair the first is gin, ice and lemon garnish, which is a bit cheeky. However there are some fab cocktail recipes here – both new and old – they will be sure to inspire you and you will certainly have the ingredients for at least one at home already!
You can buy Sip on Amazon Prime for £7.59 [affiliate]
Sue Telford How to Drink Gin [gifted]
Not like I need tips on how to drink…. but Sue has covered history, how gin is made, as well as essential knowledge for cocktails, garnishes and curating your own gin collection.
Buy How to Drink Gin on Amazon Prime for £9.35 [affiliate]
Other #ginspired items & stocking fillers
Of Life and Lemons:
Angie who runs this fab website has kindly given What's Katie Doing? readers 20% off! Use the code WKD20 from 16/11/19 through 24/11/19 to get the discount. Here are some ideas on ginny presents to get:
Christmas GIN jumpers
Be the talk of the office on Christmas jumper day with your Ginspired jumper. I have the GINgle bells one shown below, but they have a tonne of punny gin-tastic jumpers available!
GINgle Bells jumper £28.99 pre discount (use code WKD20 for 20% off).
Stocking fillers:
Gin fridge magnets from £4.50 pre discount (use code WKD20 for 20% off).
Gin pins from £6.99 pre discount (use code WKD20 for 20% off).
Gin Bunny Gym Bag from £14 pre discount (use code WKD20 for 20% off).
Gin Monkey Gin Rummy Cards
This beautifully illustrated deck of cards is perfect for playing Gin Rummy or other card games. Each card has an illustration of a gin or gin cocktail on it.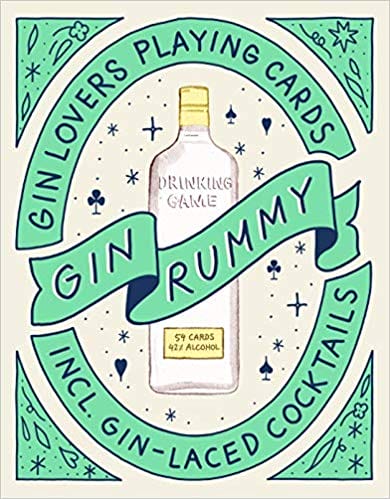 Buy Gin Rummy: Gin Lover's Playing Cards from Amazon Prime for £8.63 [affiliate]
Hidden Curiosities gin baubles
Hidden Curiosities gin baubles now come in both their original gin and the Aranami strength gin too!
Hang these cute minis on your tree for the ultimate Christmas day gin and tonic.
Available from Hidden Curiositites directly – £10 for the original gin and £12 for the Navy strength Aranami (self assembly required)
Garnishes
Ginfusion [sponsored]
This neat tin is the perfect gift for any gin lover. The garnishes can be infused in the gin to change the flavour of a 'bog-standard' gin into something special.
Buy the classic tin, shown above, for £19.99 from Ginfusion.org
The Smokey Carter Gin Botanicals tube
With the Gin Botanicals infusion tube you can either garnish your gin and tonics, or infuse gin or vodka to make your own flavoured gin!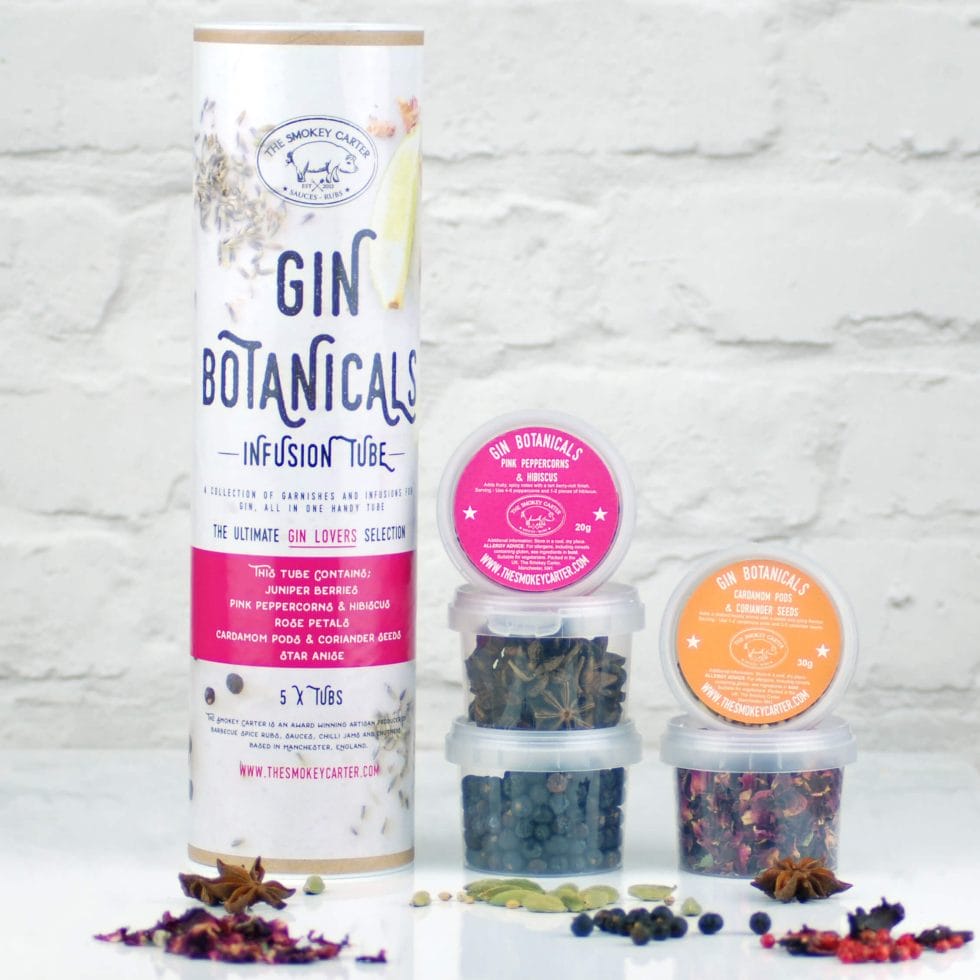 Buy online at The Smokey Carter for £15
Not gin!
I thought I'd showcase a few products that are related to gin, but aren't gin.. e.g some of the key ingredients for my favourite drink: the negroni.
Not gin: Asterley Bros vermouth and amaro
The Asterley Bros make a range of products, from red and white vermouth, to amaro (Italian style bitters) and even Fernet.
Both the Amaro and the Estate English vermouth can be used with an English gin to make an English negroni. Buy from £24.95 on the Asterley Bros website.
The Frankincense Manhattan has sold out already, but you can still order the gin cocktails – the Gold Martini and the Myrrh Negroni from £14.95 on their website: Asterley Bros shop.
Not gin: Sea Arch, the non-alcoholic distilled 'spirit'
Sea Arch is very careful not to call itself a gin. However this non-alcoholic distilled 'spirit' is heavily influenced by gin. It's inspired by the coast, with juniper, kelp, samphire and blood orange as key botanicals.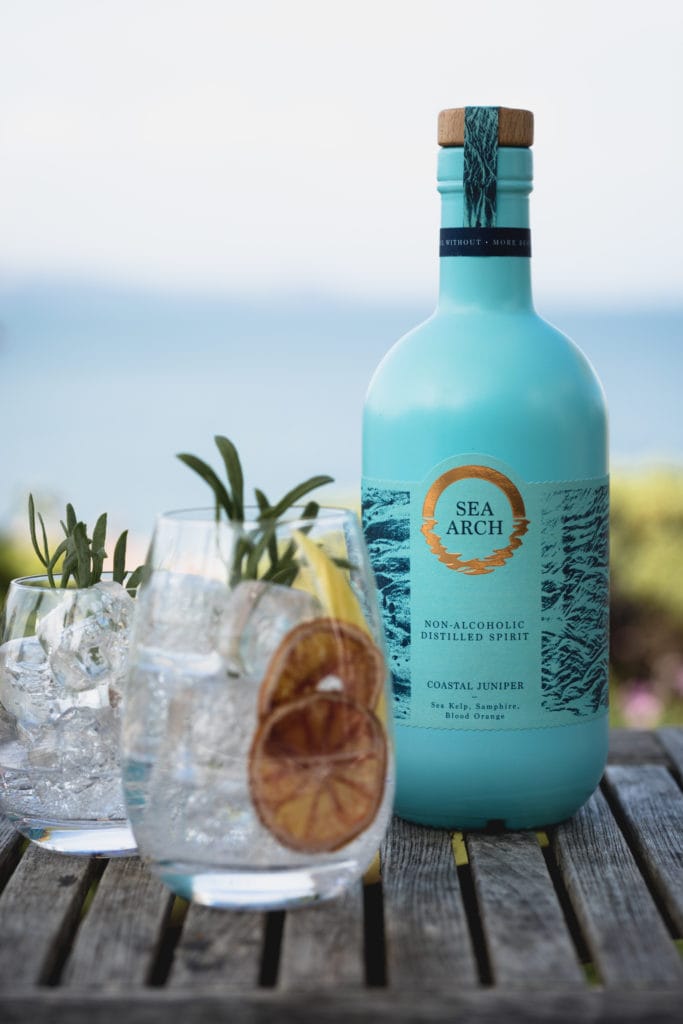 Great if you can't drink and want something a bit special to drink. I'm still on the hunt for all the non-alcoholic ingredients for a non-alcoholic negroni though!.
Buy Sea Arch from Amazon for £24.95 [affiliate]
Not gin: Nine Elms [gifted]
Marketed as more of a wine replacement, this non-alcoholic drink is deep burgundy in colour. Drunk on it's own it has a very tannic taste – this would be best drunk with food, which was how it was designed. However as soon as you add sparkling water, this turns into a grown up Ribena! I had high hopes that with the botanicals added, this would make a good vermouth replacement in a negroni. However I still need the final non-alcoholic ingredient – a bitter… so watch this space for more!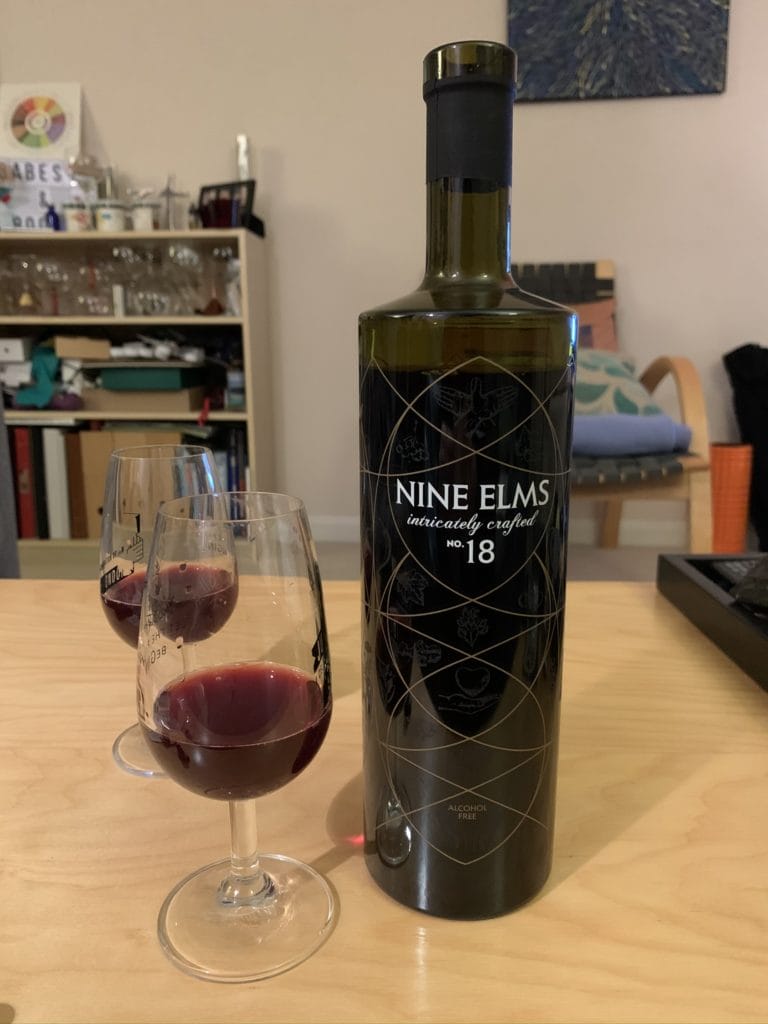 Get Nine Elms as a replacement for your Christmas wine, or as another ingredient to play with in cocktails.
Buy Nine Elms at Master of Malt for £19.95.
I hope you found this guide useful, let me know what gin-inspired presents you will be getting this Christmas!