Brockmans Gin host the best parties! I've had the privilege of attending several of these over the years since they launched their Press for Gin campaign (#PressforGin) and they have always been awesome. This year's events are no different! I went down to the Steel Yard by Cannon Street station to check it out:
Press for gin with Brockmans
On arrival
Arriving at the venue at 7pm we were greeted and checked in, and grabbed our first cocktail of the evening: A perfect serve Brockman's and Tonic with grapefruit peel and blueberries. For those of you who haven't tasted Brockman's before, they brand it as 'a taste like no other'. And this gin very different to the typical London Dry gin you might be thinking of…
It's an explosion of flavour – that's berry flavour! Brockman's is a clear spirit but loaded with juniper berries (of course!), blueberries, blackberries, citrus peels, almonds, coriander and cassia bark. The impact of the berry flavour even when mixed with tonic (or other mixers) is really striking. It's not sweet or coloured like a sloe gin, but you could be mistaken for thinking it should be from the flavour.
The tables
We were all seated at different tables of 8 around the room. The most important part of the table was the free standing 'Press for Gin' button next to each! Those were the spots filled first strangely enough…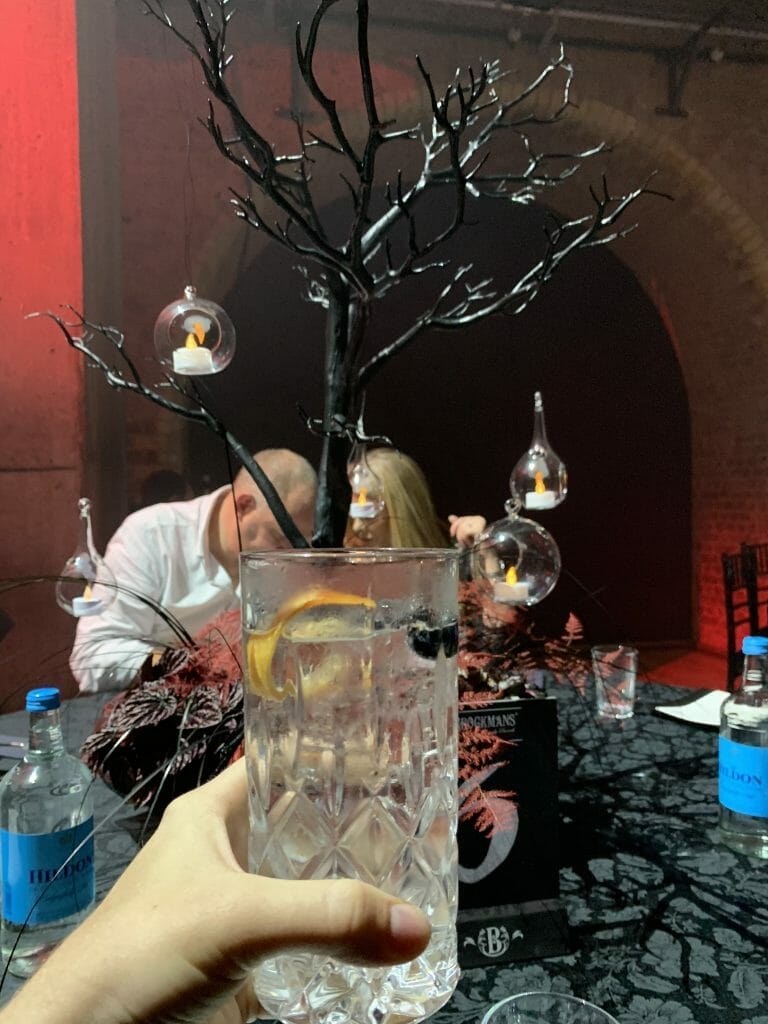 The event was an evening of entertainment, cocktails and small plates.
Drinks
After we were seated, we were told only to press for gin when we needed a refill. (However we should try and order together and don't press it extra times!). In all we received four cocktails, so they tried to space them out with the food over the evening. This was both to avoid drunkness and also to ensure that the food and drinks were paired as intended.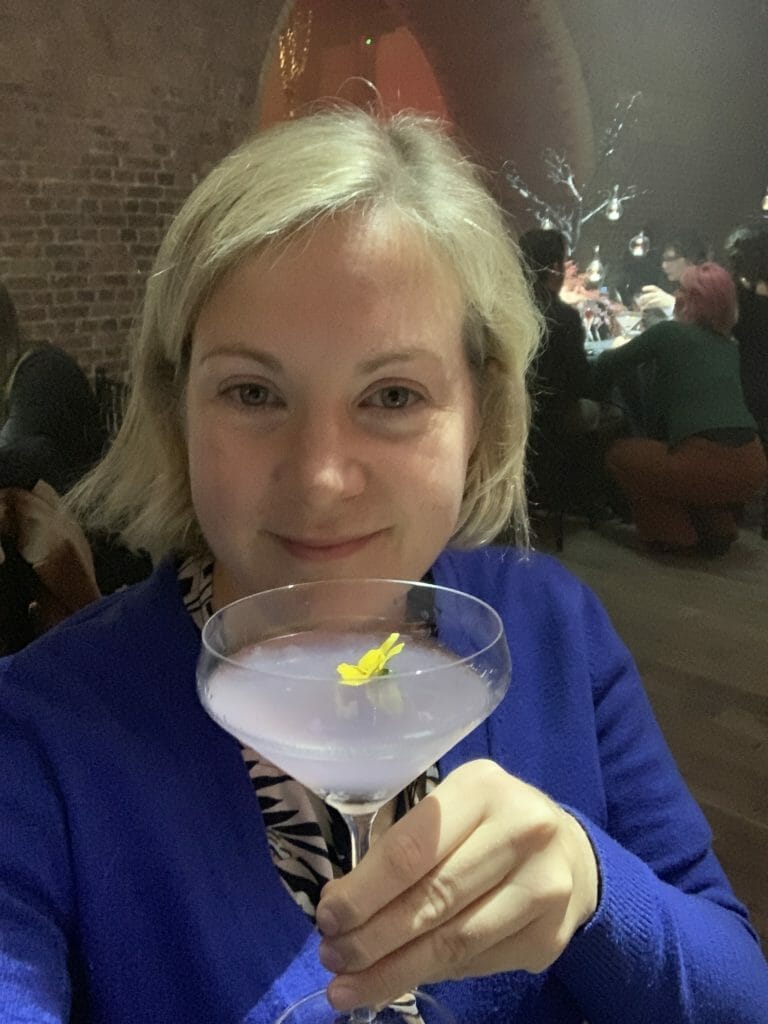 Katie and aviation selfie!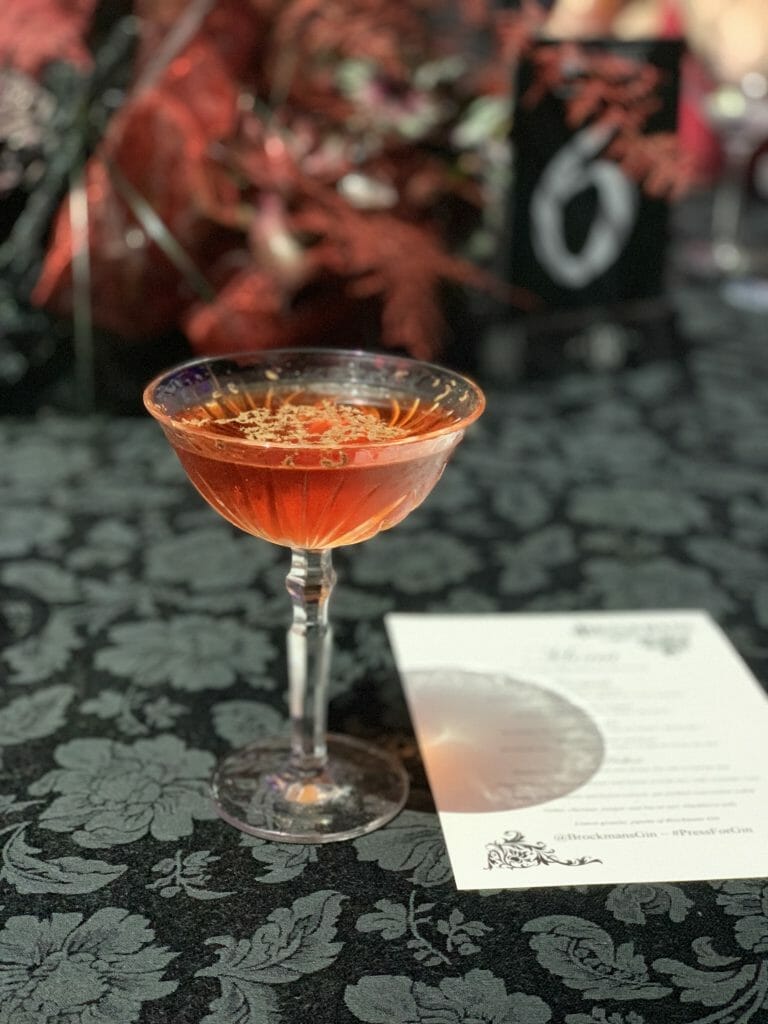 Our dessert cocktail was the Black Forest Gateaux with freshly grated dark chocolate on top and glitter mixed in!
This one was perfect for a decadent celebration!
Food
I was glad that the food was small plates. I love to try a bit of everything, so getting a few different mouthfuls is great for me. However Becky did say that she was still hungry at the end and it isn't a full meal. However it was more than I was expected (I'm fairly sure they described the food as canapes when we booked the tickets!)
Our starter was these pork and shrimp dim sum:
Next up was the mini mini taco – I could have eaten a lot of these!
Next up was the Daube of Brockmans marinaded vension. This was served cold (or room temperature), not hot, which we found a little weird…. However the actual stew was lovely, the sweet potato mash so buttery and delicious and the pickled radishes a great way to cut through the richness. I'm not sure that I could tell it had been marinated with Brockmans though.
Then these boxes were presented. We had a peak inside to find the game, juniper and bacon tarts, topped with blackberry jam. The flavours of this worked really well together and these pies/tarts disappeared very quickly. (I had to fight Becky off mine!)
Then it was time for dessert. As I mentioned the accompanying cocktail was pretty much dessert for me – with it's berry and chocolate notes. However the lemon granita, with Brockmans to pour on top, was a great palate cleanser.
Becky and I enjoyed both the food and the drinks during the evening, as for the entertainment, see for yourselves:
Entertainment
We started with the human jukebox warming things up with his 'tweet me song suggestions'. This was a fun way to see what he could do and what he shied away from….
However things really kicked off when these ladies came on stage with their wips! They demonstrated their mastery of the wips within centimeters of their faces.
Then it was time for the knife throwing!! I had my heart in my mouth for this one:
But it didn't climax there, we were also treated to a fire display that definitely raised the temperature in the room! (and possibly woke up people up?!). There was a surge of suggestions for Prodigy Fire Starter after that act!
This was very impressive and certainly warmed up the room!
The end & competition
The event finished promptly at 10pm and we all received a goodie bag on our way out. They contained a Brockmans branded copa glass, a miniature bottle of Brockmans and a branded cookie. I also won a cocktail book as my photo was chosen as the best one shared that evening.
This was an excellent evening, an event that was certainly worth the ticket price. I really enjoyed myself and Becky did too. We are inspired to do our own gin inspired dinner party, using the botanicals in different gins. I'll let you know how we go*
*There will not be intentional fires…. or wips involved…