Have you ever eaten a gourmet dinner on a bus? (I'm not talking cheese and pickle sandwiches here!) Well this is what Bustronome London offers – a lovely 6 course meal with optional wine pairing and a tour of the London sights. What more could you want on a gorgeous Spring evening?
I was invited with some of the Love Pop Ups London gang to have dinner and check out what Bustronome London was all about:
*Full disclosure, my meal with Bustronome was free in return for this honest review*
Bustronome London – a gourmet journey around London
What is the Bustronome concept?
The concept behind Bustronome is a delicious gourmet meal in their specially designed bus, whilst touring around the centre of London. The bus has a proper tables and seats, as well as a panoramic glass roof, so you have the perfect view of London, wherever you sit.
This is a high class London sightseeing option. It is definitely not a hop-on-hop-off bus tour. You will be served multiple courses and drinks over a 3 hour tour around the key landmarks of London.
Alongside the sights you have a audiopen that provides an audio description and some background for each of the major sights.
The best bit is the custom tray on each table that holds your audiopen, your water, and most importantly your wine glasses, safe as the bus moves. Whilst the our driver Adnan made every effort for a smooth ride, you don't want to spill your drinks!
Now this isn't the first meal I've had on a bus tour around London! The first was afternoon tea on the B-Bakery bus tour (I've also had their sushi & gin dinner). However their Routemaster bus wasn't as well designed as Bustronome's special bus. You can read more about that tour below:
Where does Bustronome start/finish at:
The Bustronome dinner and tour starts at Victoria Embankment – that's right outside Embankment Underground station. (Not Victoria coach station as I thought when I misread the address!!)
If you are in any doubt about the location Google maps has it in the right place:
The route
Starting from Embankment we headed East towards the City of London. We saw the Royal Courts of Justice and St Paul's Cathedral up close.
After pootling around South of the river we crossed back over Tower Bridge, which makes for some great views!
Going past the Tower of London, we then headed back West.
Having crossed over the river again, we came back to the North side over Westminster Bridge. Our route changed a bit here due to roads around Westminster being closed due to protestors, but we were soon on our way to Kensington.
We went past The Royal Albert Hall, Harrods and Harvey Nichols: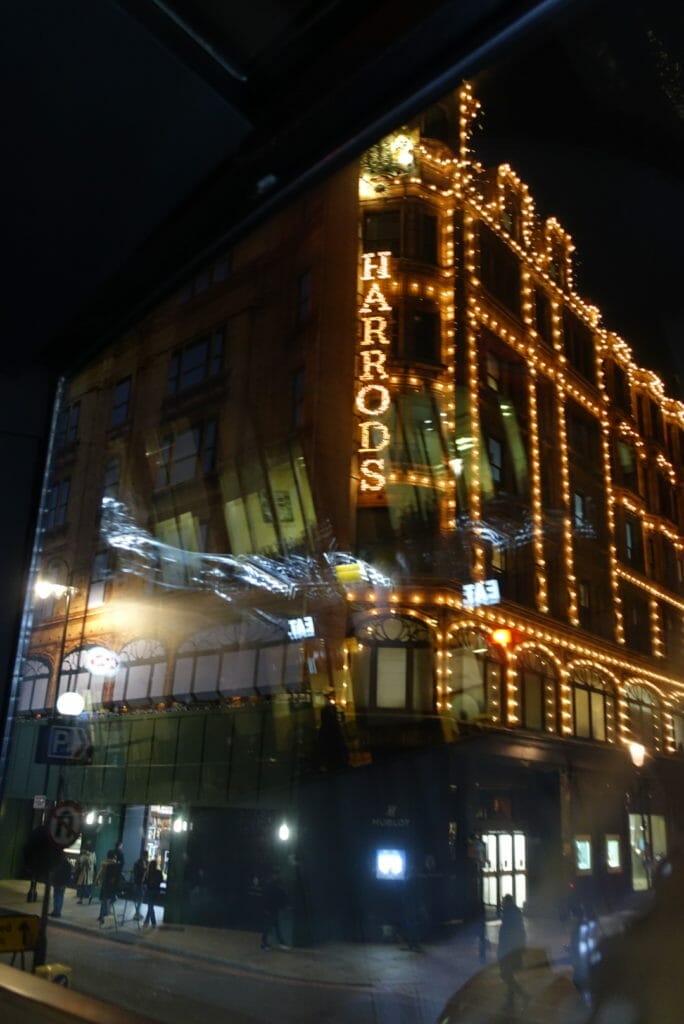 On our final leg back to Embankment, we went through Piccadilly Circus, where we were treated to the full light show:
Food
I was delighted to try the 6 course special Easter dinner menu on our tour. Each of the courses had a nod to Easter, with either a egg related item or chocolate – I'm always up for chocolate in everything!
To start
To be honest I didn't really see or taste the coca nibs in this… But it was an amazing dish! The strong flavour of the mackerel was complemented by the coconut milk and avocado. The goji berries added some difference in texture, being slightly chewy, and also some sweetness. They can also serve this dish with salmon if you don't like the strong flavour of mackerel.
This was a pretty looking dish, with the Parmesan served as a crisp on top of the dish alongside an edible flower. The quails eggs were perfectly poached – still runny in the middle! The combination of thinly sliced raw asparagus and cooked asparagus added a nice contrast to the texture of this dish. An innovative take on a classic starter combination and a nice palate cleanser before the next course.
Fish course
Now the prawn was certainly the star of the show on this dish! The prawn was cooked well and peeled, so ready to devour. The visual of the presentation was obviously very striking too.
I hadn't read the menu that closely, so the texture of the cauliflower was the thing that gave away the risotto for being different! No rice here, but the cauliflower risotto was a satisfying accompaniment and a clever idea. It was perfectly cooked – a great texture, so no overcooked softness – and the flavouring was spot on.
I think this might have been my favourite dish….
Main (meat) course
Served with the red wine the vension was beautiful! I really enjoyed the combination of flavours and even wiped the plate with my finger to get the last of the sauce!
Cheese course
This isn't a traditional cheese course plate. The goat's cheese came on a salad with toasted bread, a slice of pear and honey drizzled over the top. It was quite a decadent way to serve it really!
Dessert
The dessert was a chocolate mousse sat on top of a crunchy popped rice base and topped with real (edible) gold leaf. Even better the base was full of popping candy! This made your mouth pop as you ate it and was a great exciting touch to finish off the meal. I was very happy with this dessert as I love chocolate!
Vegetarian options
Haydy ordered the vegetarian menu, which was an adaptation of the menu I had. This meant that they omitted the quails eggs from her asparagus (not sure why…. she's not vegan!); and gave her an avocado version of the ceviche. They also gave her the cauliflower 'risotto' sans prawn (no replacement there either). Whilst she didn't get the chocolate sauce with her main, she was pleased with the cheesy mushroom risotto they served instead.
Overall it was a disappointment that the vegetarian options were adapted rather than thought about more comprehensively. Something to consider if you have dietary restrictions, as the cost is the same as the main menu.
Drinks
We were served the wine pairing to go with the menu. This consisted of a glass of champagne as a welcome drink when we boarded the bus.
We were then served two glasses of white wine – a Sauvignon Blanc:
And two glasses of red wine:
Drinking the red wine whilst headed up to Piccadilly Circus.
I didn't get the details of the red wine – but I think it was probably a French wine. It went very well with the vension, cheese and chocolate dessert.
Water was included on our table – with a bottle of still or sparkling to share between two. At the end of the meal we were also offered tea or coffee. I went with a decaf espresso option to wash down the sweetness from the dessert.
It was probably a good thing that we didn't need to walk until the end, as we reckoned we had just under 2 bottles of wine each! You can order a package that has only one glass of white and red wine or non-alcoholic choices too. However it's worth noting that you have to order all drinks before you get on the bus. There is no payment on the night – all orders and payments have to be made beforehand.
The verdict
Three hours on the bus is a good amount of time to see the sights and we did see some great vistas. I'd definitely recommend this for photographers in Summer time, as light outside is required to avoid the glare on the windows. However it is quite special to go through Piccadilly Circus and see all the lights on the top deck of a bus with that many windows! The audio pen is good at telling you information about the sights, but isn't too detailed. You do need to know vaguely where you are on the map to pick up on things at the right time. The bonus is that it has additional languages also.
This is not your everyday dinner experience, with the menu starting at £105 for 6 courses at dinner, it's not a cheap option. With the extended wine pairing that we had, it was a total of £150 per person. So definitely something for a special occasion only!
A cheaper way to do this would be to book afternoon tea or their 4 course lunch, £60-£65 respectively.  Children are welcome too, if you think they won't mind being cooped up on board for 2 hours min (they not allowed to run around on the bus mind!). They will cost you £35 to £50 a head.
As a package and a totally unique way to have a special occasion meal, I think it's actually good value for money. £300 for two people for 6 courses and a LOT of wine is very good value, compared to how much you might spend in a top restaurant with a view that doesn't change minute by minute!
So what are you waiting for? Book that birthday lunch, anniversary meal or celebration with Bustronome now and 'wow' your guests!