Divine Proportions is the latest in immersive dining experiences in London. Dress up like a God and party with them on Mount Olympus and down in Hades!
*Full disclosure, I was invited to experience Divine Proportions via Love Pop Ups London and my ticket was free in return for this honest review*
Divine Proportions: party with the Gods
The concept & theme
This is an immersive dining experience. The idea is that you are entertained, whilst also getting a 3 course meal (we actually got more than that – I'll tell you about it later on!). Having been to similar immersive experiences I had an idea on what might happen. Namely that there would be actors and music and maybe some audience participation, but exactly how it was going to happen I wasn't sure about.
Arriving at the Vaults underneath Waterloo Station, we were welcomed into a fairy tale decorated area and then through to the lair of the gods. We had been advised to dress like deities, so there were plenty of Greek Gods in togas. Also a tonne of glitter! Not only did they encourage glitter, they also sell it, so you can glam yourself up onsite.
I embraced the sequins and glitter part of the brief and my friend Becky more the goddess part.
Before dinner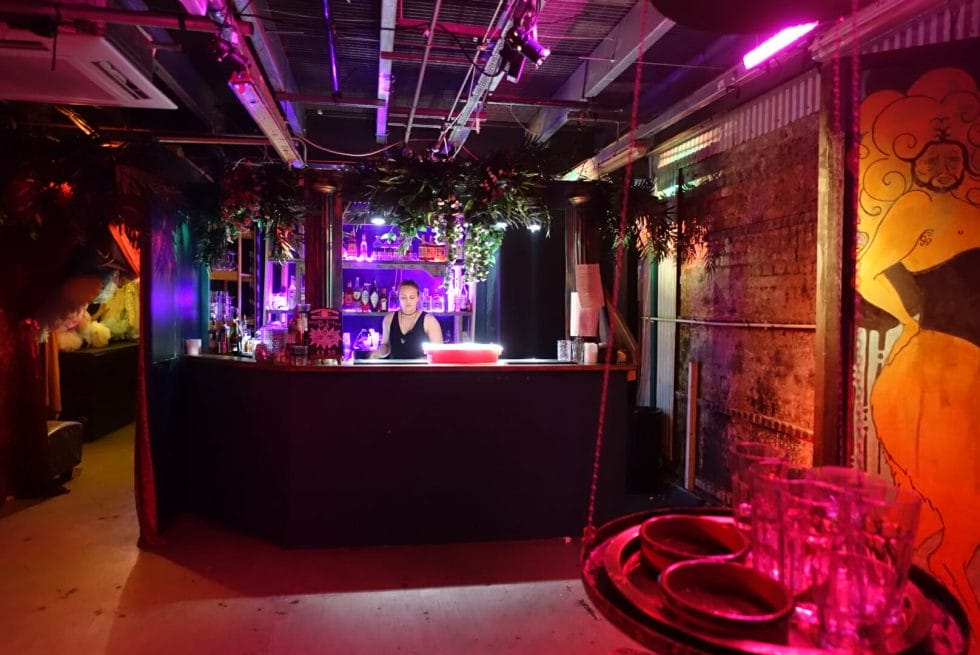 As we entered the lair our first stop was the bar (naturally!). They have a selection of cocktails, in addition to wine, prosecco, bottles of cider and cans of beer. Basically something to suit most tastes. Given that they had 2 different negronis I had to try both…. As we waited for everyone to arrive we nibbled on the provided bread with balsamic vinegar and olive oil.
I had the feeling that the entertainment started a bit later than originally planned, but maybe not… we were there on time, but it seemed some parties were waiting for latecomers. Once sufficient people were there, the entertainment started, with the Maenads circulating through out the room. These are the followers of Dionysus and set the scene for what was to come.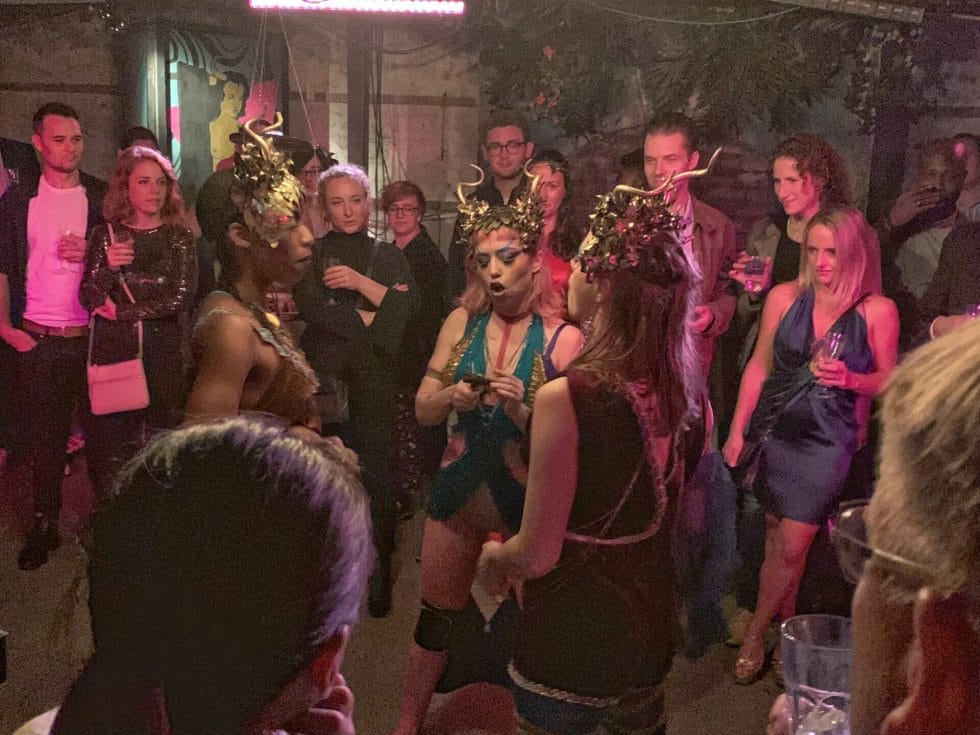 The Maenads getting ready to start the party!The Maenads explained how they worshipped Dionysus and my friend Becky translated their ancient Greek in real time for me! (Don't worry they just started chanting in Greek, but then explained in English!).
Dionysus is also known as Bacchus by the Romans, so now you may have some idea on the theme – eat, drink and party! The Maenads started their performance with drums, which was the traditional way they would get into a bacchic frenzy (so Becky gave them a thumbs up for traditionalism!).
This introduced Dionysus, or as they prefer to be called, Di. Dionysus doesn't like labels, they are not he or she, but into everything. Di encouraged us to give up our labels, before ascending to Mount Olympus for dinner.
Dinner
Seated at our long tables we started our dinner with a palate cleansing limoncello jelly/foam that was certainly alcoholic!
The entertainment continued whilst we got drinks in from the bar (not included in your ticket price) and waited for our starters.
The starters were a bit random – a salad of ceviche (lemon cured fish) on seaweed.
To be honest this was the low point of the meal – I didn't eat my seaweed as it did not taste nice, however other people on our table were too hungry not to eat it. (This is where filling up on the glorious bread downstairs made sense!)
Hence we were all very ready for the main course when it came – chicken served with kohlrabi and roasted potatoes, carrots and beetroot. This was all delicious and served with some lovely puree and sauces. It went down very well!
There were vegetarian options available, so if you have any dietary restrictions they will endeavor to cater for you, but they do need to know in advance. (Although they re-confirm this when you arrive on the night.)
The meal finished up with a coconut milk pudding – kinda like a panna cotta but with no actual milk and less 'wobble'. It was certainly presented prettily and tasted great – very coconutty – yum!
During dinner
Our host Di, introduced us to another God – Aphrodite, the Goddess of Love and Fertility. She treated us to a floral inspired strip tease number.. I'll leave the details up to your imagination!
After dinner
At the end of our dinner a late comer – Persephone entertained us with a candle dance.
She is the majestic princess of the underworld and brought a certain darkness to her performance – in complete contrast to Aphrodite. Persephone then bargained with Di for our souls, winning and leading us back down into the underworld. This was where we were treated to a fire show in 'Hades'. It seemed very appropriate!
By the time the fire show finished everyone was well lubricated and ready to dance like demons in the underworld! After an espresso martini to wake up we danced for another hour or so before getting trains after 11.
The party was still going when we departed, so I'm not sure how late it goes on for. But there are plenty of places near Waterloo to continue the party if you need to!
The verdict?
One point I haven't mentioned yet is that the music was *banging* all night. I really enjoyed all the performances and the tunes played between them and afterwards kept the party atmosphere going. The only bit that was a bit clunky was moving people from one space to the next (trying to call out groups etc for the seating for dinner etc), but I found the performers very good.
There were an assortment of people at our evening – everything from first dates (!), to hen dos and birthday parties. The long communal tables and the Maenads circulating all evening ensured that everyone talked and got to know each other. This definitely added to the experience for me.
My friend commented that it seemed to be a very safe, female dominated space. There were more groups of women and most men were there with partners or in bigger friendship groups. Also all the performers were women (or of the female form, even if they didn't identify as 'women' as such).
My top tip is to come as a group – you'll get seated first and hopefully get the best view of the action!
Tickets for Divine Proportions can be bought online and are £40 per person.
The biodegradable glitter can be pre-ordered for £5.50 also. Cocktails are £9 each and a bottle of prosecco is £26, they have food and drinks to suit all requirements.