Now, from other blogs I've written you may have guessed that I'm not vegan… However I'm also not one of those people that needs meat to make a meal, so whether you are a complete vegan, a vegetarian or just want to have a meat-free Monday, vegan pizza at Purezza Camden is worth checking out! Big thanks to Love Pop Ups London for arranging this opportunity to review Purezza.
*Full disclosure, my meal at Purezza was free in return for this honest review*
Vegan Pizza at Purezza
I went to Purezza in Camden on a Thursday night with one of my work colleagues who prefers a vegan lifestyle. It's situated a 5 minute walk from Camden Town tube station and a couple of doors down from Wholefoods.
The restaurant is spread over 2 floors and has some outside tables with a big window that opens out onto Parkway.  It was very busy, with tables being filled and turned over regularly and a queue for both seating and take away by the entrance.
The restaurant
The restaurant was very welcoming, when we first stepped in the barman greeted us and asked us to wait for the servers to seat us. All the staff we spoke to were lovely, albeit the kitchen staff didn't want to be in pictures….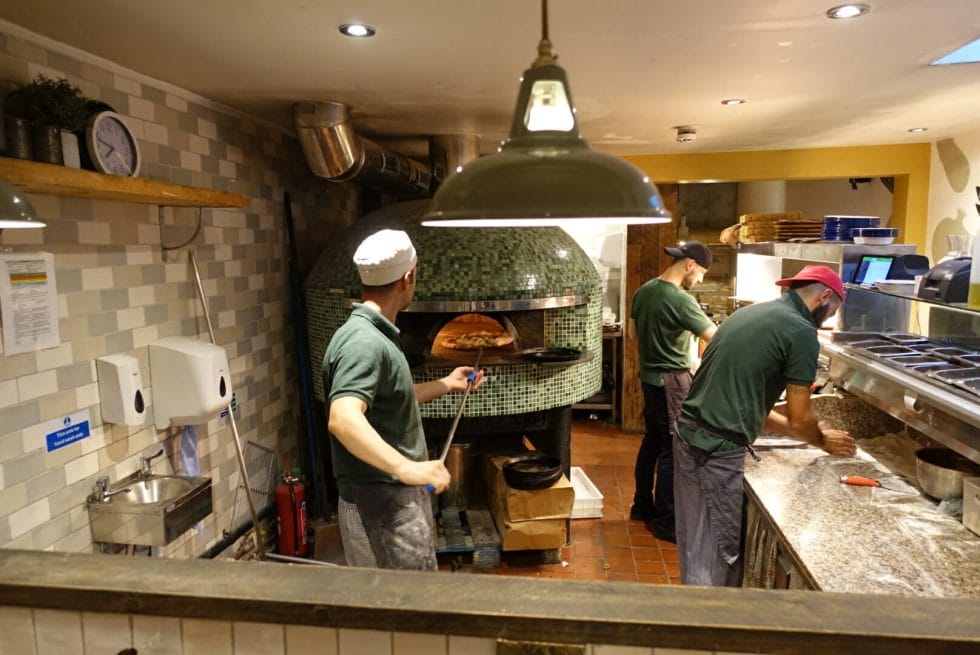 There is a large open kitchen at the back of the main room, with a large wood fired oven. Here the pizza means business! There are lots of banquet seats and a couple of booths downstairs and more tables out front and in the upstairs room too.
The menu
The menu focuses on the pizzas, as you would expect. There are 3 bases to chose from – the classic sourdough, a hemp version and the gluten free one. They have a selection of interesting pizzas and sides, other main dishes and starters.
EVERYTHING ON THE MENU IS VEGAN
Yes as I said everything is vegan… which means this is vegan heaven – no asking about ingredients! They make their own mozzarella substitute from brown rice and even their own raw cashew cheeses. Our waiter was an Italian, so I believed him when he said the pesto was true to the original non-vegan one (oh and it was – more on that later!)
They also have specials on the board at the front of the restaurant
Drinks
We tried a ginger kombucha from Jarr, as well as the all vegan, organic, bio-dynamic wine.
The house wine was a Sangiovese and this was fruity and tasty. The Primotivo premium wine was a dryer more tannic wine, that worked better with the food than drunk on its own.
They also had cocktails, including the special that involved limoncello and prosecco.
Food
Vegan Pizza at Purezza
First I have to say the main reaction to the aubergine parmigiana pizza was WOW!
We loved this pizza so much it was the first one we ate, pretty much ignoring the special. The sourdough base was light and chewy, not overly crisp, but showing char marks from the wood fired oven. The aubergine, tomato, smoked mozzarella and tofu topping was sublime. We ate all of this pizza!
The special pizza that we ordered on the hemp dough base was good, but our sun-dried tomatoes were missing. As we couldn't eat it all, our lovely waiter Eduardo packed it to go with some extra sun-dried tomatoes and we ate it at work the next day. I really liked the texture of their vegan mozzarella – this is something they developed at Purezza and really sets them apart.
A special mention has to go to the pesto dip. We were recommended to get this and it is the best thing to dip your pizza crusts in. So fresh and tasty, it was balanced superbly, I couldn't distinguish this version from the regular non vegan one. Definitely a top tip to get the pesto dip!
Top tip – get the pesto dip for your pizza crusts!
Sides
We tried the mac and cheese and the cheesy dough balls. For me the dough balls were the winner! Gooey, cheesy puffs of deliciousness. But you do have to be cautious when they are first out of the oven as that molten 'cheese' will burn your mouth otherwise! (luckily Eduardo warned us).
I thought the mac and cheese was not quite tasty enough. I've had vegan mac and cheese before where you would never have guessed that it was vegan.
For me Purezza's mac and cheese wasn't cheesy enough – both in flavour and in thickness/gooeyness of the sauce. Also as the pasta was gluten free, the texture was a bit dry and grainy. We both thought that the addition of some crunch would help the dish – maybe some crispy breadcrumbs or similar on top.
Dessert
By now, we didn't *need* dessert, but since when has that ever stopped me? In the name of research for you lovely readers, we ordered the chocolate brownie and the raw tiramisu.
The chocolate brownie was chocolately decadence. Served with the soya ice cream (and not their banana based ice cream) and extra chocolate sauce, this dessert defeated us, despite both of us going back for more mouthfuls…. I thought the texture of the brownie could have had more definition; it came across a bit heavy. I like my brownies crisp on the outside and gooey in the middle, so perhaps a little longer in the oven would have produced this. It still tasted fabulous though!
The tiramisu was an interesting dessert. The flavours of coffee came through in this raw dessert. However it lacks the creaminess of the 'real' thing, presumably from the lack of dairy. It was cleverly layered: raw dates form the base, then comes the coffee cream made from cashews, topped with a dusting of cocoa.
Purezza also have a creme brulee, an oreo pizza and home made banana based gelato. The gelato isn't 'banana flavoured', but it uses bananas as the base instead of dairy.
The verdict
As I'm not vegan this would't have been my natural haunt in Camden. However I would totally hit up Purezza for the pizzas as they were that good! So whether you are vegan, vegetarian, eating healthy, or just want to do Meat-free Monday, I would totally recommend Purezza.
In fact as they do takeaway too (via Deliveroo) then you could order vegan pizza at Purezza and surprise your friends. I guarantee that they won't realise the pizza is vegan with the quality and taste of the ingredients including the 'mozzarella'.
Purezza also have amazing lunch deals – dishes for £5 or a £10 set menu, so if you are in the area go check it out!
Find out more and check out their menu online here: vegan pizza at Purezza Camden