One of the latest burger restaurants to take London by storm is Yen Burger. Founder Yen Nguyen takes inspiration from her mother's Asian cuisine to create some unique burger flavour combinations. This alongside some very Instagrammable decorations made me want to visit asap! I was lucky enough to be invited to review through Love Pop Ups London. So read on to see my full review of Yen Burger London Bridge:
*Full disclosure, my meal at Yen Burger was complimentary in exchange for this review*
Yen Burger London Bridge Review
Location and decor
Located on Southwark Street in Borough (but nearest tube is London Bridge), Yen Burger is tucked away on a side street, opposite Borough Market. Most of the restaurant's tables are downstairs, although they do have a few upstairs.
Downstairs is where the magic happens, with the beautiful floral bar and the larger dining room with stunning mural decorating one wall.
When I arrived at 6pm on a Thursday it wasn't that busy, but a lot of tables were reserved and it did fill up in the 1.5 hours that I was there.
Food
As I mentioned already, Yen Burger takes a Japanese twist on the typical fast food menu, so there are some interesting things on there!
I started with some salted edamame, this is the 'healthy' option (or at the very least it's something green!). Edamame beans are the traditional Japanese beer snack so go well with drinks for a pre-dinner nibble.
I was being restrained and didn't try the gyoza and chicken wings this time…
Mains: Yen Burgers!
I ordered 2 different burgers to share with my friend. After discussing with the server I had to try their recommendation of the Yen Supreme burger as well as the Surf n' Turf burger.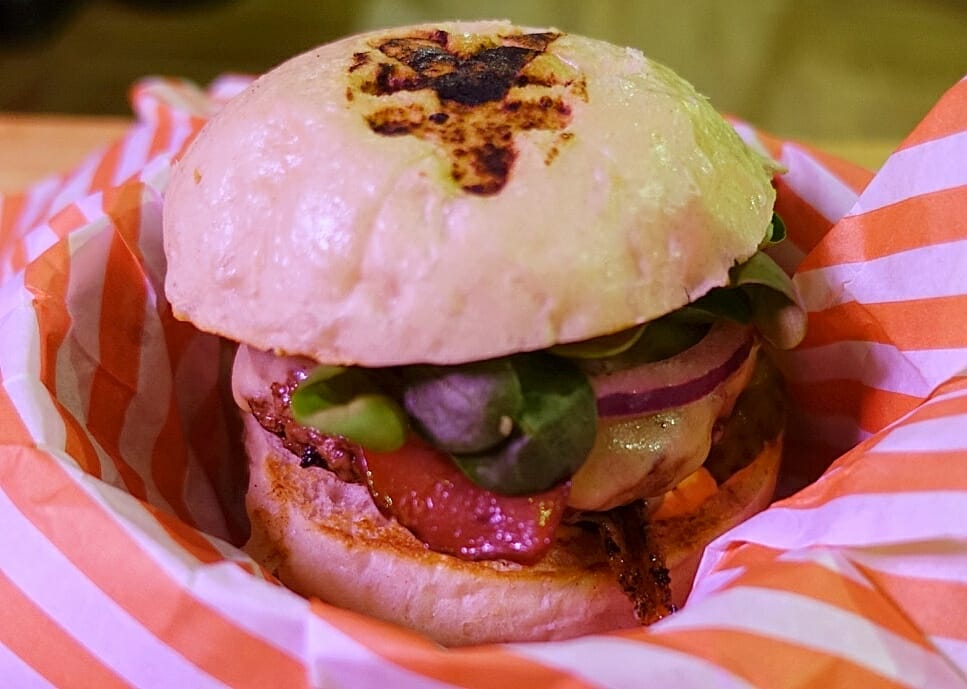 The Yen Supreme burger was amazing! It really shouldn't be a surprise as they use wagyu beef in this delicious patty, so it was full of flavour and so tender. The burger was also very juicy and came served with turkey bacon, onions, cheese, shiso, pickles and Yen sauce. It went down very well, I had to fight my friend for a taste!
The Surf 'n Turf burger wasn't as juicy as the Yen Supreme burger, but it was still tasty. The surf comes from the perfectly grilled king prawns topping the burger. The turf was a 6 oz Aberdeen Angus beef patty and came with lettuce, tomato, red onion, sweet chilli & lime sauce. As you can see the burger patties are generous and the topping were a good combination.
I liked the addition of the prawns in the surf n' turf burger, but I want the wagyu patty next time!
And maybe I'll try the veggie options too – they have  the All Veggie and Tofu Burger options (I wasn't sure about the panko avocado – if you've tried this let me know!).
They also have a Finest Chick burger – with coconut panko chicken and The Cod – a grilled cod burger. Basically there is something for everyone here – so bring your friends in a large group!
Sides
We had our burgers with a side of dashi chips. These are a steamer basket full of paprika dusted potato fries and they were delicious. I ordered some chipotle mayo for dipping and this had a little bit of a kick! One basket of the chips is good to share between two, as we didn't finish them all.
In keeping with our mid-week health kick attempt, we also ordered the pomegranate salad. This was a selection of mixed salad leaves with balsamic dressing and pomegranate seeds. It was delightfully refreshing – I adore pomegranate on salads.
Dessert
We went for the ice-cream Mochi, which came cut in half for easy eating! They also do a special dessert that changes daily,  it was macha cheesecake when I visited.
I love the traditional ice cream mochi. They are always so tasty and a great light dessert when you've eaten too many fries, but need a palate cleanser!
Drinks
The drinks menu has a large selection of specially designed cocktails, including non-alcoholic options. There is also the standard soft drink and wine and beer offerings too.
We both decided to try a different cocktail. I went with the Zen Garden – a mix of rum, cucumber, apple juice and watermelon tonic. Whilst Sandra chose the Foreign Mint, with jinzu, sake, mint, basil and elderflower:
I was pleasantly surprised with my Zen Garden. The rum worked really well with the cucumber/watermelon coolness. This made a very refreshing and balanced long drink. I *may* be stealing this recipe for a summer BBQ or picnic soon!*
(*when summer actually arrives….)
Sandra's Foreign Mint was also very refreshing. It was light and well balanced, but none of the individual flavours stood out. I think I picked the best cocktail for sure!
Their cocktails start from £7 – £10, which is reasonable. The beers and wine by the glass are also well priced at c£5-£6. Bottles of prosecco and champagne are available if you have a special occasion to celebrate.
The verdict
I really liked the Yen Burger offering. As I mentioned, there is really a lot of choice, on both the food and drinks menu. So it's ideal if you need to cater for veggies and non-veggies, those who eat beef and those who don't, those who drink and those having a night off the booze.
I'd love to go back and try out the other burgers. The coconut panko chicken is a draw, along with the avocado and tofu burger options. Also if I had a bigger group I would totally order more sides to share – I want to try the gyoza and chicken wings.
Currently this feels like a bit of a hidden spot, with a lot of Instagram potential! Being opposite the always busy Borough Market, Yen Burger London Bridge is not going to stay unnoticed for long. So get there now, before you are queuing up outside!
Find out more about Yen Burger at their website and find them using the map below:
Thank you to Love Pop Ups London for the opportunity to review Yen Burger London Bridge!