Guess who's back, back again? B-Rex is back, tell a friend. If that doesn't get the classic Slim Shady song stuck in your head, well… we can't be friends. Last week I was delighted to be invited to the relaunch of the classic Byron B-Rex burger at their High Street Kensington restaurant. If you've never heard of the B-Rex (or his friends C-Rex and V-Rex), then read on!
*Full disclosure, my meal at Byron was free in return for this blog and social media coverage – FYI I ate it all myself!*
Byron Burger B-Rex is back!
What is B-Rex?
The B-Rex (or Byron-osaurus Rex burger) is a burger beyond all others. It's a classic Byron hamburger patty topped with an onion ring, cripsy smoked bacon and American cheese. The addition of jalapenos, sliced pickles and onions, BBQ sauce and mayo makes it the ultimate BBQ burger (according to Byron).
Why is B-Rex back?
Originally launched in 2014, the B-Rex was one of the most popular burger specials at Byron. When it came off the menu, the fans cried… so Byron have brought it back, alongside some new specials (see below!)
But I don't eat beef/meat…
Don't worry! Alongside the B-Rex is the C-Rex or Cluck-osaurus – a chicken version of the burger; and the Veggie-saurus V-Rex. The V-Rex has a veggie patty and no bacon.
I knew when I walked into the restaurant that I had to try the classic B-Rex, it simply smelt too good not to! (Plus I'm an omnivore).
Tell me about the sides!
As well as the usual onion rings, courgette fries and sweet potato fries, Byron have launched the B-Rex loaded onion rings.
These are their homemade beer battered onion rings, topped with cheese, bacon, jalapenos, pickles, onions, spicy BBQ sauce and mayo.
What about the milkshakes?
Well there is a special triple chocolate milkshake launched too, the Choco-osaurus Rex…
I made do with an Oreo milkshake, which I pimped out with a shot of rum and additional trimmings at the Freak Shake bar on the night.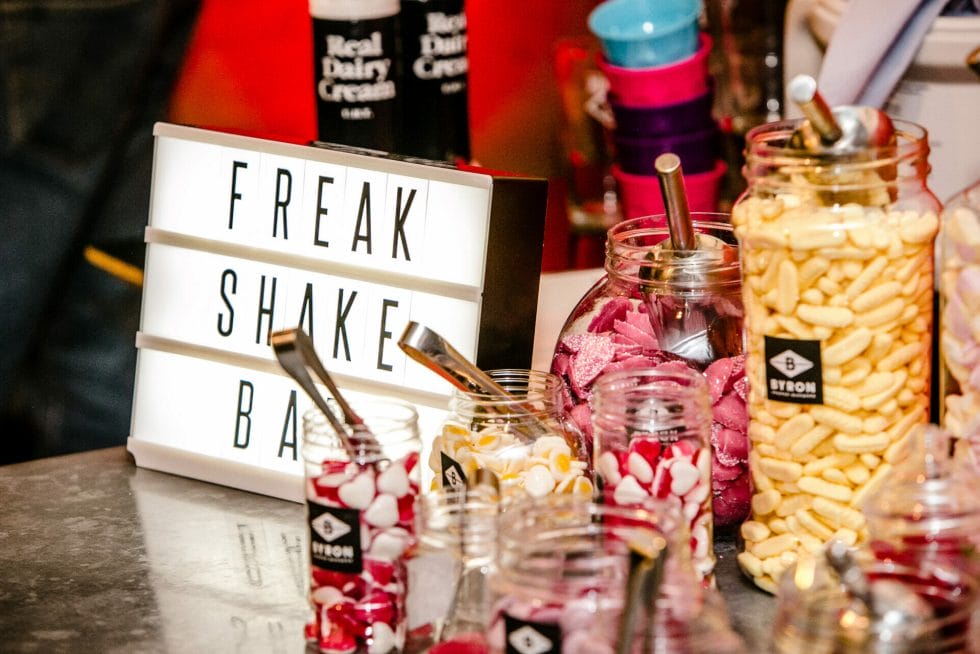 I have to admit that the milkshake was just one thing too much, I couldn't finish it! But it was nice to try instead of a dessert.
The Verdict
The B-Rex burger was so tasty, that I ate the whole thing! I even managed to finish the sides that I was sharing with my friend, however the milkshake was one thing too many.
Whilst I wouldn't recommend this meal for every week (I'm sure the burger alone was close to 800 calories!), it would be good for a treat or special occasion. It's great to push the boat out and try some decadent like this every once in a while!
Byron Burgers can be found in various locations around the UK, check out their website for your closest branch.
Tell me, which burger would you choose?!