This past year I've been trying to make the most of the various bank holidays available to me to get the most out of my already generous annual leave. Cue a trip to Florence over New Year's Eve, Athens for Easter & Hong Kong in May! However having just changed day jobs, I'm now getting slightly less holiday allowance. So this hack will help you – and me! – to get the most out of your holiday allowance.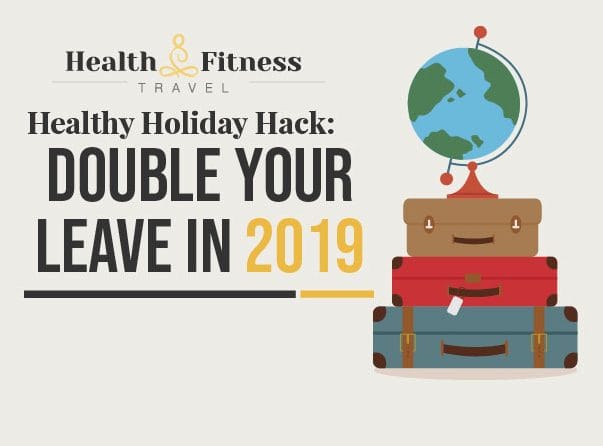 Holiday Hack: Double your leave in 2019!
As I alluded, the key point is to maximise the days that you already have off – i.e. weekends and bank holidays. Strategic holiday booking will ensure that you maximise time away for the least amount of holiday days taken. Luckily Health & Fitness Travel have done the calculations for me! But where to go to use that holiday? They recommend some holidays with wellness in mind:
New Year
Make 4 days of holiday allowance stretch to 11 days away! This requires booking off 24th, 27th, 28th & 31st December, around the UK bank holidays on 25th, 26th December and 1st January.
They suggest taking an extended fitness retreat in Switzerland over Christmas and New Year. This will leave you leaner than your usual Christmas plans! (Fun fact the only time I haven't put on weight so far was when I contracted a stomach bug on Boxing Day….). Luckily for me I don't need to take the 27th-31st off work as my office is closed – score! (Especially as I don't have any holidays left to take…)
I'm going to be entertaining friends in London for New Year's Eve, what are your plans?
Easter
Take 8 days off for a 16 day holiday. Book off 15th-18th and 23rd-26th April. UK Bank Holidays are on 19th and 22nd April 2019.
This sounds absolutely fabulous! I'm lucky every few years that Easter falls around my birthday so I can plan birthday plans with extra days off. Unfortunately that's not the case this year, but a 16 day break in Bali would make up for that. Again avoid the chocolate in the UK with a weight loss focused retreat in Bali. Bali is definitely on my wish list for some point…
In 2017 I used this hack to make the most of my three week holiday in New Zealand – where marshmallow eggs and pineapple lumps are the main treats!
My ultimate wish is to visit Japan in Sakura season, however Easter falls too late in 2019 to see the blossoms – boo!! 🙁
Early May
Have a 9 day holiday for 4 days of annual leave. Book off 7th-10th May, the May day Bank Holiday is 6th May in 2019.
Health & Fitness Travel suggest an anti-aging break in Portugal for this break and I would second spending Spring in Europe!
I used this hack last year to visit my sister in Hong Kong for a week
Late May
Another Bank Holiday – so another opportunity for 9 days away on 4 days of annual leave! Book 28th-31st May, UK Bank Holiday is on the 27th May 2019.
Why not try a transformation and rejuvenation holiday in Greece? Using modern medical technology balanced with meditation and acupuncture, this is a comprehensive wellness getaway.
August Break
Make the most of the August Bank Holiday and get 9 days away for 4 days off. Take 27th-30th August off. The Bank Holiday falls on the 26th August 2019.
Heath & Fitness Travel suggest getting your vitamin D dose in Spain at the Marbella Club Mindful Triathlon (not a real triathlon!). A mixture of mediation and activity, it actually sounds very enlightening. I want to try out the TRX suspension training and the Tibetan singing bowls ritual, very zen!
Christmas
Take 5 days leave for 12 days away! Book off 23rd, 24th, 30th and 31st December. Bank holidays fall on the 25th, 26th and 1st January.
Leave the British weather behind and jet off to warm Thailand. The Mangosteen Ayurveda & Wellness resort is on the island of Phuket, away from the busier tourist areas.
Are you going to use these hacks in 2019?
*Full disclosure, this is NOT a sponsored post and I haven't been on these holidays. I just thought you'd like to know these holiday hacks, wherever you decide to go!*