Imagine this…. sat in a boat on the Thames gently cruising past those London landmarks you see from the riverside all the time. Sounds idyllic, right?
Then a few minutes later you are screaming and holding on to the safety bar in front of you for dear life….. welcome to Thames Rockets, sightseeing with a difference!
When I was invited to review Thames Rockets I only had a vague idea what was in store for me. I knew they were fast boats on the Thames and that we started and ended at the London Eye Pier, but that's about it…..Read on to find out what you can expect on this exciting activity!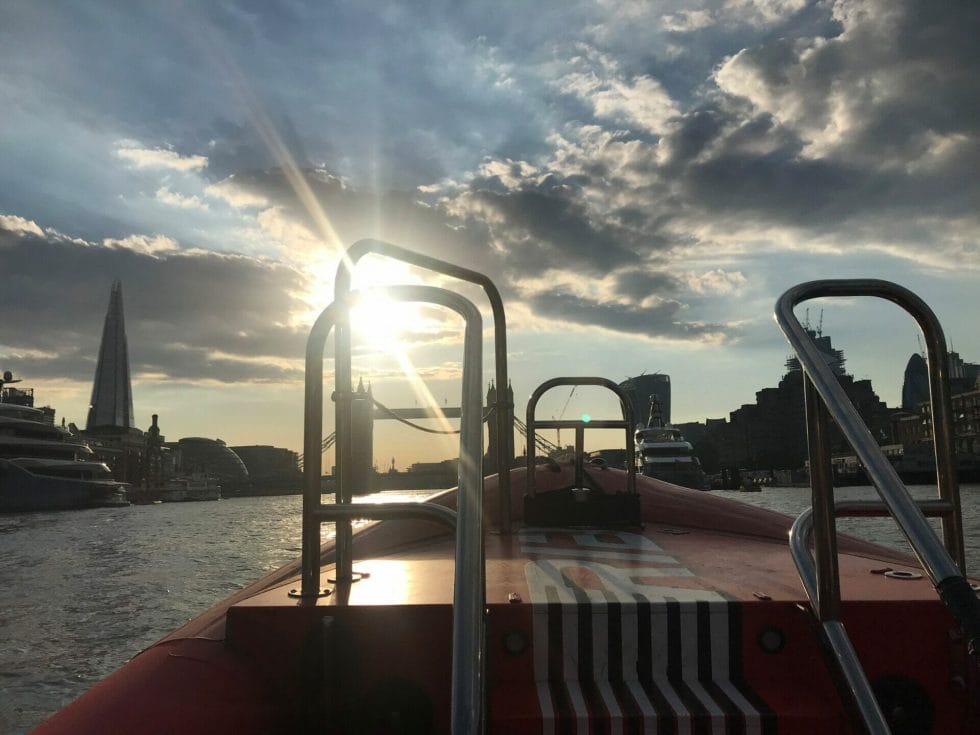 *Full disclosure, I was invited to review Thames Rockets via Love Pop Ups London and received my experience in exchange for this honest review*
Sightseeing with a difference: Thames Rockets
Turning up at the pier by the London Eye out of breath (the nearest tube is Westminster and I had to weave through crowds of tourists and school groups to get there), I was a little disorientated.
Luckily my co-Love Pop Ups London blogger, Luisa-Christie had made it there first and spotted the Thames Rockets sign.
We walked down to the East end of the pier and found our boat and boat-mates.
The Start
On arrival at the correct end of the Pier we could see the Thames Rockets sign and our boat.
They take your booking name (tickets can be pre-booked online or via phone) and give you a sexy life jacket (OK I was lying about the sexy bit, but they are the lightweight ones!)
After double checking that there were no pregnancies or back problems with anyone, we were allowed to board.
The Slow Bit
The boat starts like any sightseeing boat trip would… our guide (who I think was Sam, but I forgot to write his name down – doh!) pointed out the main sights you can see from the river:
Pump Up the Volume!
When we headed past the police station on the river, the speed limit was lifted. The sightseeing ended and the party began!
The boat began blaring out music – a real medley of different upbeat songs. At the same time we surged forward and were thrown into lots of twists and turns.
Screams and white knuckles soon turned to singing along and hands in the air!
Late night means cocktails
As we had booked on a Thames Lates trip that meant that we got to relax with a cocktail on the way back down the river to the London Eye.
Our cocktail was a pre-mix rum punch – very yummy and when combined with the adrenaline, it had a bit of a kick!
The Verdict
I really enjoyed my Thames Rockets experience and Luisa-Christie definitely did too.
It was a tour, exciting experience and karaoke night all wrapped up in one!
If you are looking for something other than a typical sightseeing tour of London, then I would totally recommend Thames Rockets.
We saw couples and families (with adult kids) take part the night we did it, but there are restrictions – so check out the website first. The Thames Lates trip we did starts from £43.50 per adult. To get a 20% discount off your ticket price quote 'Friends and Family' when you book.