Last Tuesday I attended a blogger night at Avenue Cookery school in Wandsworth. I was intrigued to see what we would be doing and loving a good hands on cookery class I was excited to get stuck in! Big thanks to Love London Pop Ups for the opportunity, which only came as Haydy from Squibb Vicious couldn't make it at the last minute.
*full disclosure – I received this experience for free in return for this honest review*
Avenue Cookery school vegan sushi night
After walking up from Wandsworth Town rail station, I found Avenue Cookery School in a new development by the river. The doors were wide open to welcome us in and the music was playing! The atmosphere at this family run school is great – they made me feel very welcome. I had time to chat with mum Diana, the matriarch of the school, daughter Sophie and son Rich – truly a family run business! I soon had a glass of prosecco in hand and some bread to dip in oil and balsamic.
Whilst we waited for everyone to turn up I had a nose around the demonstration room. I saw 5 stations set up – one for demonstration with a mirror suspended overhead and 4 for class attendees to cook on.
Each had a hob and an oven as well as ample preparation space. These were all set up for sushi making, with sushi rolling mats and various ingredients ready for us.
The demonstration:
Rich is the main man for the sushi making. Apparently Diana will only eat sushi that he makes! I think Rich felt like it was herding cats trying to get a group of food bloggers to pay attention (!) But we soon settled down and Rich took us through the stages of preparing awesome sushi:
Rice
The rice is key to good sushi. The first step is soaking the rice for a long time to remove the starch. Luckily for us Rich had already prepared it for us, so the rice had been soaking for ~4 hours when we started. Then its key to heat it to boiling and then turn the heat right down. NEVER lift the lid off – there is a special ratio of rice to water and you need to use the absorption method. If you lift the lid off you will loose some of the steam that the rice needs to absorb. So don't do it!
Vegetable prep
In a truly efficient manner, whilst we were waiting for our rice to cook, we prepped our vegetables. As this was a vegan night we didn't need to worry about fish, so all the fillings were veggies, we had:
Cucumber
Avocado
Red peppers
Spring onions
Chives (also for decoration)
Veganaise (no prep needed as Rich had already mixed this with soy sauce and sriracha to make an amazing condiment!)
Rich demonstrated how to prepare the veggies so that they would all be about the same size and in flat or straight pieces (crucial for even sushi rolls!).
This involved cutting our avocados into V's in the middle (once the stone was out of the fruit) and also removing the seeds from the cucumbers and pounding our peppers flat.
Back to the rice:
Apparently you know when all the water is absorbed by the rice when the it doesn't move in the pot when you shake it violently (be careful!). When it reaches this stage the rice needs to be seasoned and cooled. You season it by adding a mixture of rice vinegar, sugar and salt and folding in to coat the rice.
Then we spread the rice out over a flat surface – in our case a baking tray – to cool it down. Be careful not to over mix your rice or squash down – this will make it compact and you won't get the best texture in your sushi.
Cocktails
Whilst we waited for our rice to cool we made our special cocktail for the evening. A yuzu and vodka based cocktail topped up with Fentiman's connoisseurs tonic – it was basically like a Collins without the gin!
All the ingredients were shaken up with ice, before being topped up with the tonic water.
Assembling the sushi
Rich showed us how to make 3 rolls:
Small rolls – Hoso Maki
Inside out roll – Ura-hoso Maki
Hand roll – Te Maki
All I can say is that you need some practice to get the technique right! My Maki exploded at the seams despite only having one item as filling (too much rice maybe? or not a tight enough roll?).
Hoso Maki:
All sushi starts with half a piece of the seaweed nori – we cut ours in half by folding and then using one of Rich's very sharp knifes to slice them.
Then with the shiny side down you cover 3/4 of the nori with sushi rice – loosely pressed on – leaving a small margin on the far side from you uncovered. You should be able to see the nori through the rice, it shouldn't be a dense covering as you want a light texture. When you have the rice done you can add your filling in the middle of it lengthwise.
For these rolls you can add one type of filling and any seasoning you might want. For example Rich suggests adding some of the pimped veganaise or even soy sauce or wasabi in with your filling.
Then you need to get rolling, use the mat to fold the edge nearest you over the filling, squeezing it tightly and then roll over onto the small flap of nori left uncovered by rice. This should form a natural seal to your rolls. If you don't have round rolls then use the mat to get them circular. Allow the rolls to rest before you cut them.
Top tip: make sure your knife (and hands!) are wet when cutting or handling the rice, otherwise it will stick to everything!
Ura-hoso Maki
The inside out roll starts in the same way as the small roll, except when you are done adding the rice you flip it over so that the smooth side of the nori is facing up. Then you add an overlapping amount of rice to the top (i.e. edge furthest away) and add your fillings.
For these rolls there is more space as the rice is on the outside, so Rich suggests adding up to 3 veggie types.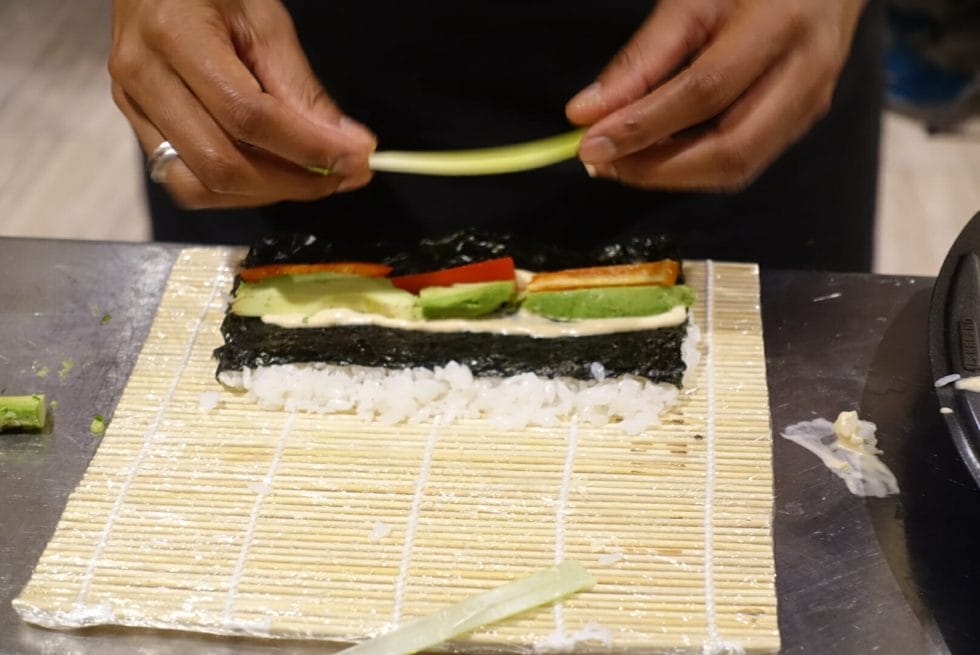 Adding the final fillings before rolling up
You roll the Ura-hoso maki in a similar way to the small roll and the overlapping lip of rice should cover the section of nori without rice. So the end result is rice all the way around the outside.
Hand roll:
However the hand roll I found very easy to do, given that you make it in your hand and then shove it straight in your mouth afterwards!
You hold the nori in your palm and add a tapered 'lump' of the sushi rice (thicker at the top than the bottom). Then you fold over the corner of the nori to cover the rice and continue to roll and secure the end of the nori with a small piece of rice. This is when you add the 'fillings' as they stick out of the top – but I also tried adding them before wrapping the nori around.
The finished products:
And then we ate them all! Nom nom nom!
The Avenue Cookery School verdict
I really enjoyed my evening at the Avenue Cookery school. Everyone was super welcoming and it was great to meet some new vegan and food bloggers too! I liked the ethos of the evening – making the cooking classes fun and easy to follow, but also informative. And obviously it's always good to have drinks and to eat food made by your own fair hands!
I came away with a goodie bag, so hopefully I can use this to recreate some of the fantastic sushi myself at home. I like the idea of doing vegan sushi, even if you are a fish eater, as you don't have to worry about sourcing, preparing and paying for expensive fish products.
Another top tip I have for making 'easy' sushi fillings at home is to use smoked salmon or tuna mayo (obviously these aren't vegan!), but you can play around with everything you have in the fridge too.
Wandsworth Town, where Avenue Cookery School is based, is very easy to get to out of Waterloo. So for me in North London, it was a quick train ride and an easy connection to the tube to get home.
Outside of gaining additional technical cooking knowledge, I would recommend Avenue Cookery School for date night, or a girls night or even a team bonding evening!
Find out more and book their various courses online at The Avenue Cookery School
A big thank you to all the brands that made this night possible and provided items for the goody bag!
Follow Your Heart Veganaise
Kikkoman Soy Sauce

Yutaka Multiple Sushi Ingredients

Organic Delivery Company fruit

Thompson & Scott Prosecco

Fentimans Tonic

Big Dogs Vodka

Drink Stuff Cocktail Shakers

ND Cake Atelier for the Japanese vegan brownie bites – perfect for dessert on the train home