EDIT: I'm super late in publishing this review of the Three Little Pigs Supper Club, (you may have already seen the pictures on Instagram!) because I've had the worst cold for the last week and a half. Apart from working I've been sleeping, rather than blogging, but never fear here it finally is!
Now if I was going to pick my favourite meat I think I would probably go with pork, it has a great versatility. Chef Ronnie Murray certainly agrees, using the tale of the three little pigs to inspire his latest supper club.
I went to investigate, digest and review on your behalf, invited by Wefifo via Love London Popups – my meal was free, but all views remain my own!
Three Little Pigs Supper Club @ Peckham Manor
My friend Tiva (of meat fiend fame) and I headed to Ronnie's house, Peckham Manor in South London. We were welcomed at the door by some very enthusiastic doggies! With a bloody babe in hand (a bacon pimped version of a bloody mary!) we hung out with Ronnie's wife Leanne and nibbled on pork scratchings, whilst we waited for the rest of the diners to arrive.
Ronnie does these supper club dinners about once a month at his Peckham home and Leanne regaled us with tales of the all chicken dinner (which included chicken in the dessert!). We ate the canapes – perfect little pigs in blankets served on top of an apple sauce and admired Ronnie's home bar & kitchen.
When we were all arrived – a combination of friends, family, neighbours and those of us that had come from further afield, we settled down for the next four (!) courses.
The food!
Course 1: Broad bean hummus with chorizo and pickled vegetables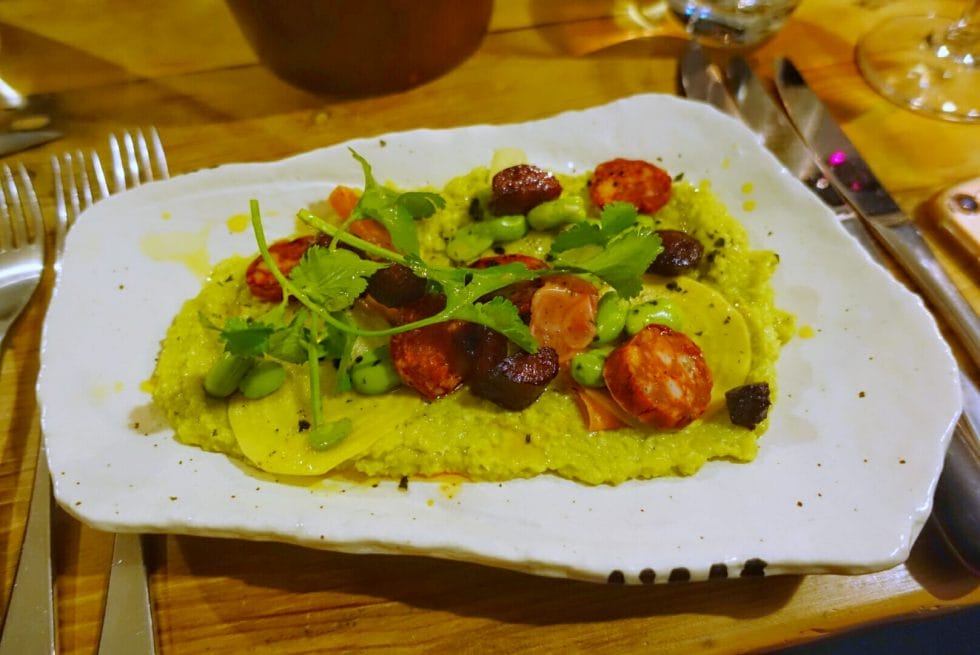 The green broad bean hummus makes it look like this is a healthy option, however it was topped with two different types of chorizo, creating a flavour sensation! You could really taste the difference between the two types of chorizo and the broad beans offset the stronger flavours nicely.
Seated on two tables in Ronnie's kitchen everyone was wowed with the presentation of this first course.
Course 2: Grilled scallops with black pudding and wild garlic
As you can see from the picture, these scallops were served with the roe still attached, in the shell. They were superb! Black pudding and scallops is a classic combination, however this black pudding was delicious in its own right! Served with the samphire and softer flavour of wild garlic, it really worked with the scallop. This was a perfectly proportioned course and one of my favourite!
Course 3: Hannan meats sugar pit bacon ribs, winter slaw, pork dripping (triple cooked) chips
The star of the show:
The sugar pit bacon ribs spent 10 days in a salt and molasses pit (hence the name!). All the meat products are from Peter Hannan in Northern Ireland and all impressed us! The bacon rib had a great caramelised outside and tender meat full of flavour. It was served with triple cooked chips and a winter slaw.
Not only were the chips triple cooked, but they were cooked in the rendered pork fat. Nothing goes to waste here… The result were crunchy chips with a fluffy inside – just perfect! The pickled winter slaw, made with red cabbage and vinegar, cut through the fattiness of the pork, making the perfect accompaniment.
This course almost floored me… Andreas, seated next to me, was saving himself for dessert, and I couldn't finish all my meat and chips.
Course 4: Percy pig raspberry cheesecake
So unlike the chicken dinner, this dessert doesn't contain pork, it's just decorated with Percy Pig sweets! The actual raspberry cheesecake was a masterpiece, with layers of raspberry rippling through, a great raspberry coulis topping and freeze dried raspberry pieces to liven up the texture.
"I just came for dessert"
Andreas, my neighbour at the table, said that he was 'forced to eat everything else, because actually he just came for dessert'. And it was superb – this was a high quality cheesecake with great raspberry flavours and texture. Ronnie says the secret to make awesome cheese cake is to use hobnob biscuits for the best base… you heard it here first folks!
Despite being very full, this dessert went down easily, it was that good I just couldn't leave it.
Last but not least, teapigs tea and gin chocolate truffles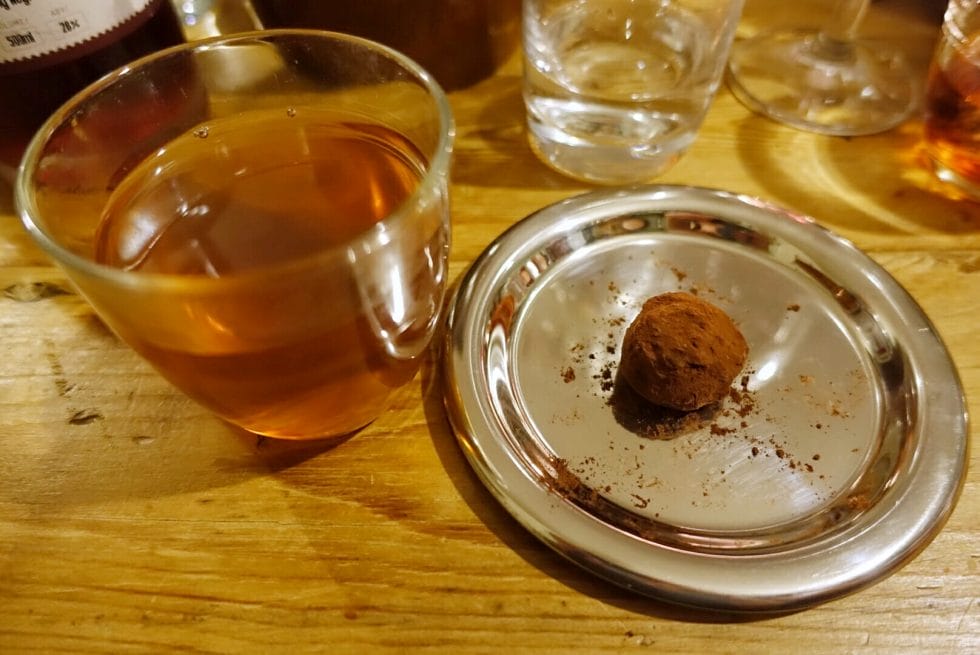 By now I wanted some help with digesting and the chai tea that I got washed down my chocolate gin truffle easily. A great ending to a great meal.
The verdict
The supper club setting, eating in Ronnie's kitchen, watching the cooking and sharing a table with new people, makes for a very homely evening, which was a lot of fun! As you can see the food was top notch, but don't just take my word for it, check out everyone else's opinions too, here's my friend Tiva, and Michael from South London Blog:
I think you'd agree that for a ticket price of £40 we got our money's worth for restaurant quality food. Four courses, plus canapes and petit fours is not bad at all, especially when you consider you are eating at the equivalent of the chef's table. Whilst you do need to bring your own drinks, (we brought some wine and pre-mix negroni – naturally), this means you have the flexibility of drinking what you want.
Ronnie's next Supper Club is at a local restaurant in Peckham – Louie Louie and is showing casing Poshed up junk food. Find out more and book via Wefifo here. Big thanks to Love Pop Ups London for the opportunity to review!
I went to investigate, digest and review on your behalf, invited by Wefifo via Love London Popups – my meal was free, but all views remain my own!