It's finally June! And we are still in lockdown (kinda – unless you're a government special adviser…). After the run up of #ginadaymay, unfortunately all celebrations for World Gin Day are virtual – including my favourite gin festival, Junipalooza. So what can you expect from the various virtual events available this June? Read on to find out more!
*Full disclosure, for some of these events I've been invited to attend for free by the organisers, where this is the case the event will be marked as Invite. My opinions remain my own!*
Virtual gin tastings in June 2020
As World Gin Day has gone virtual, then we are not limited to just one day (13th June) anymore. Instead virtual events will be happening all month long. Here are just some of the main ones:
Whilst the big day is currently postponed until 19th and 20th September, you can still get into the mood with a virtual-palooza blind tasting. Unfortunately the tickets to the £14.50 packs sold out really quickly, but for those of you who managed to get your hands on one, what can you expect?
You'll receive 4 30ml samples, all delivered ahead of the 6th June. All will be secret – however Gin Foundry have given a few clues:
You will not have tasted one before as it's not even out yet. You will not have tasted another unless you were hot off the mark before it sold out in a 48h period last year. You will be amazed how one can be so citrussy yet contain none in its botanical line up and last but not least, you'll be able to taste one that won the World's Best Gin (best in show) the year it debuted almost a decade ago.
They will also be sending out links to a Zoom meeting for the tasting led by the four distillers from their distilleries. At 1 hour and 15 minutes it's going to be a fast paced tasting!
Jaro Design up in Lanarkshire have been championing their local distilleries with tasting boxes which also allowing access to the online tasting sessions. For £35 you can order a taster of one of each of the 'Big Lanarkshire 5' gins, which are supplied with their matching mixers. They will then send you an email with the link to the Zoom call to join in the tasting.
Who are the Lanarkshire big 5? McLeans Gin, The Wee Farm Distillers, Pentland Hills Gin, Inspirited and Biggar Gin. I've only tried two of these before, and as a supporter of International Scottish Gin Day I'm excited to try the others and expand my knowledge. Each sample is 50ml size and you'll get 5 matching Fevertree mixers and garnish suggestions (garnishes not provided). Order now to guarantee delivery in time!
Sipping Rooms from Boutique Bar Brands are running a special session on Wednesday 10th June to showcase Salcombe Gin. This will follow a similar format to their previous gin tastings and cocktail masterclasses and is FREE to join.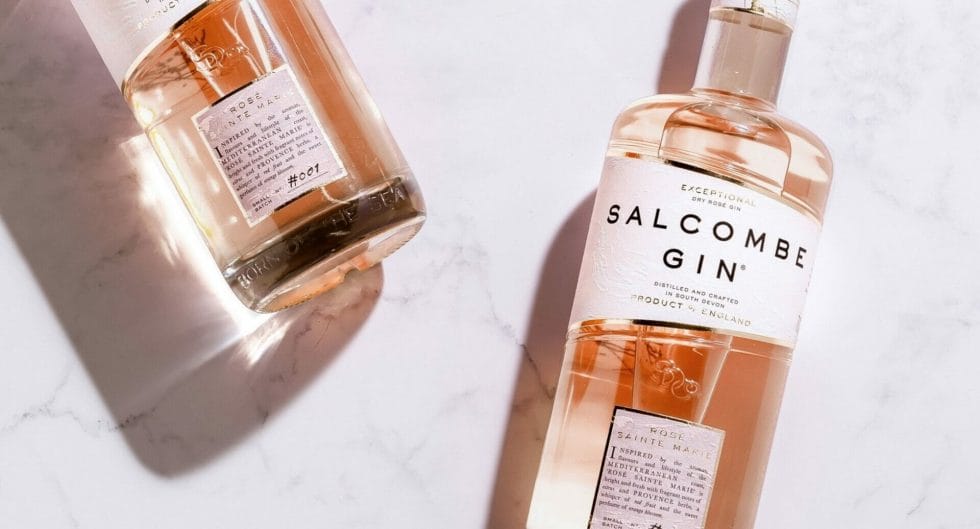 If you want to buy a ticket including a bottle of Salcombe gin with a 10% discount, then you can taste / make along at home. Tickets including a bottle of Salcombe Rose Marie gin are £41.30.
WHAT'S INCLUDED:
One hour virtual gin masterclass led by our host with special guests Angus and Jason from Salcombe Distilling Co
A guided tasting through the 'Rosé Sainte Marie' gin
Q&A with Angus & Jason – ask all your questions about the distillery and how they got started
Interactive chat, quizzes and audience polls
A cocktail masterclass by our cocktail expert – learn how to mix 2 cocktails at home
An invite including registration details, ingredient list, and logistics will be sent to all guests prior to the event
If you choose ticket + bottle of gin, a 70cl bottle of Salcombe's 'Rosé Sainte Marie' gin with 10% discount off RRP and delivery included will be sent to all guests.
An easily attainable 'store-cupboard' ingredient list will be provided ahead so you can be prepared for the cocktail session
World gin day tastings – 13th June
Check out the full listings on the World Gin Day website, but here are a few that I've highlighted for you! (All the below are UK based, for international events check out the website – they are global!).
Book by midday June 10th to get your hands on the samples to taste along with this tasting and tour. They are going behind the scenes at the distillery, their botanical gardens and even visiting the bee hives! They will do a tutored tasting of 5 of their farm grown gins, paired with the perfect FeverTree mixers. You get 5 x 50ml gin samples, 3 x 20cl mixers, a handy guide and a few extra surprises for £40 per person.
Warners are running their tour and tasting for several more dates throughout June and July, including Father's Day on 21st June.
I'll be going live with Gwyr gin on Instagram at 5pm. We will be making cocktails for each of their 4 core gins, Gwyr original, Pinwydd, Rhosili and Bara Brith, as well as learning more about the botanicals. It's FREE to watch on Instagram!
You can buy the Gwyr Striped Mini gift pack for £18.95 to taste the gins and make the cocktails alongside us. Or buy a full size bottle of your favourite Gwyr gin with a 10% discount using the code WORLDGINDAY. Check out the post above for the additional ingredients you'll need to make the cocktails alongside us.
Join York Gin's fabulous ladies Susannah and Jo on Facebook, for their unique blend of gin tasting, trivia and quiz. Guaranteed to be a fun hour, if their past Facebook live quizzes are anything to go by! FREE to watch, to get the best experience get your hands on a Tasting Collection and use the code 'WorldGinDay' for free delivery UK wide – buy it online at the York Gin Shop
The Gin to My Tonic are hosting a virtual gin festival from your home! Buy the festival box for £25 and join in the tasting online with four fabulous craft distilleries.
The festival box is showcasing Brighton Gin, Renegade Gin, Sir Robin of Locksley Gin and Tarsier Oriental Pink Gin. You get a 50ml sample of each, with 4 Fevertree mixers and a 1 page write up of each distillery. They will send you an email with details for joining the virtual event.
Another event hosted by Jaro Design where you can pre-order the gin samples and matching tonics to taste along from home. For £25 you'll get access to the virtual session at 8pm and 3 50ml samples of the Ellis gins, 2 Fevertree tonics and a 20cl bottle of prosecco.
Perfect for celebrating a Saturday night in!
Negroni Club UK is a group of Negroni loving friends who came together to celebrate this drink in all it's forms. Since lock down we have gone virtual, instead of meeting in bars we are meeting online via Zoom. We meet every other month on the third Tuesday. Our first online meeting in April we all chose our desert island (aka favourite) negroni! For June (which is usually when Negroni week falls – this has been postponed until September), we are focusing on Pink and White negronis. You can join in – follow the link to the Facebook Group Event or follow the account on Instagram for more information.
Next up from Jaro Design is the trio of gins from Gin Bothy. Try their Merry Berry, Original and Gun Shot gins in 50ml serves and mixers including tonic, 20cl prosecco and ginger ale.
Again the tasting is online at 8pm, why not join in with some friends?
Keep the World Gin Day vibe going right through June and finish off with this McLeans gin tasting box. Included is their Glesart gooseberry liqueur, Something Blue – their colour changing gin, and their Spiced Gin.
The gins come with tonic, ginger ale and 20cl of Prosecco, so a way to finish celebrating in style!
So how are you celebrating World Gin Day virtually this year? Let me know in the comments!