This weekend was my birthday and my lovely flatmate and friends surprised me with a special birthday dinner.
The surprise was that they managed to wrangle a table at Duck and Waffle on the 40th floor of the Heron Tower right by Liverpool Street (and overlooking the gerkin!)
We arrived early and decided to try some cocktails from the very busy bar – here's Sarah showing the open bar area off:
I love the light installations – jars were filled with different coloured glass pebbles.
They managed to seat us in one of the booths and as soon as we'd sat down the selfie's started lol!
Me and Laura, who arranged the surprise!
We then went through to our table – booths are a theme in the restaurant, each has a view across to the windows, where you could see across the majority of London:
Canary Wharf glinting in the setting sun to the East.
Tearing ourselves away from the view we appreciated our drinks and considered the menu.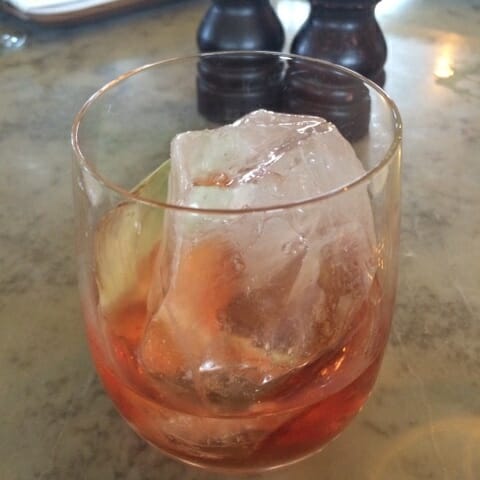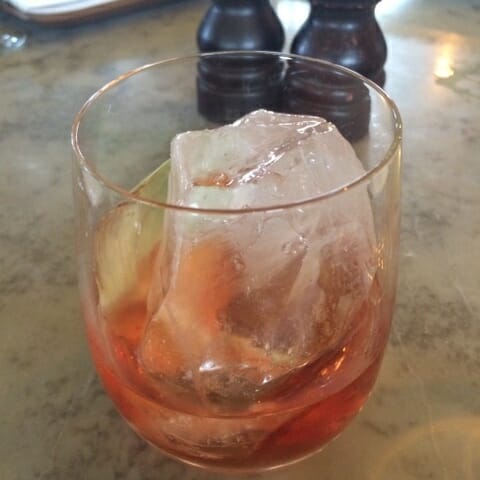 My artichoke negroni – all the special cocktails this season showcase different vegetables.
This negroni was made with Daffy's gin and an artichoke infusion.
Laura's carrot cocktail – where the carrot successfully hid the flavour of tequila!!
The menu itself is designed to be 'sharing plates' excepting the signature Duck and Waffle dish…
We dove in, starting with some bacon wrapped dates and crispy polenta balls to keep us going whilst agreeing the rest of the small plates:
Those dates were tasty as – filled with a flavourful sausage, I ❤️ bacon! (Can you tell I've been away from pork for a while?!)
Whilst this was going on the sun was setting behind the BT tower in West London:
I'll never tire of sunsets, what a fabulous view across London!
We started out with some breads – the artichoke and Parmesan and the massively greasy goat cheese and prosciutto:
The goat cheese bread. All that pork fat did taste good though!
Then we basically had a bit of everything!
The seared octopus with fennel – fresh and light.
The yellowfin tuna, with watermelon? (Not quite enough to really count as a main ingredient, we thought this portion of 4 pieces was a little dubious as a sharing plate!)
Beautiful fresh asparagus with a poached egg and Caesar hollandaise (added Parmesan and breadcrumbs?) whatever was included worked very well mixed with the egg yolk as a rich sauce.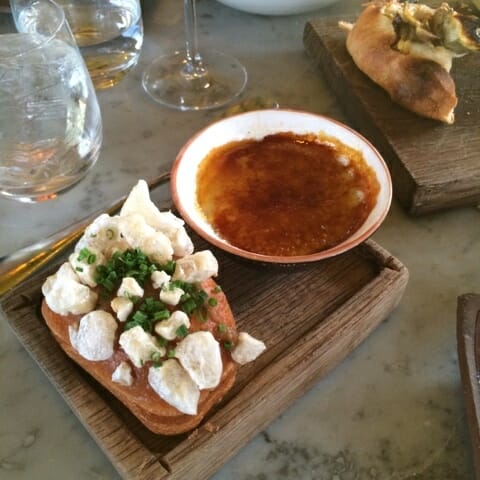 Fois gras creme brûlée – richly decadent ? served with that mini brioche with dehydrated something – whatever it was, it looked surreal and completed the brioche and foie gras.
What is it?! It's an ox cheek doughnut of course!
The actual ox cheek and spicy sauce was good, however I don't think the doughnut added much to it – bit of a gimmick…
We also tried the kid, pork belly and offal meatball served with cranberries – this was very tasty, I normally stay away from offal as it's awful (pun intended – groan now!) but this was a very tasty combination.
The miso glazed rabbit was superb with crispy cabbage and cauliflower purée.
And of course we couldn't go to Duck and Waffle without trying the signature dish of confit duck on a waffle with a fried egg and maple syrup!
Ta da!
I enjoyed the combination of savoury and sweet – but I think the best time to eat this is at brunch, rather than for dinner (especially after the interesting, fresh, varied flavours of the rest of the small plates).
They also have 'family' style sharing plates for roast chicken, beef rib eye or whole sea bass. We didn't try any of these – but the chicken looked amazing going past to another table.
As it was my birthday I had to try dessert – but only after I'd loosened my belt a notch!
Antonia and I shared the Torrejas – basically a mega sized French toast served with maple caramel apple slices and cinamon icecream – delicious! Especially with the recommended Tokaji dessert wine.
Talking about wine – we enjoyed a bottle of a more unsual Bulgarian Pinot noir with our food, as recommended by the Sommelier, who was absolutely lovely and very charming!
And they brought me out a special birthday surprise and sang happy birthday to me! (It was the fourth time I had been sang to that day – so everyone got their embarrassment in!)
View from our table to the kitchen pass
After we'd finished dinner we headed downstairs to check out the famous tree in the Sushi Samba balcony bar: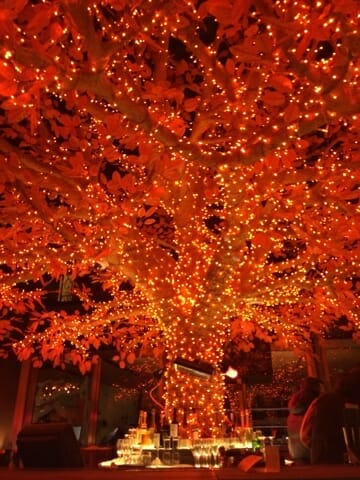 From stories I thought this tree was real, but obviously the orange leaves are fake ?
Propping up the bar! We only stopped outside for one drink, as despite the blankets and heaters it was still cold at 38 floors up!
I enjoyed my surprise dinner and drinks – thanks to the girls!! ? (next time trying out Sushi Samba for dinner!)