Row, row, row your go boat, gently down the stream…. merrily merrily merrily merrily, life is but a dream!
Do you feel the same way? That a few hours floating in a boat would be very relaxing? If you do then you need to head to Go Boat* in Paddington to try it out!
Go Boat London:
Go Boat is a concept that has come over from Denmark and involves small self piloted boats let loose on the canals around Paddington.
*The gang from Love Pop Ups London was invited along to try out the boating experience for free, but as always my opinions are my own!
The Boats
The boats are made from recycled plastic and are very sturdy (believe me we tested this claim!). They have room for 8 people and with a table in the middle are ideal for a picnic on the water.
There is an outboard motor at the back of the boat which requires one of your party to stay sober and drive (yes otherwise drinks are allowed!). You can reverse as well as go forward – but it's tricky working out all the details on which way to turn and learning to take the momentum of the boat into account! You do get a short lesson on how to drive before you are let loose on your own on the waterways. They also show you how to remove weeds that may clog the propeller.
The Route
As you pick up the boats from Merchants Square in the Paddington basin (Paddington and Edgware Road the closest tube stations), the usual route taken is towards Camden and back.
This takes you through the beautiful Little Venice area, through a long narrow tunnel, past Regents Park (including the back garden of the American Ambassador and London Zoo!)
You can't take the boat through the locks at Camden, so when you reach there you need to turn around and come back. We had a 2 hour slot and needed more time to get all the way to Camden. I'd definitely recommend going for 3 hours as we were just getting used to the boat when we had to return it!
The picnic
Obviously I have to talk about the food! We had an electic group of people and that meant catering to vegans and alcohol allergies. So whilst Go Boat does allow you to bring a small amount of alcohol on board (one can of beer or premix drink each or one bottle of wine between four), we also brought some soft drinks. The main restrictions on drink was that the driver must stay sober (although our sober drivers still managed to crash – I mean *bump* the sides lol!)
Fentimans pre-mixed & soft drinks*
So our drinks were Fentimans pre-mixed gin and tonics and soft drinks. I tried the Rose lemonade mixed with Bloom gin. This was beautiful and light, perfect for a summer day 'session' drink. I served pre mix 'g&t' with ice cubes containing edible flowers – super pretty with the pink colour of the lemonade!
A traditional garnish of lemon or lime would also work, or you can up the pink factor with some strawberries.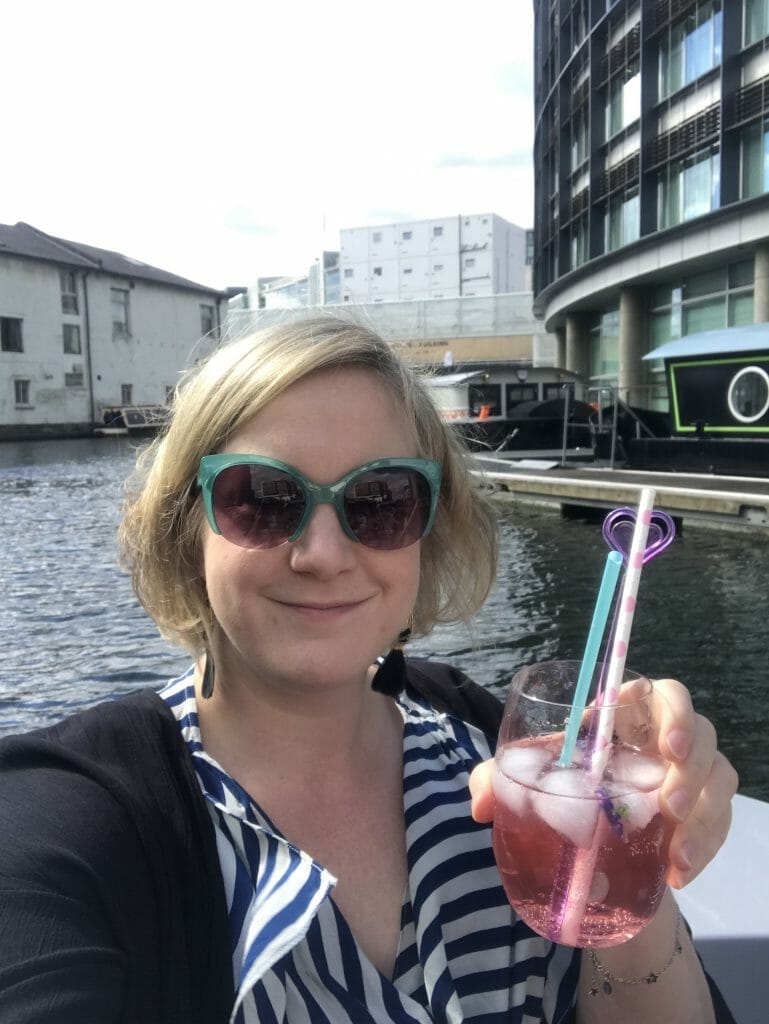 Yeah yeah i know – poser!
I also tried the sparkling lime and jasmine (no gin in this one) and that's a great soft drink. The lime brings an edge to the sweetness. I think I would still want to pimp this drink with some alcohol as I don't  generally drink soft drinks except as mixers! But it would be good for those not drinking.
Emily's Crisps*
As well as some homemade snacks from Roma and M&S goodies, we had Emily's Crisps. This was the first time I'd tried the freeze dried vegetable snacks and I was pleasantly surprised. Being dried rather than baked they are way healthier than some other vegetable crisps. They are also very crunchy and I liked the natural sweetness in the green beans.
Joanne also treated us to some Patisserie Valerie cakes & macarons – which I felt I had to try after being *so healthy* with the crisps! ?
The verdict
Go Boat is a great summer activity! I started enjoying the boating as we settled into the steering and got to grips with how everything worked on the canal. (e.g. getting out of the way of the boat dropping people off at London Zoo, and taking turns going through the one way tunnel).
I would totally recommend doing 3 hours minimum on the boat so that you are not rushed getting to and from Camden. We had to turn back before we got there, which was probably a good thing, as it could have been embarrassing having to turn in front of crowds of people!
Also whilst the boat has space for 8 it would be more comfortable with less (well especially if you bring lots of bags of food like we did!). 5-6 people would be a comfortable number if you are bringing a large picnic like us.
Go Boat is open until late Autumn, all day (from 10am until dusk) and the introductory prices are £55 for one hour, £85 for two hours or £115 for three hours. You can book at http://www.goboat.co.uk/
Thanks to Joanne from Love Pop Ups London for arranging and Fentimans* and Emily's Crisps* for supplying us with picnic items!
*Fentimans and Emily's Crisps were provided by the brands for free, however all opinions remain my own.