What is New Zealand famous for? Well if you are like me you'll answer wine! (Other options include lamb, the Haka and Lord of the Rings)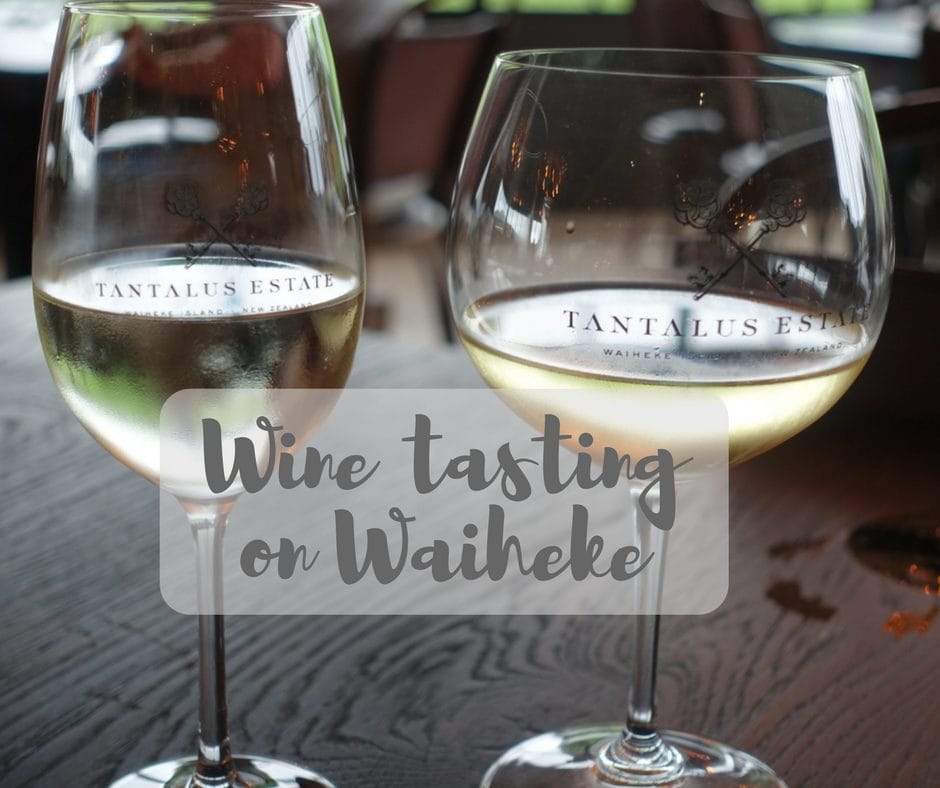 So a perfect introduction to Auckland was a day trip to Waiheke Island where lots of wineries are based and there are ample cellar doors to sample at.
Waiheke Island day trip
Getting to Waiheke
My friend Cat and I got the Fullers ferry from Auckland ferry terminal to the island for $35 return. The ferry is every half hour and takes half an hour. On arrival on the island lots of people choose the hop on hop off bus to get around the island, but we had a plan and decided to use the local buses, which are $3.50 a ride.
Stop 1: Casita Miro
We headed over to the far side of the island and started our wine tasting at Casita Miro. This Spanish influenced winery grows a variety of grapes around the tasting house. Syrah is the main grape variety that Waiheke is known for, however lots of vineyards buy in grapes from other areas of New Zealand (or own land in those areas) in order to make a full range of wine.
The tasting flight
Their Rose is made with grapes with very low residual sugar, so its a dry flavour. Our wine tasting guide described it as strawberry yoghurt flavour, but don't let that put you off! This is a very French style rose that is a perfect wine for drinking all afternoon on a sunny day.. shame it was raining when we tried it! The light colour comes from the very short contact that the wine has with skins of the Merlot grape that it's made from.
The Chardonnay is a very atypical one. Or should that be a typically kiwi one?! It has a very fragrant nose – with citrus and minerals coming through and is very pale being only lightly oaked. This is also a light wine like the rose (they are both around 11%) and easy drinking, but it didn't have any wow factor for me.
The reds:
The Syrah is the main grape of Waiheke and has white pepper fragrance on the nose with a dryer palate and more black pepper and bacon in the mouth! (I never thought I would be adding bacon as a tasting note lol!)
However for me the Malbec was the more interesting wine. This was fruity – not as full bodied or tannic as some Malbecs I've tried before. This wine definitely grew on me over the duration of the tasting. The Argentine on the staff says that he thinks this wine is faithful to the Argentine Malbec and it definitely makes Casita Miro unique.
We also tried their dessert wine Madame Rouge. This is a fortified wine sitting somewhere between Port and Sherry. Whilst it's sweet on its own I could see this working as a long aperitif mixed with soda. They also serve it topped with prosecco as a pre-dinner drink.
The 5 wine tasting flight was $15 without tapas, but they also serve it with complementary tapas, Spanish style, if you want to stay more sober!
Stop 2 and lunch: Tantalus
Named after the Scottish tantalus – usually used to keep valuable spirits, such as whiskey locked up and out of the way of thirsty staff – Tantalus was definitely tanatalising! Whilst Casita Miro was homely, the Tantalus winery was stylish. You could already sense that the wine would be 'better' or is that just more expensive? Well if it was the power of suggestion then it worked on us!!
The wine tasting
We did the Reserve tasting flight of four red wines for $15. These are all the local red wines, starting with a blend of Merlot Cabernet Franc which had lots of black fruit, but was light with balanced tannins. The Voile 2014 was a lovely light Syrah, however these wines just kept getting better! The Evoque 2014 was a Merlot blend wth deep tannins, red berries and chocolate notes. The Ecluse was very different, I loved it! Fruit and herbs give it a different flavour profile. The tannins are offset by the sweetness from the fruit flavours. The last 3 wines could all be cellared from 5-10 years.
Lunch
Then we stayed for lunch! It had been highly recommended by my friend Lauren who visited in March (it was a lot sunnier then, than it was in April!)
Lauren recommended lunch, but in particular the truffle fries – so tasty!
We had to try the whites with our meal, so we tried the Sauvignon Blanc from Marlborough and the Chardonnay from Waiheke. The Sauvignon was a classic kiwi flavour, beautifully floral. The Chardonnay impressed us so much we had another glass for 'dessert'! It was incredibly smooth with an amazing mouth feel and very moorish. This was one wine that they were no longer selling at the cellar door, so this was our best chance to drink it!
Stop 3 and last the last one: Cable Bay
Cable Bay was our last stop – near to the ferry terminal. They host a lot of different events, like music gigs, here in the summer. Not so appealing on a wet and soggy day, but we didn't let this discourage us!
The wine tasting
The tasting is $10 for 5 wines. We started with the Reserve Sauvignon Blanc, which was oaked – unusual for a sauv blanc. I can't say that this grabbed me much though… Next up was the Waiheke Viognier with a soft mouth feel. Apparently they traditionally stomped this wine into submission with feet, which meant that the grape pips weren't broken and hence the softness.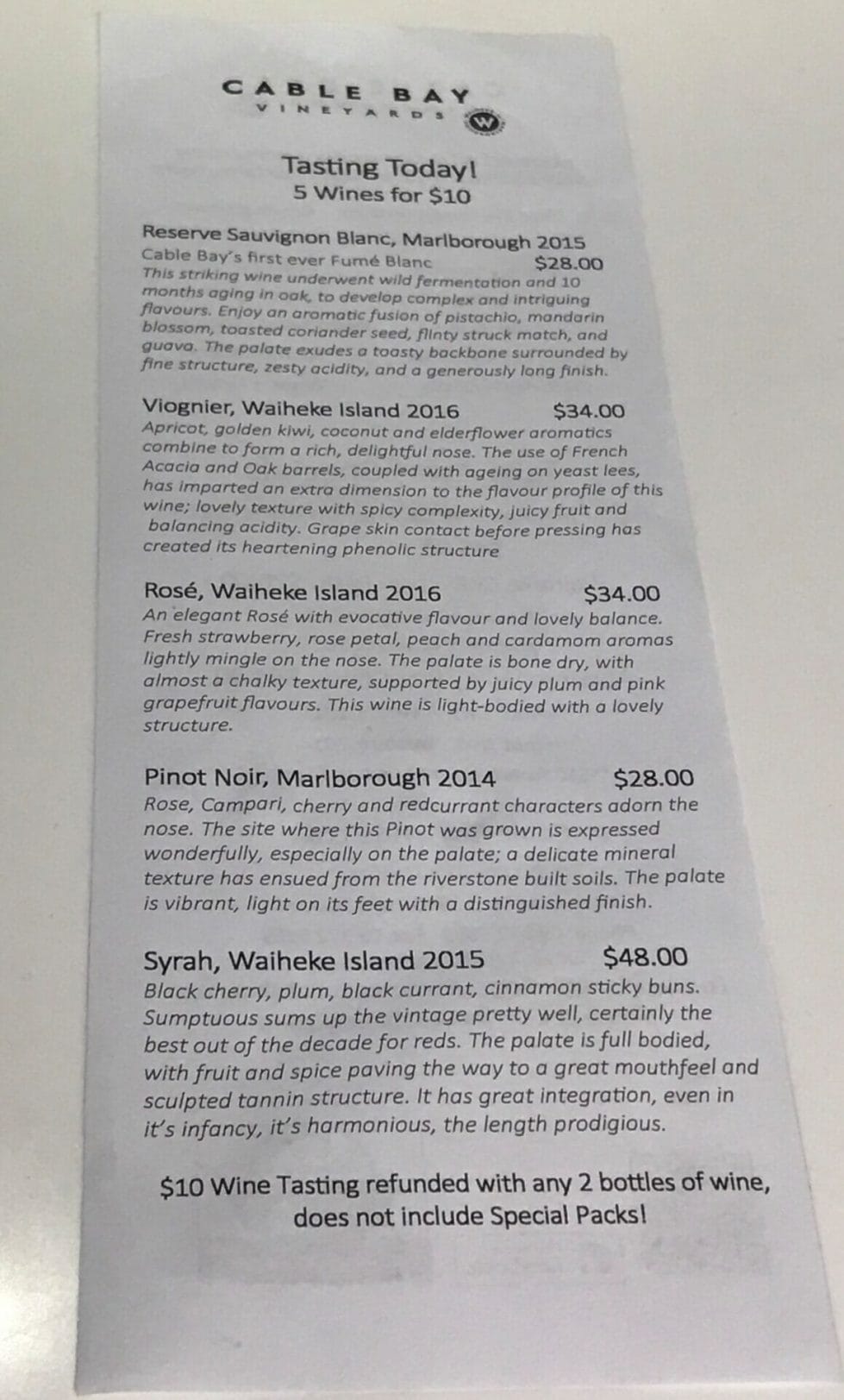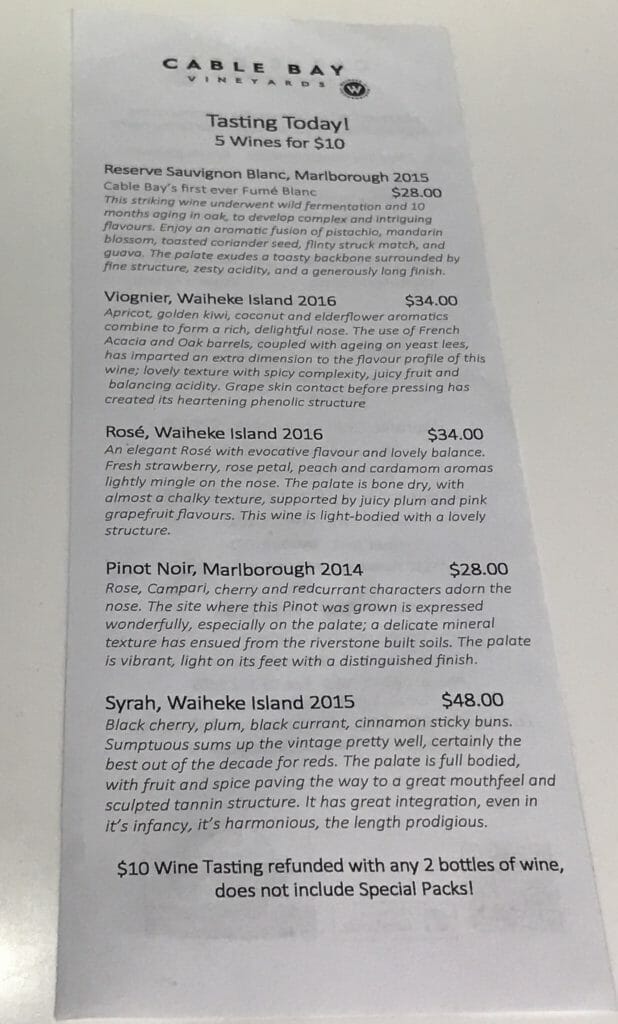 The Rose was 100% Merlot, similar to the Casita Miro one. However whilst the Casita Miro Rose had low residual sugars, this one has zero. Hence a dry wine. The colour for this one comes from 5 hours of contact with the skins, quite lovely if you ask me!
In the reds we tried a Pinot Noir from Marlborough – smokey and full of depth. This wine would be good with a meat board or roast duck, due to the berry and earthy notes. The local Syrah (23% of the grapes on Waiheke are Syrah) had chocolate notes. This was a big bold wine, but not super tannic or heavy as it still had the fruit.
Then we shared a cab to the ferry terminal (it was pissing it down at the time, Cable bay is easily walking distance, but we didn't want to get soaked!)
So would you do a wine tasting day trip?