Part of my New Zealand trip was dedicated to tasting all the great wines. I did the sauvignon blanc of the Marlborough region last time, so this time the focus was the pinot noir in Central Otago!
*Disclosure: please note that this post contains affiliate links – these help keep me in pinot noir via commission when you click on them, I'll never link to something I don't rate!*
Wine tasting in Central Otago, New Zealand
We based ourselves at Kinross Cottages in the Gibbston valley when we were in Otago. This meant that we were perfectly situated to check out the wineries in Bannockburn, so that's where we started.
Bannockburn wineries:
Mount Difficulty
With great views over Bannockburn Mount Difficulty was very popular on the Saturday of Easter weekend! The restaurant was fully booked, but they were still doing cellar door tastings for $1/2. Very good value for money when you think about how much a bottle of Mount Difficulty costs (c$40 in the supermarket) .

We started by trying their Roaring Meg range and obviously we were here for the pinot noir! The Roaring Meg is a lower price point and made for drinking now, rather than cellaring. The pinot had a earthy dry mouth feel and I could certainly drink this, however it was the amazing full bodied complex pinots that I was here to try.
The Mount Difficulty pinot noir – the reason we were in Otago to taste wine! This had more depth and complexity, a smooth wine with an earthy nose. You could keep this for up to 10 years (if you can not drink it that long!). We also tasted a glass of the reserve pinot and it was beautiful. The grapes for this were from the Pack Spur area of their vineyards. It was at once floral, fruity with depth and complexity and silky tannins.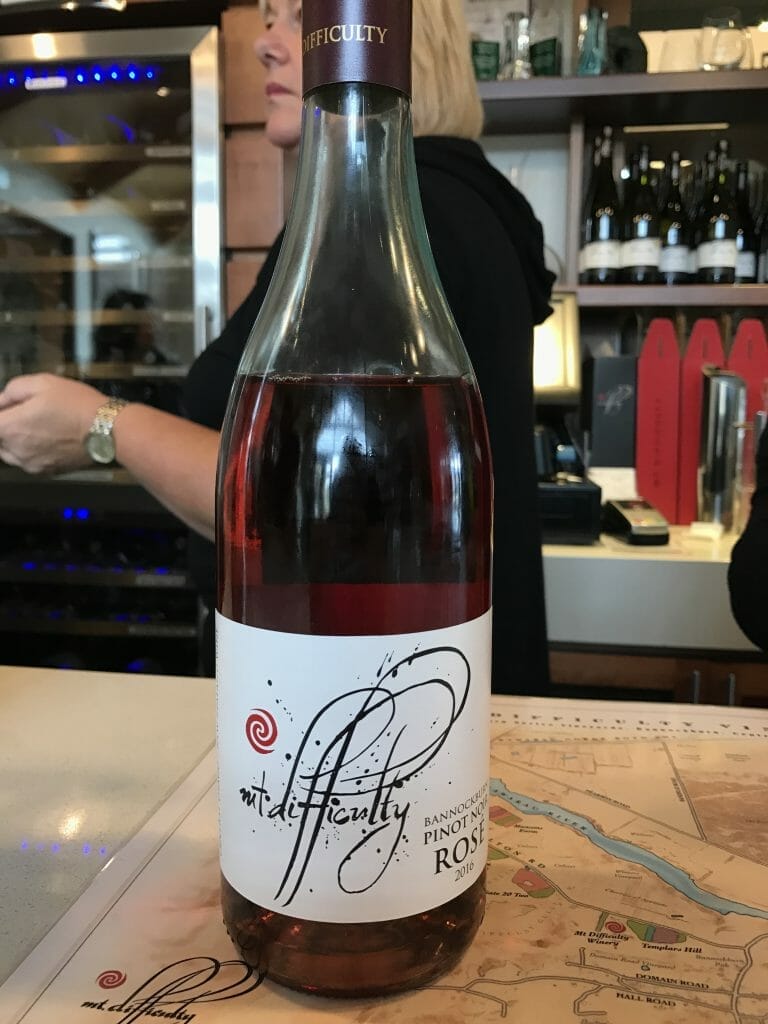 The Rose made from Mount Difficulty Pinot Noir grapes was pleasantly dry. A pinot lovers rose for sure. To get this colour the wine was left in contact with the grape skins for 7 days. It was also barrel aged for 4 months, which is more unusual with a rose. They also make a sauvignon blanc and a riesling for those white wine lovers out there. The sauvignon style is a bit different to the classic Marlborough – less acidic and less grassy. The riesling is a grape that is commonly being grown in Otago – the one we tried was the medium sweet. I found this to be well balanced, they recommend to serve with spicy dishes or as a less sweet dessert wine.
Domain Road
Literally next door is Domain Road. I had first tasted their pinot noir with dinner at the Postmaster's Residence restaurant in Arrowtown the previous evening, and wow that pinot makes an impression!
We started by trying the white wines. The sauvignon blanc was a fairly typical style and the chardonnay was light and summery despite oaking for 10 month. We also tried their dry riesling – The Water Race – beautiful acidity, this one was definitely dry and I could imagine enjoying this with fish or seafood quite easily.
The pinot noir was the 2013 just released. In the restaurant I think I had tried the 2012. They age their pinot for 3 years in the bottle and the tannins are not so pronouced. Their is a caramel/marshmellow scent on the nose and it has a soft mouth feel, dry but not too tannic. I thought the 2013 lacked the fruitiness of the 2012, but it was still a lovely pinot noir.
The Paradise pinot was barrel aged for an additional 4 months and then blended, bottled and aged for 3 years. This one was more dominant in the leather and tobacco notes than the regular pinot noir.
The Gibbston valley wineries were up next as we headed back towards where we were staying…
Gibbston valley wineries:
Kinross
We stayed at the Kinross cottages, so on Good Friday we were able to taste the wine, as long as we ate there (licensing hours over Easter weekend are very strict!).
We did our wine tasting outside next to the roaring log fire. For $15 you get to choose 5 wines from what they have open. As you can see they stock a selection of different brands. From these wines I didn't have any that I was passionate about though. The Coal Pit sauvignon blanc was average, the Hawkshead Riesling not really for me.
With the pinots the Coal Pit I found quite thin – we spotted someone having this served chilled later that weekend and actually that's not a bad call on how to serve this lighter style of pinot noir. Neither the Hawkshead or Domaine Thomson pinots screamed 'I'm yummy' to me – but we had been spoilt that day with the Mount Edward, with beautiful fruits, with our lunch.
Gibbston valley
The most famous of the Gibbston valley vineyards is obviously the one named after it!
The winner out of the Gibbston valley selection was the pinot blanc. I'd never tasted this variety before – its a mutation of the pinot noir grapes and was very easy to drink. I enjoyed matching the pinot with the blue cheese and the rose with the stronger flavoured cheese. I would have liked to have tried more of the reserve pinots here, but we needed to eat more than cheese!
The Gibbston Tavern is a good choice for decent filling grub!
Peregrine
After lunch we didn't have much room for any more wines, but persevered with Peregrine as we liked the look of the building!
The tasting at Peregrine was free. We started our tasting with the dry riesling, which was ok. We then tried their Saddleback range – this is meant for everyday drinking, no need to cellar. The pinot has vanilla and strawberry on the nose from the old oak it was aged in. This was an easy drinking soft and dry pinot.
The Peregrine 2014 pinot noir was fuller but still smooth. Lots of red fruits and not too dry with a lovely mouth feel, again easy to drink!
The aged 2011 pinot noir was still quite light, however it had more of a tannic earthy style.
As I hadn't tried any dessert wines yet I also sampled the late harvest riesling. This was lovely and sweet – they leave the grapes on the vines for longer to concentrate the sugars before they make it, hence late harvest.
A great day wine tasting in Central Otago. I couldn't bring back wine to the UK, so I'm just going to hope that someone imports it and I can order it when out in London.
What's your favourite wine region?