A friend of mine always asks for my top 3 whenever I come back from a trip. This could be top three smells, views, tastes, or even the three worst smells or views!
So I've decided to showcase some of my fellow travel bloggers in a new mini series of 'top three'. This is designed to give you a snapshot of a location and I'm kicking it off with my top three from my recent New Zealand trip!!
Top Three New Zealand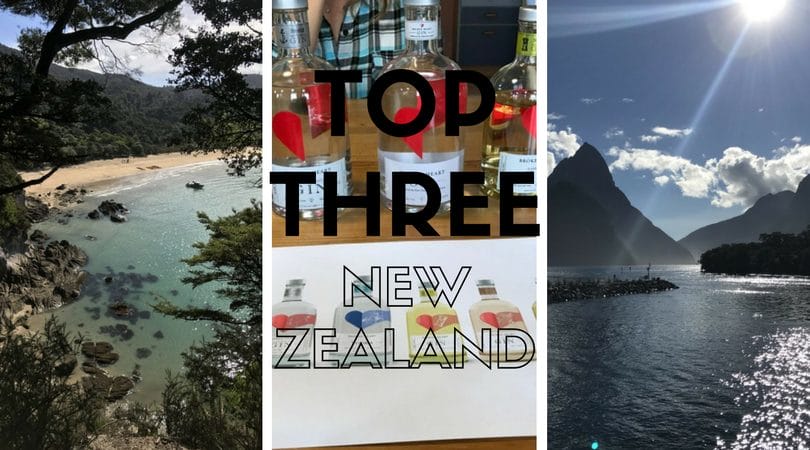 Narrowing it down to three of anything can be tricky. But it's a good exercise to focus the mind – especially if you've been on a long trip like my NZ one (three weeks!)
My top three smells from my New Zealand trip:
The sea at Abel Tasman. There is nothing like the smell of being by the sea, it's totally different from being in London and instantly associates with holidays for me.
Gin pot pourri at Curiosity gin distillery, Christchurch. This was the leftover solids at the end of the distillation process – still very fragrant with orange peel, juniper, cinamon, cardamom and other botanicals in the mix.
Clean washing after 4 days hiking! Yeah this one is self explanatory! (nb we *did* wash, but having clean clothes and a full HOT shower was bliss!
Top three views:
The view of the bay from the top of the hill after walking 1.5 hours to get there. Abel Tasman national park is worth the effort, the coastal track is one of New Zealand's 9 great walks.
Mitre peak from Milford Sound at the end of the day when the hordes had left and the sun was setting behind it
ALL the stars – I mean literally the entire Milky Way, planets and then some! I can't recommend the Mount John Observatory tour at Lake Tekapo.
Top three tastes/meals
Broken heart gin. You must know by now that gin is my passion! I was lucky enough to spend an afternoon tasting, chatting and laughing with Joerg from Broken Heart spirits. His gin is a classic London dry flavour – the best for gin and tonics. However for cocktails bartenders needed something stronger and the Navy Strength was designed. New ones that we had the chance to try included the Quince gin and Barrel Aged gins.
Toro tapas dinner. This is the reason that I couldn't just have top three tastes. The entire meal was a relevation! From the fresh and zingy salmon ceviche, the superbly cooked octopus and aioli, I totally recommend visiting Toro if you are in Queenstown ?
Gin sour cocktail at the Blue Door. The most famous venue in Arrowtown, the blue door in the alleyway leads you into a cosy den. Think roaring wood fire and leather armchairs and fantastic cocktails. We were spoilt here!
So let me know – where have you been recently and what are your top three?!