I adore food (as you might have guessed!) and especially street food… so when I was lucky enough to win ALL THE FOOD at the newly opened KERB Camden I was in heaven!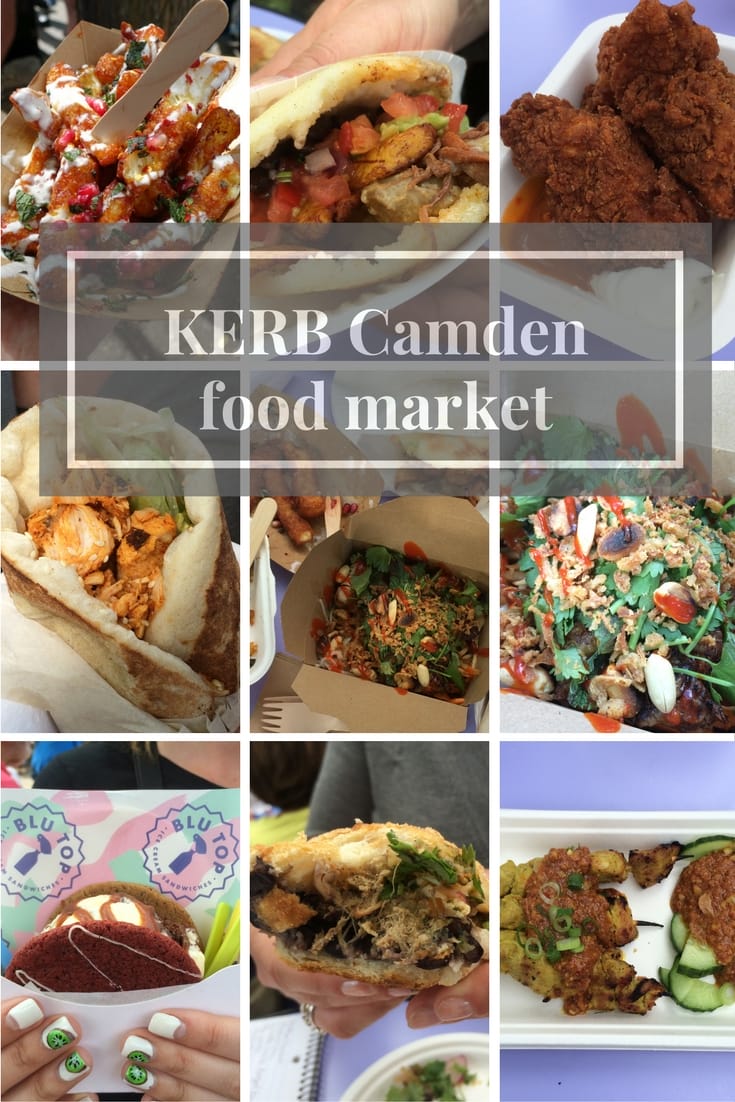 KERB Camden: street food market
You are probably thinking 'What's KERB Camden?' Well KERB is a food market that started out as American style food trucks organised into lunchtime or weekend groupings in various places around London. KERB in Camden is much more than this, but with the regular faces from the KERB family of food providers.
KERB Camden is set up as a street food area within Camden's Lock market. It's officially in the West Yard, however most people navigate by saying its next to the canal, where the boat trips leave!
The line up:
We found a table to base ourselves at (I had help with the challenge to eat ALL THE THINGS – thankfully!)
First up was Ghetto Grills:
Tasty with its salt beef and gerkin, grilled with cheese 🙂
Stakehaus:
Gorgeous steak and great tasting fries
The instagram famous Halloumi fries from Oli Baba's:
Ever fancied the fusion of Korean and Mexican?:
I love a satay chicken skewer
And for fried chicken fiends: Mother Clucker
From the French inspiration of The Patate, a ridiculously good take on the burger/sloppy Joe:
From the Arepazo Brothers – arepas of course!! This one had everything in it
Hanoi Kitchen had all sorts
The Roti House selection actually was based on naan bread:
Yep this is what our table was looking like!
I don't actually know which vendor this Mexican sandwich was from :s
And finally we got to dessert… having seen the Blu Top ice cream sandwiches, we had to try them!
The result:
Well we didn't actually make it around all 35 vendors today at KERB Camden. There are a few I've tried before, like Crabbieshack, that I will be back to taste again, and some new ones that I need to sample.. I'm looking forward to trying Burger and Beyond, which comes highly rated, the Club Mexicana tacos looked fantastic and I really want to try Ink's squid strips.
I will be back – KERB is in my neighbourhood and I want to check out the bars one evening (their license is only on Friday, Saturday and special events). So when you coming to check it out?
Find out more about KERB on their website here.