Hello and welcome to my gin gift guide. I've done the hard work and scoured the internet for this ultimate gin gift guide. So whether you are shopping for family or friends please take a look and order something fabulous for the gin lovers in your life!
*Full Disclosure, some brands have gifted items or I have worked with before, if this is the case I will disclose using [gifted] or [prior partnership], all opinions remain my own. There are also affiliate links included in this blog, these allow me to make money to support the blog at no extra cost to you, where this is the case they will be clearly marked as [affiliate]*
Gin gift guide – the ultimate gin presents for any gin lover!
This guide covers:
More of my Christmas themed gin posts to enjoy here:
Gin sample sets
The best way to try gins before you buy! All of these sets allow you to sample the gin before you invest in a full size bottle.
The Campfire Gin miniature gift set has 3 x 100ml gins. You can order any combination of the 4 main Campfire Gins to try out, from the London Dry, Navy Strength, Old Tom and the Cask Aged. 100ml gives you 4 measures of each, so ideal to share or if you want to taste the gin and then try it mixed in different cocktails.
To get a true taste of Hrafn gins, you need to try the Voyager tasting set. With 4 x 100ml samples, this takes you on a voyage of discovery with Hrafn gin, from their original gins Thought and Memory and Vahalla to their latest releases, Valkyrie and Cranachan. Get involved with these unique Scottish gins!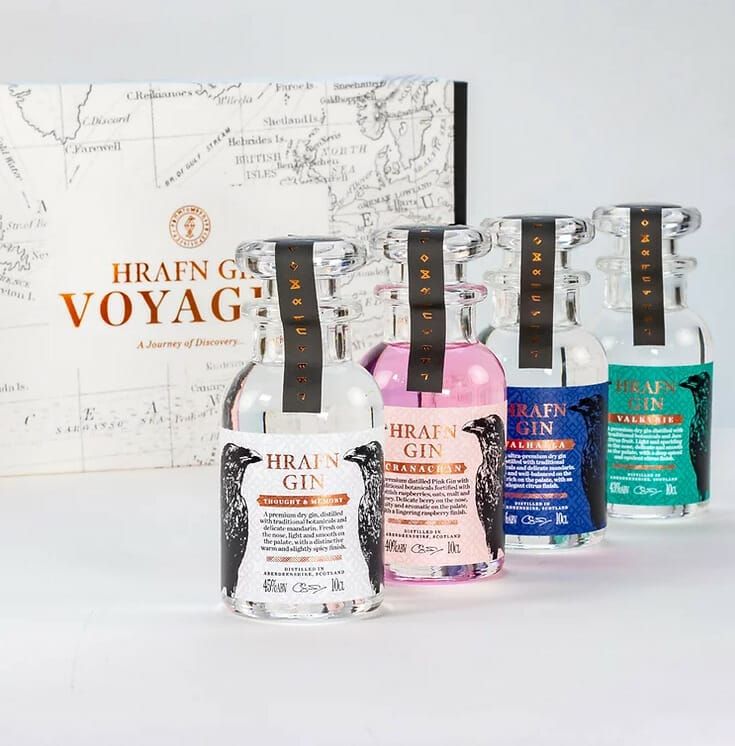 All of Gower's Welsh gins in one tasting pacsk! You get 50ml of each of their gins – the perfect way to sample Gower gins before you buy a large bottle. Gins include Jin Sych Llundain (43% ABV), Rhosili (45% ABV), Bara Brith (43% ABV), Pinwydd (43% ABV), Rhamanta (43% ABV) and Rhosili Dragon Strength (60% ABV).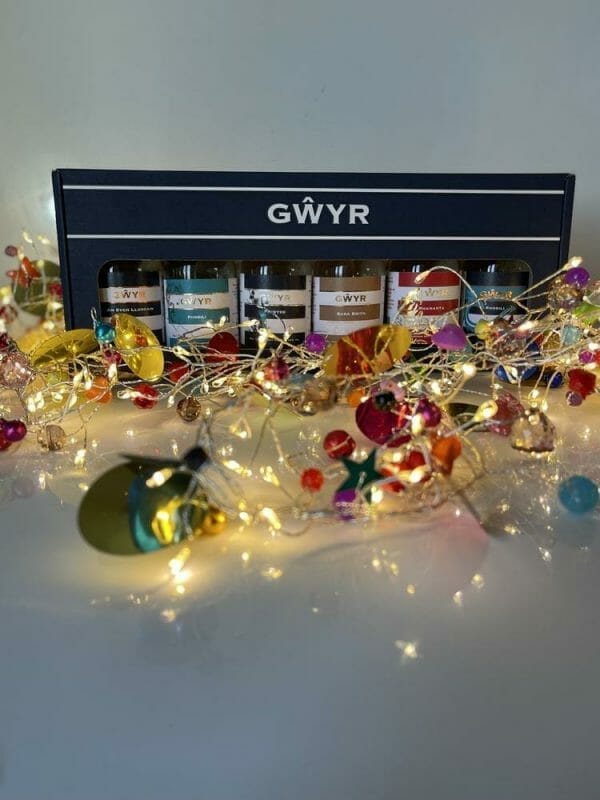 This is the perfect introduction to the Audemus range with 4 x 50ml samples of their products. Showcasing their four flagship spirits it includes Pink Pepper Gin, Covert Fig Leaf Liqueur, Sepia Bitter and Umami Gin. The box is also part of the gift – as well as being decorated with the Audemus characters, the divider unfolds into a cocktail recipe book.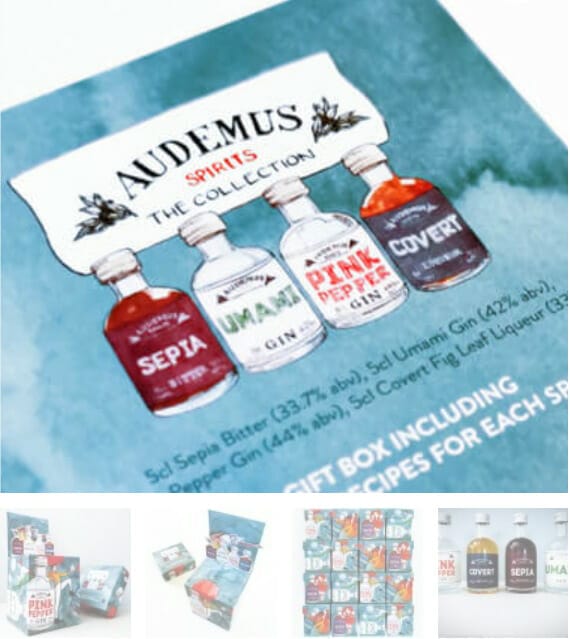 Get a taste of Thunderflower gin, made in Devon, with this 20cl gift set. The set includes 2 x 200ml bottles of the original Thunderflower gin and their Navy strength gin, Fireship 58, as well as a bottle of tonic – all in a eco gift box.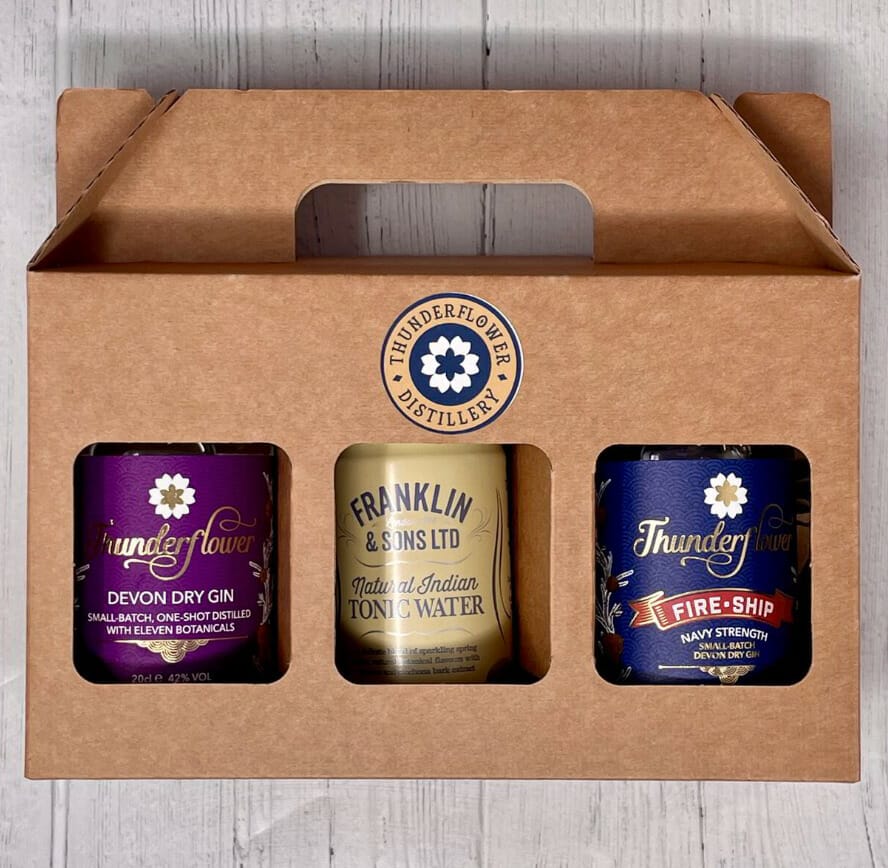 Try all four of Bullards gin – from their London Dry, to their innovative Strawberry and Black Pepper gin, their Old Tom and their savoury Coastal gin. 4 x 50ml samples of each are included, all in beautiful mini bottles in different coloured glass.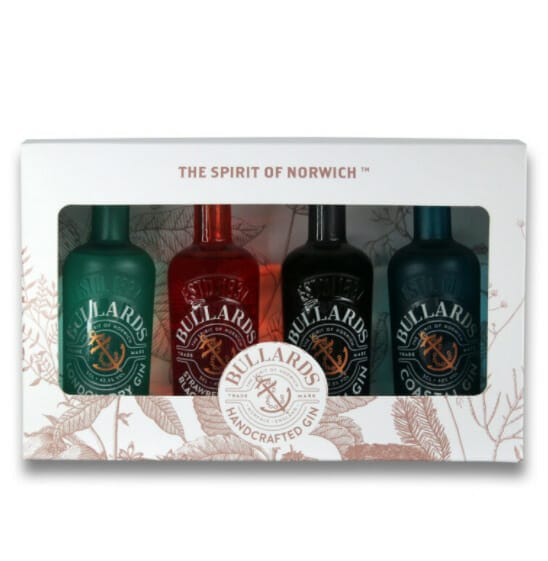 Get a taste of Cornwall with Elemental Gin. This Cornish gin tasting set includes 3 x 50ml samples of the Classic Elemental Gin, their Apple and Elderflower gin and Raspberry gin. All are 'proper' full strength gins which highlight the natural flavours found in Cornwall.
Get a taste of all 6 of the award winning gins in the York Gin range. 6 x 50ml of each of their London Dry, Outlaw Navy Strength, Old Tom, Roman Fruit, Grey Lady and fabulous Chocolate & Orange!
Taste the Biggar gin range – including their original smooth and light Biggar gin, their Navy Strength Biggar Strength gin and their limited edition Clyde Valley Plum gin. 3 x 50ml samples means that you'll be able to taste and maybe make a mini cocktail with the remainder. I recommend a g&t or martini with the Biggar gin, a mini negroni with the Biggar Strength and a martinez with the Plum! Don't forget to check out their limited edition cask aged gin too (not available as a miniature).
Having tried the full Jim and Tonic range at Junipalooza, I can totally recommend this tasting set! All of their gins are unique and flavour full (without being 'flavoured') and this set includes 4x 50ml minis with matching tonics. dried garnishes and a cocktail recipe book. For an additional £10 you can also join a virtual masterclass that will talk you through the gins and their recommended serves.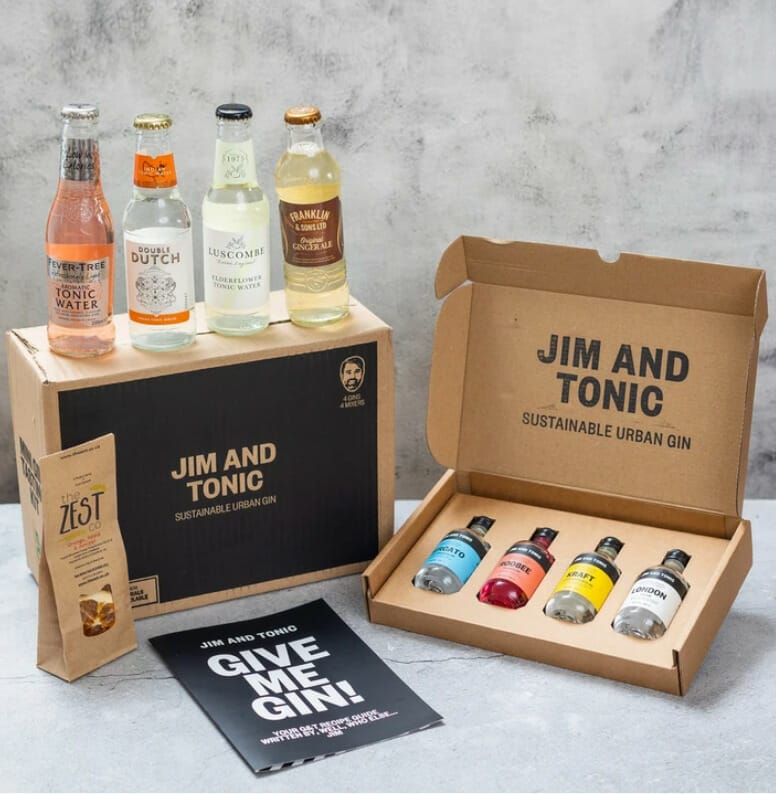 NOT GIN! Some additional ideas that are gin adjacent & perfect for making cocktails – VERMOUTH! 
This pack includes 2 x 50ml samples of the In the Loop vermouth – their Semi-Sweet Red Vermouth and their Dry White Vermouth. The perfect size to taste before buying full size and also great for cocktails – you don't need a lot of dry vermouth for a dry martini. Don't forget to keep your vermouth in the fridge – it goes off quickly!
With 2 x 200ml bottles of Vault Vermouth, this little tipple pack is perfect to try the vermouth and use it before it goes off! The pack includes their Rosso (Sweet Red vermouth) – perfect for negronis and their Bianco style (slightly sweeter than a Dry White vermouth) great in spritzes or martinis.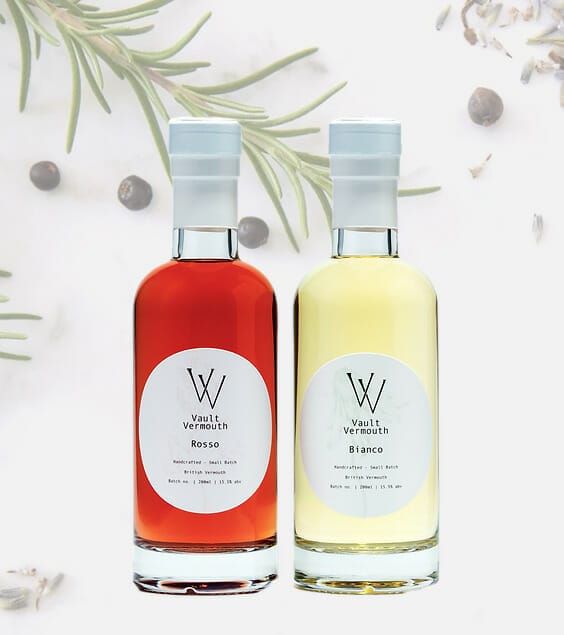 Gin sets with glasses
This is a fab set from Brighton Gin – choose your full size bottle from their Pavillion Strength or Seaside (Navy) Strength gins and they package this with 2 Brighton gin branded copa glasses. If you don't fancy full size bottles or copa glasses there are other sets that include miniatures or highball glasses too.
Get a full size (70cl) bottle of Daffy's gin, plus 2 Daffy's branded copa glasses. You can also check out their Mulberry Gin Gift Box with 50cl bottle from £39.95, or the smaller size 20cl Daffy's gin bottle with one branded glass currently on sale for £18.95.
Isle of Harris is known for it's beautiful sea inspired gin, gorgeous blue ombre bottle and stunning waved glasses. These make a perfect gift for anyone who loves gin! Whether they like a G&T in a classic low ball glass, or one of their new highball or copa glasses, there is a version for everyone.
I have the low ball and martini glasses at home and use them for all sorts of cocktails!
I was super impressed trying Inverclyde Gin at the Glasgow The Gin to My Tonic Show and this Christmas Gift Set is pretty special too! It includes a full size (70cl) bottle of gin, choose from their regular or Port (Navy) Strength (I highly recommend their Port Strength!), a branded copa glass, luxury gin infused chocolates, a branded metal straw & coaster and a Christmas postcard designed by a local artist. Truly a fabulous package – but the question is, will you gift it or keep it for yourself?!
Now this isn't a post about Christmas gins (I hope to write that one soon!), but I couldn't not mention this particular gift set. This set includes a full size bottle of Warner's Christmas Cake Gin, with its chocolate, cherry & sloe spiced gin, as well as a branded Warner's copa glass to serve it in.
You can get both the Biggar Original Gin and the Biggar Strength gins in these gift sets, which include 2 branded Biggar glasses in a presentation box. Order the smooth and tasty Navy Biggar strength gift set for £57 here.
Campfire have packaged up their branded gin and tonic glasses with a full size bottle. Choose from any gin in their range – including their special editions and they even have a Christmas set with their PUD PUD Christmas gin!
Gin glasses & bar tools
Vemacity have some amazing gift sets that include gin & cocktail glasses as well as beautiful rose gold bar tools. These are a few that caught my eye:
Including a rose gold cocktail shaker, strainer, bar spoon, spirit pourer and jigger, this set also has 2 coupe glasses, a cocktail recipe book and comes in a gift box with handles. All this for £50 (currently on sale for £35.99!)
These balloon gin glasses are spectacular! Handmade they are truly special and come in a set with rose gold jigger, bar spoon and straws. All yours in a lovely gift box for £24.99.
I love these ribbed highball glasses and if you prefer a highball to a copa glass, you will too! The set comes in a great gift box with 2 glasses, 2 rose gold straws, a bar spoon and jigger for £22.
Personalised gin bottles
Choose any of the Masons of Yorkshire full size gin bottles to personalise with a message of up to 20 characters. For an additional charge you can also add a gift box or the Mason gin glass set.
Warner's can add a personalised message to most of their full size bottles for an extra £2. You have up to 20 characters to express your emotions to any family member or friend, check out the video for some inspiration:
Gin inspired gifts (not alcoholic!)
If you are into Scottish gin then you need to check out the Gin Pins from The Original GinPin. Whilst they offer individual pins with their matching cork coasters, you can also get a 5cl taster of each of the gins and even sign up to collect the whole set over several months and make your own map of Scotland and its distilleries:
Bottle top string lights from £2.99
If you need some additional decorations and have some empty gin bottles lying around, then light them up with some bottle top string lights! I've found 2 sets, one are battery operated and the other more expensive but rechargeable:
Or if you want to go for a rechargeable model, I found some that charge via USB at Oliver Bonas:
This box includes a selection of botanicals to garnish your gin and tonic, as well a drink pairing guide to assist you with what flavours work together.
It's the time of year for hats!! So kit yourself out with a Kirkjuvagr branded hat showcasing their striking Vegvisir design. Available in 3 colours for the man or woman in your life.
Gin candles and home fragrance
The gentlemen at Hrafn were lovely enough to gift me this candle and fragrance diffuser to completely fill my luggage on the way back from the Glasgow The Gin to My Tonic Show this year! The fragrance for both is inspired by the key botanicals in Hrafn gin – mandarin and juniper. It's a clean and refreshing scent that is perfect for any home.
Teasmith is not only a classy gin, but they also have a classy scented candle to boot. With mint oil to refresh and bergamot to inspire, this candle is perfect to relax and unwind with.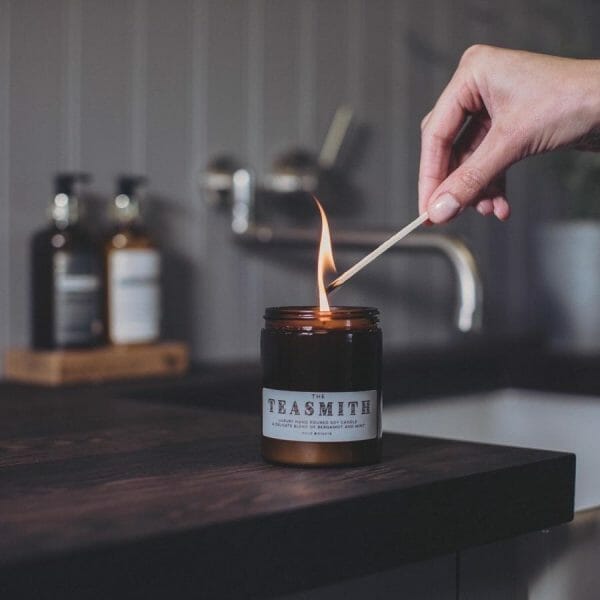 Northwest Passage candles have been created to fund a team of rowers aiming to be the first to row the 2,300-mile arctic Northwest Passage and raise awareness of climate change and ocean conservation through a partnership with Big Blue Ocean Cleanup. The fragrance, Sea Salt and Wood Sage, is warm and sophisticated, with citrus, herbal and woody notes freshened by seaweed and minerals.
Orkney Gin Company have 2 different aromas of candles. One modeled on their Mikkelmas Gin – warming and spiced, and the other based on their Rhubarb Old Tom – fruity and floral.
Bullards have gone one step more than just a candle and included a 'Bottle for Life' – a full size bottle of any of their gins – in their set. Each of their gins comes with a matching aroma candle. I like the sound of the coastal flavours, but there are sweeter and fruitier flavours, Keep the bottle and refill with their refill packs (sold separately) – it's a great sustainable option!
Gin stockings & decorations
A fabulous gift for a family member or even for yourself! The Gin to My Tonic Gin-Mas stocking includes a black and white stocking, complete with *actual* gin socks and either a 35cl bottle of gin for £26 or a full size 70cl bottle for £42. You get a choice of all of The Gin to My Tonic special gins (plus a rum – shush I won't tell anyone it's not gin!).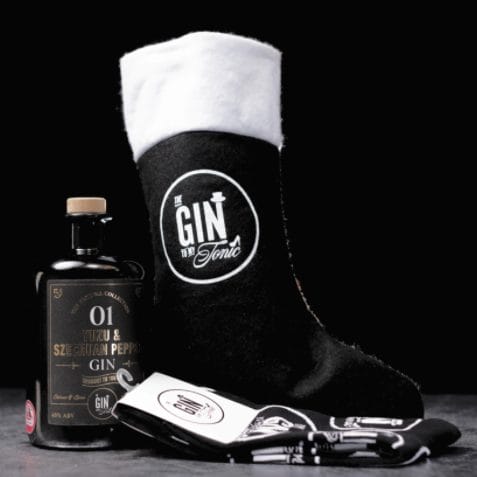 Hidden Curiosities do gin baubles in a slightly different way to most…. They take their iconic cube bottles and all the parts for the gin bauble and you assemble it yourself! This makes certain that no bauble is hurt in transit to you. Choose either their classic gin for £10 (for 50ml double measure) or Aranami Navy strength for £12.
The Gin to My Tonic have created these Pick n' Mix gin baubles, where you can choose up to 4 of their festival edition gins/rums and mix and match to your hearts desire. This is perfect way to both decorate the tree and try out samples of different gins – each is 50ml (double) serve. They will also include an (empty) gin stocking!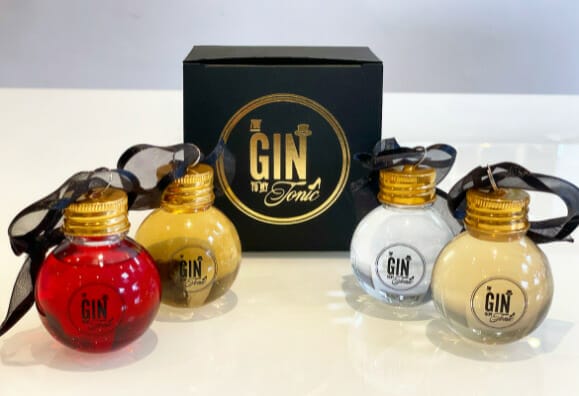 Choose from Brighton Gin's Pavilion Strength at 40% or Seaside Strength at 57% for your Christmas Tree decorations! Each mini (50ml) bottle of gin has a special loop and ribbon at the top to allow you to hang on the tree or elsewhere as a gin-inspired decoration!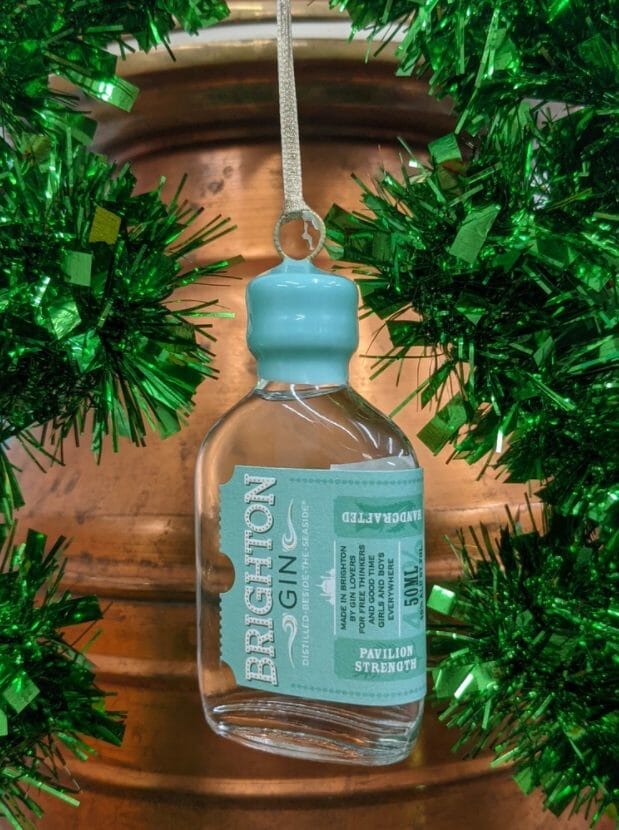 Offering three flavours this year, Biggar Gin have their classic gin, the Biggar Strength (Navy strength) and the Clyde Valley Plum gins to choose from in their crackers. If you can't decide, why not try all three?!
Caorunn have packaged up 4 of their gins – 2 classic minis and 2 of their Scottish Raspberry gins. I think you'd agree they will look stunning on your Christmas table!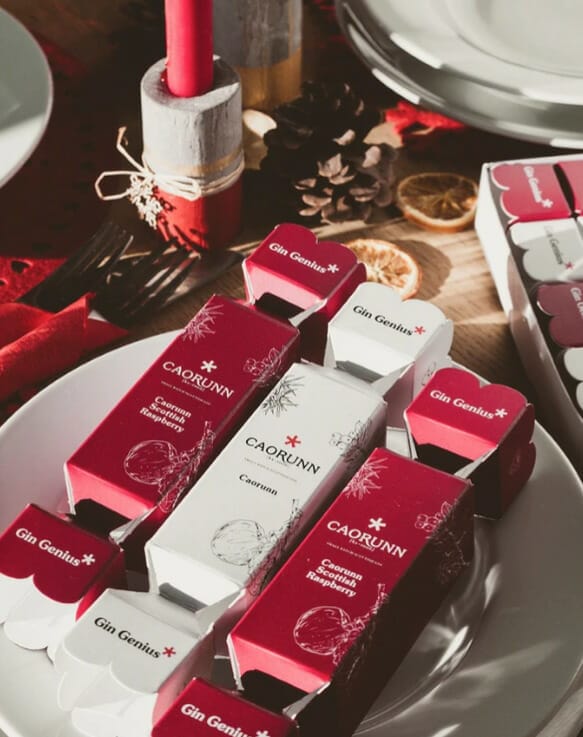 Gin cocktail making sets
Including Smuggler's strength overproof gin, vermouth, olives, martini glasses, cocktail sticks, a bar spoon and a mixing glass, this set has everything you need to make those powerful martinis!
If an ice cold martini is too much for you, then warm up with the Pothecary Gin Hot G&Tea cocktail instead. Included in the box are the ingredients to make 2 cocktails – including Cinnamon Twist, the Winter blend of Pothecary's Sicilian Orange gin.
If you fancy making a martini with Gower Gin then you can buy their martini bundle, with a full size bottles of Barra Brith gin and dry white vermouth to make the perfect Christmas spiced martini. The martini bundle is £49.95 – saving £5 on buying separately.
Bullards have a cocktail hamper showcasing a cocktail serve for each of their 4 gins. I'm showing you the Foraged Bramble cocktail hamper using their Coastal gin, but you could also order a Negroni hamper with their London Dry, a Tom Collins Hamper with their Old Tom or a Rambling Strawberry hamper with their Strawberry & Black Pepper gin. Each hamper includes the ingredients you need to make the cocktails & garnishes, a full size bottle of Bullards gin, a Bullards branded gin glass, a tote bag, a copper pourer and handy gin stones to keep drinks cool.
Master of Malt are currently running their Whisky Santa promotion – so for every purchase made you might get an additional surprise or win your order for free! The reason I love this Negroni is that Azzaline vermouth is heavily spiced – taking inspiration from the Silk Road and includes indulgent saffron as one of it's botanicals. Alongside the combination of Campari and classic Bathtub Gin, this is a negroni perfect for the time of year!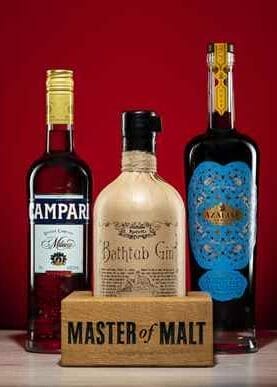 Pre-mixed gin cocktails
Jenny from Hidden Curiosities has made some stunning pre-mixed and ready to pour cocktails before, including her Autumnal Bonfire Negroni. For the festive season she's created the Santa Cloves negroni – using Hidden Curiosities gin infused with cloves, cinnamon, cardamom, ginger and yuzu. Available in 100ml or 500ml serves depending on whether you want a single serve or something for a few friends to try!
Not only do Rock Rose Gin have a special Winter Spiced Negroni (my fave!) but this year they also have two vodka based cocktails – Gingerbread Espresso Martini and Christmas in a Bottle (spiced Holy Grass Vodka). I'm sticking to my favourite, gin based cocktail, which is rested with orange and pink grapefruit peels to add that extra dimension of flavour.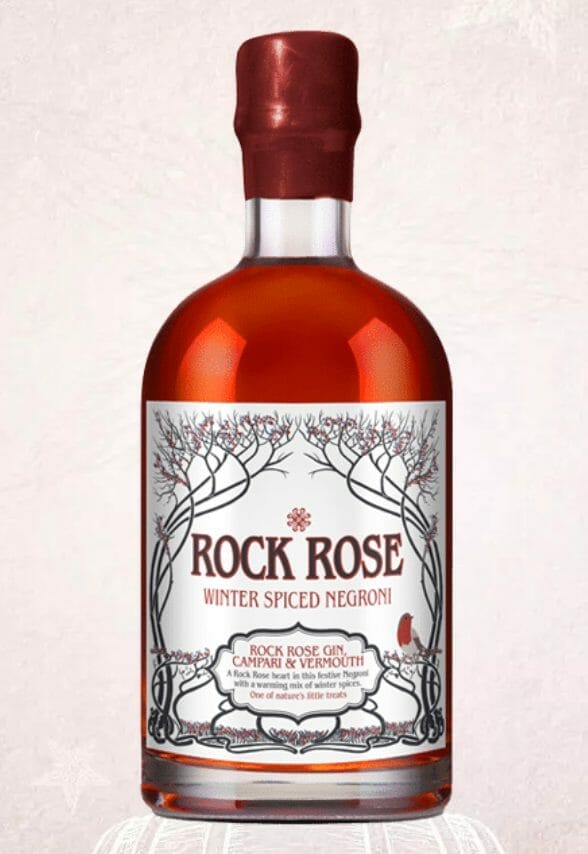 This limited edition pre-mixed cocktail doesn't need any shaking or stirring, simply serve straight out of the freezer! Made to the recipe of Alessandro Palazzi of DUKES, SW1 with Sacred Gin & English Dry Vermouth, simply pour into a frozen martini glass and garnish how you like (I recommend lemon peel and I have a bottle sitting in my freezer as I type this).
Thunderflower brought this superb negroni along with them to Junipalooza this Summer, so I tried it before they kindly gifted me a bottle. They've used their Navy strength gin, Fireship 58, along with Amaro Montenegro and Cocchi Storico vermouth. To serve they recommend stirring 58 times over ice to dilute, before adding to a rocks glass with a large piece of ice and garnishing with orange – I might stir slightly less! Each bottle comes with a dehydrated orange garnish pack.
Ham has created some delicious sounding cocktails, even if you don't like gin <shock horror>! I've got my eye on the Peach Negroni and the Fig Old Fashioned, but they all look amazing to be honest! To serve put the bottle in the freezer an hour ahead, and then pour into a frozen glass and garnish depending on the cocktail.
Moore House do a selection of pre-mixed classic cocktails. I've picked my favourite, the negroni here, but they have something for everyone and you can also mix and match the bottles to make a tailored selection. Boxes start from £29 for 3 x 100ml bottles of cocktails.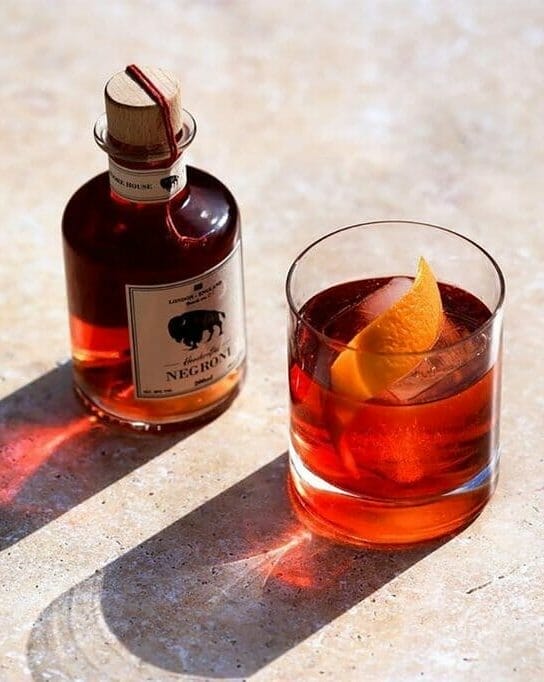 Embrace the exotic with Tarsier's South East Asian calamansi negroni. The calamansi is a tart citrus fruit and adds a lovely depth to the negroni. This serve includes Tarsier's South East Asian inspired gin, with botanicals from around the region, balsamic vermouth and lemongrass infused bitters.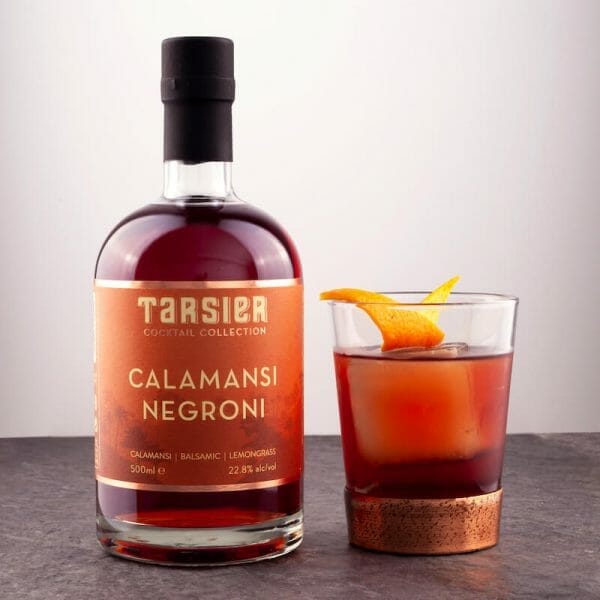 For a taste of luxury why not order the Asterley Bros Three Kings Christmas cocktail box? Including a Myrrh Negroni, Gold Martini (with 23 carat gold leaf!) and a Frankincense Manhattan – it's super special! (I've actually ordered one for me & my family). Each bottle is 200ml and they come packaged in a gift box to make the perfect gift.
If you need any more cocktail set ideas – including glasses and all ingredients – well I wrote a post about that already!
I hope you enjoyed this gift guide – let me know what you like over on social media, you can find me on Instagram at @whatskatiedoing, Facebook at What's Katie Doing? and on Twitter @katiebhughes.