Abel Tasman coastal track is one of New Zealand's 9 Great Walks for a reason – and that reason is that it's stunning! Read on to see why you should do it too…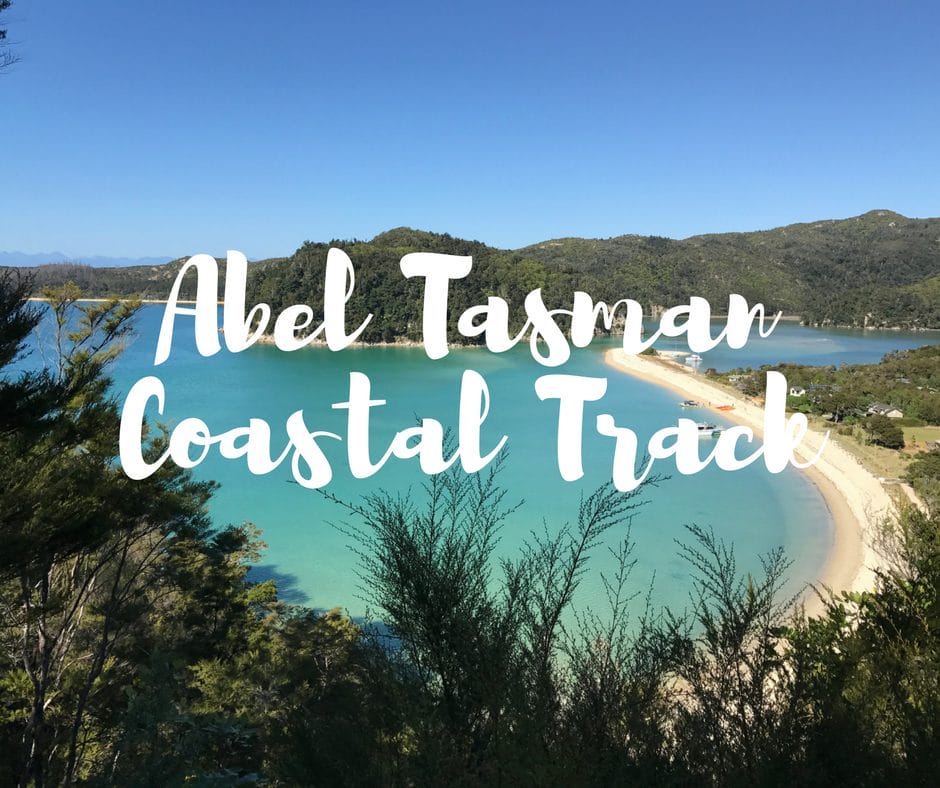 Abel Tasman coastal track
The walk along the coast in Abel Tasman national park is 60km from end to end. We only did c.45km over 4 days, taking it slow as we aren't regular walkers. In New Zealand they call hiking 'tramping' so we tramped from hut to hut, carrying everything we would need*. It's super important to the national park to:
Take only photos and leave only footprints"
So we even had to carry our rubbish out!
The route:
Some of the track is tidal, so you can only cross the estuary at low tide. This meant that we started at Totaranui and walked South to ensure we could cross at Awaroa. Water taxi's from Marahau service all the main bays in the park, so we taxied up to start our hike. From Totaranui we stopped in the Awaroa hut the first night. The second night we stopped at Bark Bay. The third was at Anchorage and the fourth day we walked out to where we had left the car at Marahau DOC (Department of Conservation) carpark – the gateway to Abel Tasman. There are other ways to appreciate the national park without having to walk the whole way = you can also kayak.
Totaranui to Awaroa
This was one of our shortest days. We picked up the 10.30 water taxi from Marahau. On the way our captain Jared pointed out a few of the local landmarks and wildlife, including the seals and their babies!
The water taxi trip:
The walk
Day one was a 2.5 hour walk (7km)
Our first day's walk was short and deliberately so… we arrived in the early afternoon and had to time our walk to ensure that we made the low tide crossing to Awaroa.
Our first tricky point (unless you think hauling a 15kg pack up a hill is tricky… well it was hard sweaty work!). We had a 4 hour time slot where it was safe to cross the estuary, and we knew we had to wade…
What made it trickier is that Cat and I did it bare foot.. the mussel beds full of shells certainly are tough on your feet
As it was the day before my birthday we made the most of the Awaroa lodge for gin and tonics after our beach walk! A lovely couple who had been on our water taxi bought me a birthday g&t – thanks Robyn and John!
Awaroa to Bark Bay
Day 2 was a 4.5 hour trek (13.5km) to Bark Bay – made longer by the fact that we couldn't take the short cut from the previous day and cut across the creek as it was high tide!
Instead of a 30 min walk to Awaroa lodge, we walked for 1.5 hours over the ridge line..
Bark Bay to Anchorage
Day 3 was Bark Bay to Anchorage, this was a 4 hour (11.5km) walk as we had to take the high tide route around Torrent Bay. The low tide crossing cuts an hour off this time, but was too late in the day for us). No matter though, we wanted to stop off at one of the side tracks that lead to Cleopatra's pool.
At the far end of Anchorage beach, away from the DOC hut were some rock formations, so we went and explored:
Anchorage to Marahau
Our last day and it was clouded over, with a forecast of drizzle followed by later rain.. So we made quick time to try and finish the tramp before the heavens opened properly! The walk was meant to take 4 hours (12.4km) however we did it in around 3 hours.
We made it back to our car in the DOC carpark at Marahau before midday and rewarded ourselves with coffee and cake at the Park Cafe!
We hiked c45 km over our 4 days hiking – you could do it in less time if you are a more experienced hiker, but with having to haul all our food, cooking supplies and sleeping gear we didn't want to push ourselves too hard*. Treated water is provided at the huts on the route, so at least we only had to carry what we needed to drink for each day's hike.
I would totally recommend doing at least some of the Abel Tasman coastal track – as you could see the views are spectacular and there is loads of wildlife to see too! You can walk, kayak or get a water taxi for a day trip – it's super accessible and we saw lots of families on the track (kids sleep free at the huts!)
ps I was super impressed that every toilet in the park had toilet paper! Seriously even the remote long drop loos had ample toilet paper!