So I didn't go to Russia just to eat – but when in Rome…. so I ate and drank like a Russian!!
Drinking like a Russian
I'll get around to the eating part later.
I was in Moscow for New Year's Eve and as the plan was to be outside in or near the Red Square for midnight, a vodka coat was required. To drink vodka like a Russian you need to remember a few things:
Don't drink alone
Never mix your vodka
Don't sip your vodka! (straight up shots are required)
Never drink without a toast beforehand – preferably someone quoting a poem or speech
Apparently the men are supposed to pour for the women (only works if you have a man!)
Therefore we had a few shots…. and the vodka coat worked (it helped that it wasn't minus 20!)
New year's eve traditions
As it was New Year's we also stocked up on bubbly to drink in the traditional Russian way. Apparently you have to open the bottle on the first stroke of midnight, pour and drink your glass before the last stroke of midnight. There is also a part about writing down a wish on a bit of paper, burning the wish and adding the ashes to your glass as you drink… but we didn't want to play with fire!
New country new beer!
Russia was a new country for me (number 56), so as has become my custom the first new beer was to be celebrated!
Other drinks
It's not all vodka! As it was cold weather (down to minus 21 in St Petersberg, -35 with windchill) we needed plenty of hot drinks. Amongst the coffee (including some at a Cat cafe in St Petersberg!) was the hot chocolate:
There was plenty of mulled wine around at all the Christmas markets too.
I didn't indulge much in Russian wine as I really prefer red wine in the cold and the Russian's like theirs sweet, rather than dry. However when we found LED Loves Wine in St Petersberg, this was a chance to try a tasting flight!
Domaines Burnier was set up after Swiss Renaud Burnier heard about wine production in the Russian Black Sea. The Domaine only produces a small volume of wine in Russia and has only been producing wine since 2009. The tasting flight was four of their wines:
A delicious Chardonnay, rounded buttery and well balanced
The Lublu, a dry white wine – nothing remarkable about this one
The Merlot, 2011 which was very oaky in taste
The Cabernet Sauvignon, 2008, which had been aged for 18 months in French oak – very smooth!
It was definitely a great spot finding this place in St Petersberg!
Snacks
So many pastries!! I wanted to try them all, however not all were the best! Russian pastries usually have 'meat' in them, which might mean beef or lamb, I'm not entirely sure… the best were obviously the sweet ones with jam and fruit in them!
Pancakes or blinis
Russia is famous for its blinis which are basically pancakes. We got the small ones for breakfast, the tiny ones as canapes and the crepe style ones filled with savoury or sweet stuff as a quick lunch,
Traditional Russian dishes
Borscht
Beef Stroganoff
Pancakes (again!)
Pub grub, aka meat
Oh yeah we found a beer house with some 'pub grub'
Chicken Kiev
The chicken Kiev we had at Taste&Eat restaurant before the ballet in St Petersberg was a revelation!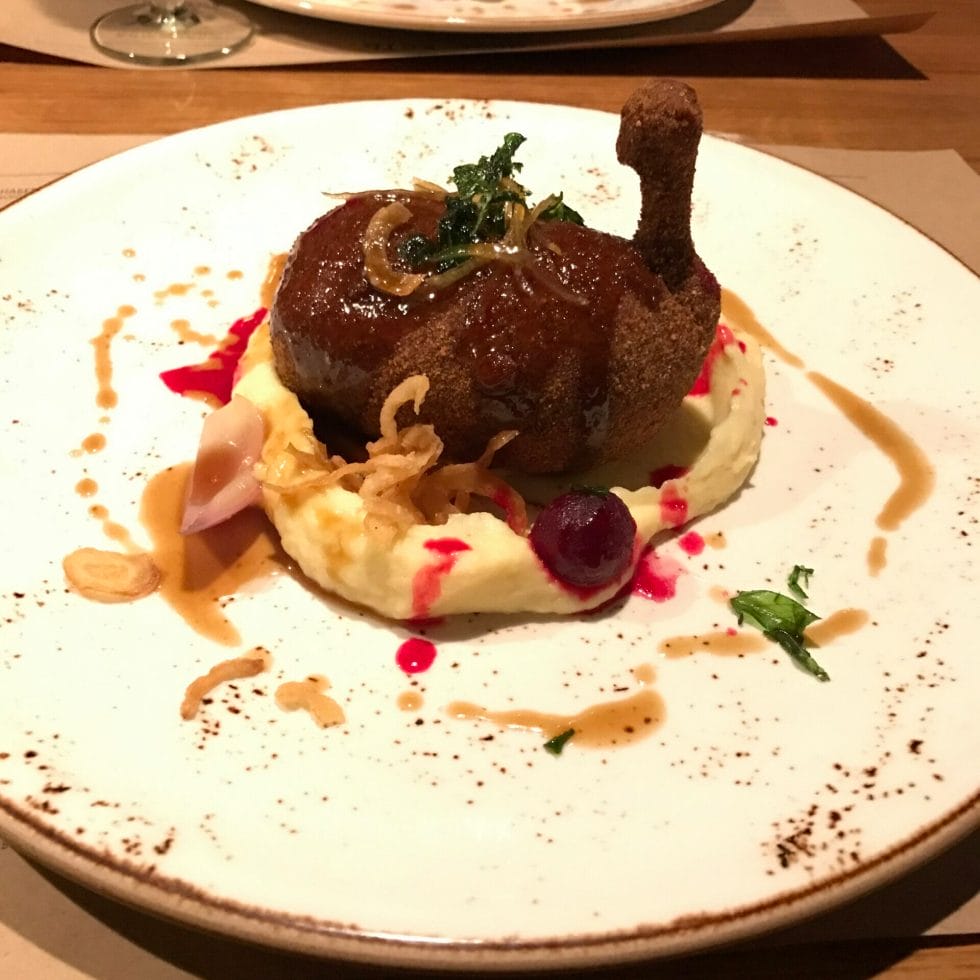 So prettily presented! Served with mash, mini beetroots, crispy onions, this chicken Kiev was served on the bone. Inside it was very different to the overpowering garlic butter you get in the UK. The breast was stuffed with a herb butter – think dill and parsley – the better to keep the chicken moist. Very delicious!
Bonus: Georgian food
Where we were staying in the suburbs of Moscow had a Georgian restaurant very close by, so one evening we checked it out:
Verdict
If you know me, you know I like to eat my way around countries… Whilst not everything I try will be to my taste, I always find some hidden gems this way! In Russia I was not disappointed and came back fatter…